We all like to make a special statement and provide a sense of anticipation as the outside world enters our very own domain.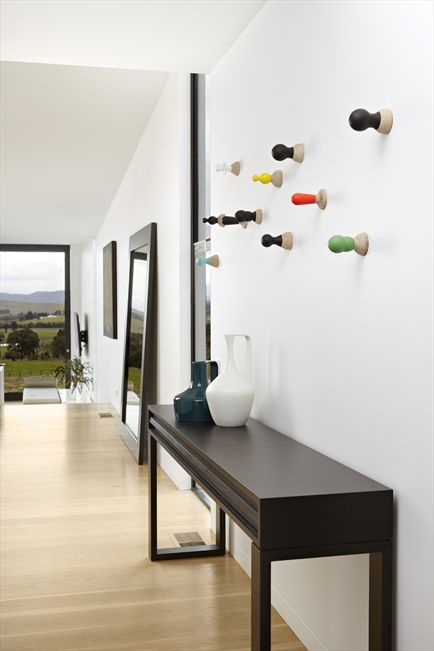 We all know that first impressions count; "So often it is overlooked," Karen Fitzpatrick of Visual Impact explains, "when in reality it should set the scene for the rest of your home." Here are some suggestions for making the most of your entrance. 
Shelf Space:
Try to think outside the square. Why not incorporate open wall shelving in your entrance? This doesn't encroach on valuable floor space and gives you an interesting platform to display collections or fresh flowers while also being utilitarian with a box to hide your keys, a section for incoming mail and so forth. The lit coat hooks do double duty as lighting and somewhere to pop those items you peel off on your homecoming. Add the classic Eames walnut stool for sculptural form as well as a useful place to sit and take off your shoes after a hard day. The pendants clustered together make an interesting focal point in any entrance. 
Take a load off:
Bold, bright and savvy. Be adventurous and make an impact using bold colours to highlight your entry. IKEA shelving is useful and economical. Teamed with the ottoman from Freedom Furniture and the cowhide rug, again from IKEA, this set up won't blow the budget but will make a statement. Plus, you'll have a little extra to splurge on the dramatic coat rack from Space Furniture. Don't forget you can always add pieces as you go. Start with the basics and build on them as your finances permit.
Shopping Directory
Dinosaur Designs
02 9698 3500
www.dinosaurdesigns.com.au
Dulux
13 25 25
www.dulux.com.au
Elke Kramer
02 9368 7711.
www.elkekramer.com
Fanuli Furniture
02 9908 2660
www.fanuli.com.au
Freedom Furniture
02 9882 9000
www.freedom.com.au
IKEA
03 8416 5000
www.ikea.com.au
KE-ZU
02 9699 6600
www.kezu.com.au
Papaya
02 9386 9980
www.papaya.com.au
Poliform
02 9690 0777
www.poliform.com.au
Rugs Carpet & Design
www.rc-d.com.au
Space Furniture
02 8339 7588
www.spacefurniture.com.au
Zuster
03 9427 7188
www.zuster.com.au
Karen Fitzpatrick founded Visual Impact, an interior consultancy, more than 10 years ago. She fed her passion for interiors when she opened an antiques store and then moved into visual merchandising and styling. Now, as an interior decorator, she continues to help her clients achieve their dream homes by listening closely and creating concepts that fit in with their way of life. See how your home can benefit.
Tel 02 9975 2248
www.visualimpactinteriors.com.