Dry-pressed bricks are the smart and stylish choice for any budding renovator or builder.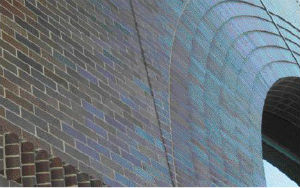 If you live in an inner-Sydney suburb like Strathfield, Haberfield or Balmain, there's a good chance you have undertaken some form of renovation or, at the very least, considered it. There's an even greater chance that if the home you're going to renovate is made of brick, it was built using dry pressed bricks. Dry pressed bricks are also known as "Solid Bricks" and are the traditional style of brick that was used in a lot of early buildings.
Dry pressed bricks are for the brick connoisseur and, like a fine wine, they just get more beautiful with age and require virtually no maintenance over their lifetime. Dry pressed bricks are made by pressing clay into individual moulds at very high compression, and have a grainy yet smooth, velvety appearance with very sharp arrises (edges). They do not have any holes through their body, rather an indent that is known as a "frog". By contrast, extruded bricks are made by "extruding" or forcing clay (producing holes) to form a column, which is then cut into evenly shaped, rectangular bricks. Before mass production, dry pressed bricks were made by men throwing the clay into moulds by hand, but with demand came technology.
PGH Bricks & Pavers™ recently invested in this technology to help meet that demand. According to PGH marketing manager, Kim Roughan, "Dry pressed bricks are recognised in the industry as the most authentic brick because of the way they are made. In ancient times, bricks were made using mud and straw, which were pressed into moulds and dried for weeks in the sun. Similarly, clay and shale is pressed into moulds and then fired through our kilns at temperatures exceeding 1000 degrees to ensure they retain their form and colour. This manufacturing method seems to give people the perception that they are the best." 
Roughan goes on to say the brick industry is definitely seeing a trend back toward the use of brick. "People are beginning to understand the benefits that brick offers and they like the fact that it is one of the most natural building materials, and dry pressed is a strong preference. Add to this that manufacturers are making much sexier bricks; it gives people many more design options to use the product." Wandering around The Rocks in Sydney, the average person would most likely be oblivious to the architectural and brick genius of a bygone era that used these beautiful bricks to create masterpieces.
And a number of city centre buildings also bear the dry pressed bricks' signature in their construction. "These lovely old buildings bear markings of brick craftsmanship using dry pressed bricks that we are in danger of losing; things like archways, bond patterns and detailing that is intricate and time-consuming," says Roughan. "It's not that bricklayers can't create such beauties, but the design must demand it of them to inspire and encourage them." It is interesting to note that the brick industry body, Think Brick Australia, and the Australian Brick and Blocklaying Foundation (ABBTF) are working hard to inspire architects to design more buildings in brick and ensure there are enough capable bricklayers to be able to construct new masterpieces.
The PGH dry pressed palette is designed to match the bricks of yesteryear as much as possible. Although it will never be absolutely perfect, it does come pretty close considering the distance of time, the raw materials used and the modernised process. Having a blue in the range was key, as this was a dominant colour in early construction, and there is red, brown, grey and white; some to match and some new tones. The range also includes shapes such as cants, squints, bullnose and others, another feature which differentiates them from extruded bricks.
Dry pressed bricks should not be thought of as being a "renovation only" brick, even though a large majority of them are used to match existing brickwork. They are also used to create more recent showpieces, especially in education and health projects.
For more information:
If you're undertaking a renovation or extension of your brick home and you need brick matching advice, visit www.pghbricks.com.au. For purchases, call 13 15 79.