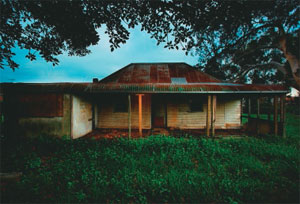 Tucked away behind the suburban streets of Blacktown (Amberlea Street, Glenwood) is the latest property conserved through the Historic Houses Trust's Endangered Houses Fund program.
The HHT's EHF identifies 'at-risk', significant properties, conserves and protects them and offers them back into the marketplace — for the use and enjoyment of future generations. The EHF is not about creating new public museums, instead it encourages continued use through private ownership, with EHF monies 'revolved' to save more endangered properties over time.
Exeter Farm is one of only a few surviving early settlers' cottages and was built on land granted to Daniel Brien by Governor Lachlan Macquarie in 1821 and occupied by members of the same family until 1923.
Uninhabited for decades when the Historic Houses Trust took it on, the house had been badly vandalised and was suffering from rising damp and termite infestation. It was saved from demolition in 2006 by the HHT's Endangered Houses Fund.
 
Work began in 2008, and was completed in late 2010, transformed for contemporary living by conservation architects Alan Croker and Robert Gasparini from Design 5 Architects. During this time, the HHT and its team of architects, builders and gardeners completed major structural repairs,refurbished the interiors and undertook extensive landscaping to restore the home to its former glory so that it can be lived in and enjoyed as a home again.
The archaeological work on the building revealed a curious mixture of features. Exeter Farm is a combination of conservative 'proper' carpentry and joinery, simple bush building and up-to-the-minute construction technology — and all of this in a modest slab farm on the fringes of Sydney.
The conservation of Exeter Farm tells an important story about how Sydney's people built, drawing on the past and the present and coming up with this type of relatively simple, utilitarian building that was until recently, sadly, a rapidly diminishing resource.