Spoil yourself with a blissful bathroom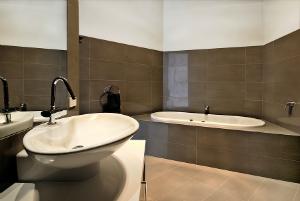 Armed with a brief to transform a poorly designed area into a lush spa-style haven, John Spiteri from Brindabella Bathrooms knew that he had a big job on his hands. But, with the help of his team, John has totally transformed the space and the owners couldn't be happier.
To create the illusion of more depth and width, the bathroom area was completely redesigned to ensure space was used as efficiently as possible. As part of this new design, a curved wall was reconfigured to create a straight parallel wall; the new surface provided the perfect space to fix a wall-mounted vanity. To offer more privacy, an existing window was also replaced and raised to accommodate a new, stylish spa bath.
Featuring stunning products such as an Aqva Helsingor freestanding oval spa bath and a custom-made frameless shower screen, the bathroom certainly has the look of an ultra-exclusive day spa. A handcrafted double vanity also adds an extra touch of old-time glamour and lavishness to the space.
Visual harmony is an important ingredient in creating a soothing and welcoming ambience. Here, the open-plan area combined with an elegant neutral colour scheme and an abundance of natural light, transforms the bathroom into a space that is wonderfully luxurious and inviting.
A blissful bathroom such as this one is the perfect place to relax after a long day's work!
Project particulars 

Designed by: John Spiteri
Built by: Brindabella bathrooms.
Tel 1300 794 488
Email info@brindabellabathrooms.com.au
Website www.brindabellabathrooms.com.au
Bath: Aqva Helsingor oval freestanding spa bath; Brodware classic cross handles and extended spout in Bright Chrome Shower Custom-made in 10mm toughened glass frameless
Starfire; Donna Maree chrome plate fittings; Hansa rain overhead with wall arm, Brodware class cross handle shower taps in Bright Chrome; shower drain Aquadux platinum stainless steel pressed-edge trough and grate
Basin: Duraplus drop-in basin 560mm x 455mm in white
Toilet: Villeroy & Boch Omnia compact wall-hung pan in white; bright chrome flush plate; Mecco Evolut 2 block in-wall cistern and frame
Vanity: Custom-made fluted cabinet design 2200mm x 550mm hand-painted in Icelandic Stone Porters Original Paints; travertine Allambra 30mm honed-top with pencil edge; Innotech silent drawers
Taps: Brodware classic cross handle and spout in Bright Chrome Accessories Brodware Classic soap holder, paper holder, single towel rail, shower shelf and towel ring in Bright Chrome; 150mm Inline fan with w/c odourless system
Walls: Honed Spanish limestone tiles in Crema Europa 610mm x 305mm; Porters Original Paints in Icelandic Stone
Borders: Honed Spanish limestone tiles in Crema Europa 300mm x 50mm
Mirror: Custom-made 1800mm x 960mm fluted mirror frame, 6mm mirror with bevel edge
Floor: Honed Spanish limestone tiles in Crema Europa 610mm x 305mm, floor waste smart tile 100mm square
Cost: approximately, for design, manufacture, installation, plumbing and electrical, $60,000

Zeitgeist Photography.