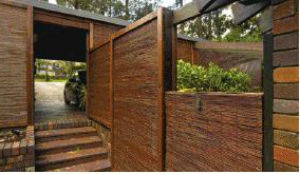 Use natural cladding and screening materials to help create a small oasis of peace
There are three things that form the essence of the ideal outdoor space: fresh air, privacy and a sense of sanctuary. We aren't always lucky enough to have all three, or at least not totally, but with some good planning and the creative use of natural materials, we can create a desirable outdoor retreat, no matter how small the space.
Even in a limited area, we can have everything you need: shade cover, plants and privacy (at least where we sit and relax or eat). The more natural the setting, the closer to Mother Nature we feel and, hence, the more relaxed. Add water for its cooling touch and a splash of colour for style or vibrancy and you have the complete outdoor setting.
House of Bamboo has helped many home owners achieve their own small sanctuary. Perhaps a fence needs to be clad? If so, use a natural fence cladding such as Natureed® to hide ugly non-matching fences and bring cohesion to the setting. Or maybe a fence needs to be heightened on one side or in one segment to make the area more private, or any ugly storage spot, carport or clothes line can be screened off. Natureed® can also be used to shade a pergola or dramatically cool a polycarbonate roof, simultaneously creating beautiful filtered light. Various moveable shade structures also using Natureed® or bamboo similarly create shade and filtered light just where you need it. And when you use natural materials, they can serve as a background for many different garden styles and decorating themes.
House of Bamboo has a range of sustainable bamboo and related natural cladding, screening and shading materials. Their cladding and screening materials range up to 2.4m high and 7.3m long, which makes them excellent for pergola shading. They also have practical adjustable overhead shade structures using these same materials as well as interesting outdoor furniture made from their plantation-grown timber slatted screens.
The furniture and shade structures are unique to House of Bamboo and all use sustainable materials in a highly innovative manner. Whether you're looking for ideas for a balcony, a courtyard, a small or large garden, pool or outdoor area, draw on the experience of House of Bamboo.
For more information
House of Bamboo 13 Erith Street, Botany NSW 2019 Phone (02) 9666 5703 Email info@houseofbamboo.com.au Website www.houseofbamboo.com.au