Urbanstyle Homes showcases green living at its finest.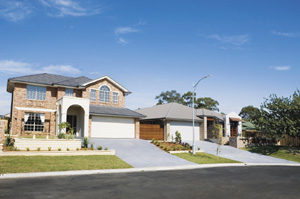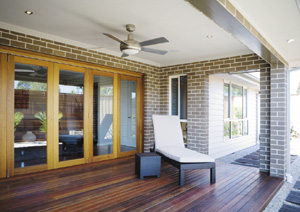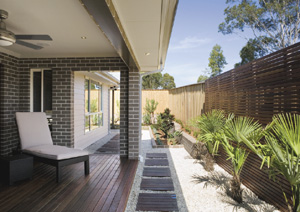 Price: From $171,000 basic, $234,900 move straight in and $300,000 as displayed with all the optional extras.
Size: 260 square metres.
Special Features: Water-saving taps, toilets and weather stripping.
Optional extras: EcoSmart 9-star energy efficient gas-boosted solar hot water system, Photovoltaic 900W BP Solar system, underground rainwater tank up to 5000 litres.
Green House
The Broadway is based on Urbanstyle Homes' standard project home but has been modified and upgraded to provide an energy-efficient dwelling that's not only highly functional but looks great, too.
A stunning façade with immaculate landscaping is the first thing that draws you to this stunning home, however on further inspection it becomes clear the residence
is more than just an attractive exterior and is packed with loads of environmentally-friendly features.
Designed to suit today's subdivisions and constructed from readily available materials such as glass and bricks, the Broadway is an HIA GreenSmart initiative. "Our aim was to create a home that produces less greenhouse gas emissions and blends with the neighbouring streetscape without compromising on comfort," says General Manager of Urbanstyle Homes, Brad Hoad.
With generously proportioned living areas, four well-sized bedrooms and two stylish bathrooms the home proves you don't need go to extremes to look after the planet and reduce the effects of climate change.
Clear use of passive solar design and different wall constructions have produced a home that achieves a 6.6-star rating in AccuRate, a CSIRO-designed rating system for residential energy-efficiency. To meet the differing energy demands of Australia's wide ranging climates and environments, the design incorporates plenty of insulation, thermal mass, shading and skylights that allow the home to heat and cool naturally and stay at comfortable temperature levels longer.
To increase the thermal mass inside and to achieve a consistent, temperature throughout, a combination of cavity brick with foil board insulation, reverse brick veneer and standard brick veneer was used for the walls. Stylish Boral double-glazed windows have also been utilised in the design to slow down heat transfer and curb unwanted noise.
A solar pergola over the rear of the home blocks the summer sun but allows winter sunlight to flood into the inviting interior. Lifestyle bi-fold stacking doors, leading to a gorgeous al fresco area, aid air circulation and take advantage of the beautiful gardens that are dotted with low-water use plants and are surrounded by permeable decorative gravel which assists rainwater absorption and reduces downstream flooding.
Perfect for outdoor entertaining the expansive deck is made from spotted gum hardwood. The natural floor coverings continue inside with the solid bamboo flooring. An extremely hardwearing material, bamboo gives the same effect as traditional timber floorboards but only takes five or six years to reach maturity, compared to the generations required for old-growth trees.
Every last detail has been carefully considered to keep the house as 'green' as possible. Lighting is provided via optional energy-saving fluorescent downlights, while the bathrooms are decked out with Caroma four-star Smart Flush toilets and sleek three-star tapware complemented by elegant Liano basins. Equally stylish is the contemporary kitchen that boasts Silestone benchtops coated with microban, an antibacterial substance that dramatically reduces the use of harsh chemicals.
There's no question that by combining passive solar design with water and energy saving methods, Urbanstyle Homes has created a stylish, environmentally-friendly dwelling that caters for all your family's needs.