This design by Kitchener's Kitchens works seamlessly within a small Art Deco apartment. Unused voids were reappropriated and the walls removed to offer a clean, crisp alteration of a tight space.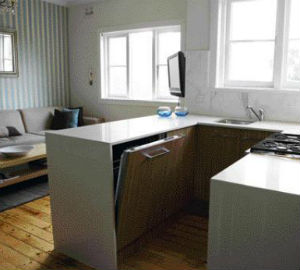 What was the apartment like before the renovations?
It is a 1920s Art Deco block of apartments above an art gallery and the apartment was in need of a facelift.
What was the client's brief for the project?
The owner is a young single man wanting to open up the kitchen, dining and living space. The existing kitchen had no storage, no benchtop area and the owner's must-have was a dishwasher and a large fridge.
Please describe the body of work completed.
We removed the wall between the kitchen and the living room and relocated the hot water service to the outside of the building (freeing up storage space).
What were some of the special design considerations of the project?
There was an original void next to the back door for milk delivery. We extended this into a shallow pantry covering with a door to match the back door.
What was your inspiration for the design?
The Calcutta marble splashback feature ties in with the Art Deco feel of the apartment. When we discovered how the original floorboards would come back to life, the decision for the Zebrano cabinets fell into place. The benchtop gives the illusion of a large solid block of stone, with the side panels and barback all being mitred together. This was to separate the feel of the kitchen from the living area.
What is your favourite part of the renovated space?
Having an open-plan living/dining/kitchen area in what was once two very small rooms.
Were there any unusual challenges you had to overcome?
How to create a dining space and not lose living area — especially as we extended the kitchen and storage sections. r&e
Project Particulars
Designed by: Kitchener's Kitchens 
Tel: 1800 826 144
Website: www.kitcheners.com.au

Built by:
Kitchener's Kitchens
Benchtop:
CaesarStone Osprey
Splashback:
Calcutta
Cabinetry:
Floor units — Laminex Zebrano, wall units gloss white handle-less