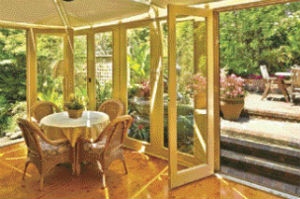 Part garden, part home: the classic conservatory is the ultimate outdoor room
Story: Karen Booth
A conservatory is the ultimate outdoor room, blurring the boundaries between interior and exterior spaces and creating a restful, light-filled living space in which to relax, entertain, dine or indulge in your favourite crafts and hobbies. It's also the ideal means of adding an extra room to your house without robbing any adjoining rooms of light.
Conservatories are often associated with period houses but modern construction techniques, glazing technology, ventilation and shade systems mean you can have a conservatory with the charm of yesteryear but all the comfort — and energy efficiencies — we demand today.
While usually attached to the house, a conservatory can be a freestanding structure. Stand-alone conservatories are often used to enclose a swimming pool and, when used in this way, it allows for year-round swimming and reduced maintenance costs.
In terms of shape and style, it's a matter of matching it to the architecture of your home. Traditional hexagonal and octagonal shapes tend to suit Victorian and Edwardian homes while a rectangular floor plan with a hip or gable roof often suits a modern home. Basically, the aim of the design is to make the conservatory seem to be a fully integrated part of the house and not something that has merely been "tacked on" as an afterthought.
While your design options are broad, your choice of construction materials is more limited because of the structural requirements. Typically, the choice is between stained or painted hardwood timber (cedar is ideal), steel or powder-coated aluminium for those seeking a less traditional but maintenance-free option. If considering timber construction, use the best-quality timber you can afford.
To help control the temperature, double glazing is considered essential. The roof must be safety glass (laminated or toughened) and, depending on the size and location of the wall glass, some of this may also need to be safety glass. The best system is to use a combination of laminated and toughened double glazing in both the roof and walls.
To keep the conservatory cool, good ventilation is vital, which can be achieved by including windows or roof panels that open. Roof panels can be opened manually, motorised or linked to a thermostat for automatic opening and closing. Thermal blinds are also important, providing shade in summer and helping to keep heat in during winter or at night. As with the roof panels, blinds can be operated manually, motorised or integrated into a home automation system.
Building a conservatory is not cheap proposition and detailed working drawings and plans will be required for planning and building permits but planned well and professionally built, it will be a year-round asset.
Why double glazing?
Double glazing — where there's an hermitically sealed air or gas pocket between two panes of glass — reduces heat loss while still allowing the passage of solar radiation and natural light. It makes it much easier to adequately heat or cool a conservatory, no matter how large.
Double-glazed units filled with gasses such as Argon and Krypton have their insulating performance improved by 10 per cent.
Because of its insulating properties, double glazing will also help you to reduce your energy bills and cut greenhouse gas emissions. Another bonus is its noise-dampening qualities.
According to The Australian Glass and Glazing Association, up to 30 per cent of the heat lost from your home is through the windows, so just imagine how quickly heat would escape from a fully glassed-in structure such as a conservatory on a cold day if you only used standard glazing (that is, ordinary window glass).
If you have particularly hot summers, you can use a toned outer panel to bring additional heat relief.