From glamorous to gentlemanly, here are 10 bathroom style ideas to inspire.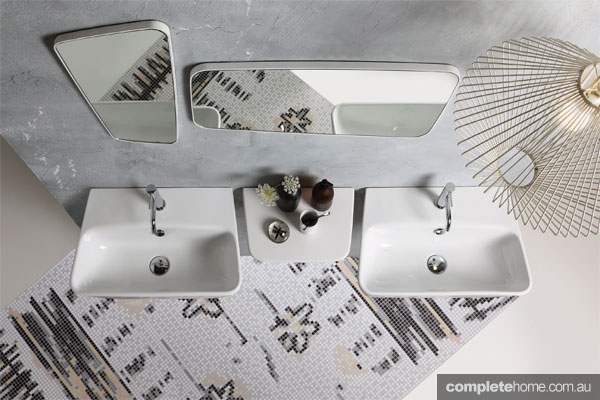 1. Industrial charm
Designed by Terri Pecora for Simas, the Degradè range is modern, sleek, and rings of industrial charm. This bathroom was designed with small spaces in mind and the slimline nature of the bathroom was modelled according to the concept of a trapezium. Add some abstract patterns for an extra contemporary twist. parisi.com.au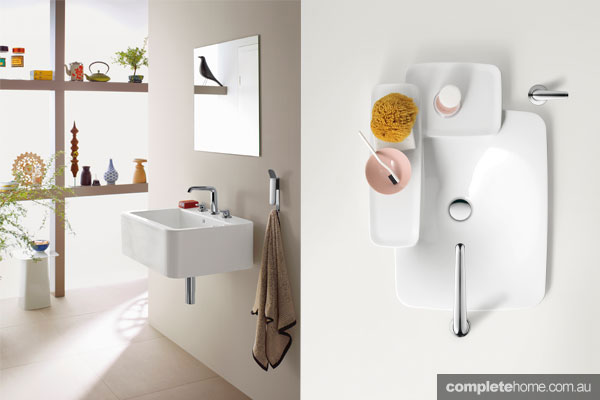 2. Natural and fresh
Minimal simplicity is the key to the design of the Axor Bouroullec range. Brothers Ronan and Erwan Bouroullec's design philosophy is that "the objects must be ?exible in their application". The concept of freedom is also integral to the design, and the clever multi-faceted manner in which these designs can be implemented allows for a Zen-like space, full of your own personal choices. hansgrohe-int.com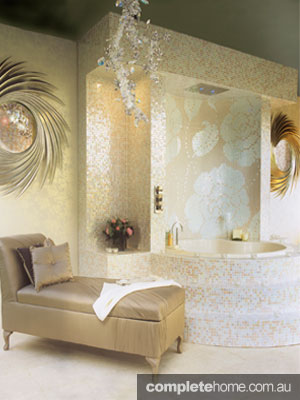 3. Golden glamour
Mosaics in the bathroom are a fantastic way of adding colour and patterns, and golden hues are a sure-fire way of adding some glamour to your bathroom space. Bel Viso from Oliver Burns is a juxtaposition of luxury and minimalism, incorporating a tranquil spa area and cutting-edge wet room. oliverburns.com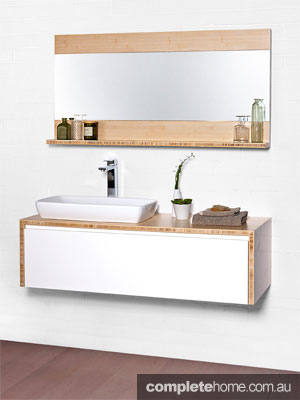 4. Environmentally friendly
Belinda Geels of Reece Bathrooms talks about bamboo in the bathroom.
"It is sustainability and a demand for "green" bathroom products that led to the use of bamboo in the latest Cibo range. To date, the latest Cibo Eco vanity and shelf mirror has been received well Australia-wide.
"As a striking statement piece, the contrast of the bamboo against the white provides a clean, minimalist style perfect for the "day spa at home" look. Harvested from sustainably-managed forests in Fujian, Southern China, the bamboo grows naturally, does not need to be replanted and regenerates extremely quickly, growing 25 per cent faster than timber. Good to the environment, the renewable material absorbs large amounts of carbon dioxide from the atmosphere, replacing it with oxygen. 
"On top of this, the certified bamboo used in the Cibo Eco range has a density that makes it naturally water resistant, inhibiting the growth of bacteria — perfect for keeping your bathroom clean." reece.com.au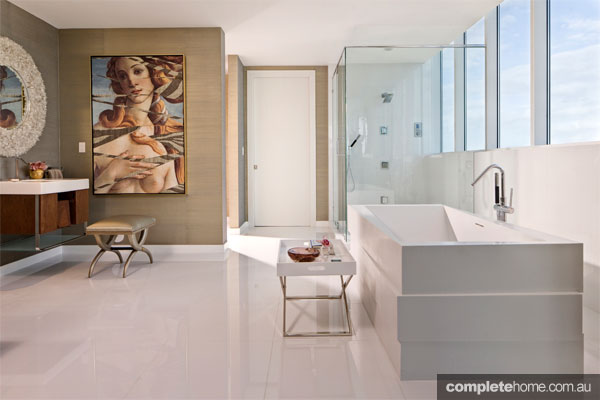 5. Renaissance
Merge contemporary with traditional by creating a renaissance-themed space. Modern bathtubs such as the Askew from Kohler will work beautifully alongside more traditional elements. Try injecting some gold for a splash of decadence. au.kohler.com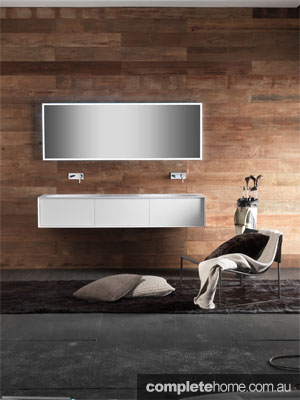 6. Gentlemanly
The Shape Evo collection contains a natural oak cabinet with an integrated Cristalplant basin, which also features a smooth 45-degree bevelled edge. Combined with the strong aesthetic of the LED wall mirror, the Shape Evo bathroom is perfect for making a statement. rogerseller.com.au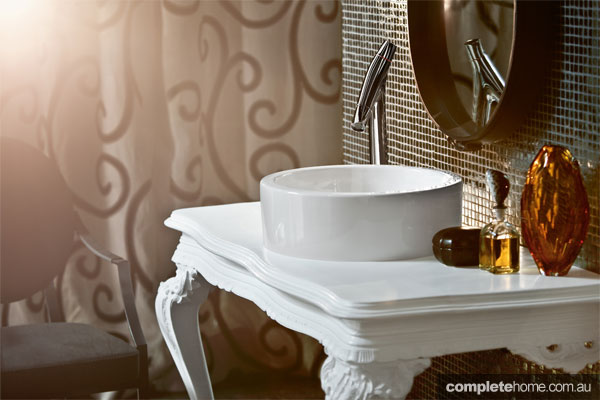 7. Baroque
Exuberant, dashing and bold, a touch of Baroque works beautifully in the bathroom. Its distinctive influence can be used to add power and grandeur to a room, so consider injecting deep golden hues and ornate patterning for a bit of drama. Contrast old with new by adding a circular counter-top wash bowl, such as the Starck 1 from Duravit, for a contemporary touch. hansgrohe-int.com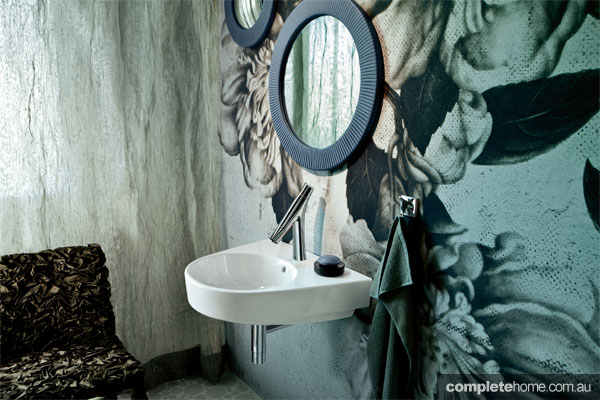 8. Sensual
For a bathroom that oozes charm and sensuality, invest in some smooth curves and soft floral elements. Here the space-saving, wall-mounted washbasin, Starck 2, from Duravit and the Axor Starck basin mixer sit against a floral patterned wallpaper, creating a gentle and sensual space. hansgrohe-int.com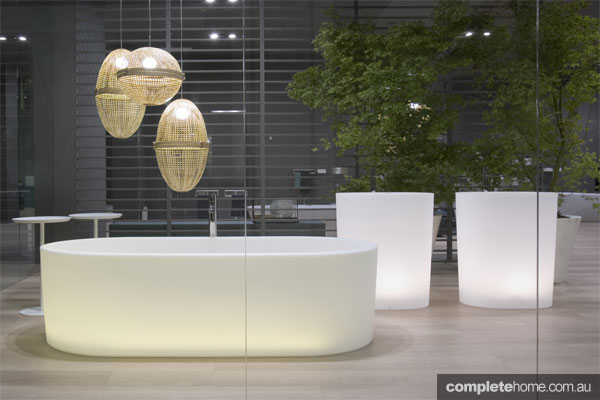 9. LED luxury
Combine your bathing experience with LED lighting for a truly unique take on bathroom life. Designed by the Belgian designer Michel Boucquillon, the Oio bathtub and washbasins from Antonio Lupi are made from a single piece of polyethylene, which is both strong and light, as well as being 100 per cent recyclable. The white translucent version of the range comes with integrated LED lighting that has remote and interchangeable batteries. antoniolupi.it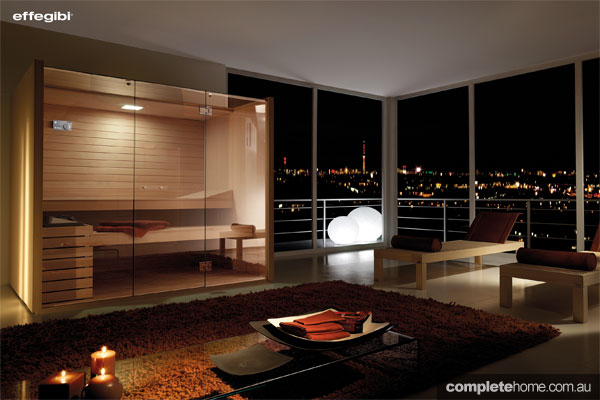 10. Health and wellbeing
Saunas originated in Scandinavia and are well known for their health benefits. They function by creating a bath of hot, dry air while the low humidity of 20-30 per cent enables the body to endure temperatures of up to 100 degrees. The body becomes reinvigorated through the natural sweating mechanism that is activated in this environment, ridding it of toxins and impurities. The new Skyline range from Rogerseller brings this wellness environment into your home with ease. Prepare yourself for healthier living. rogerseller.com.au
By Alexandra Longstaff
From Home Design magazine Vol. 16 No. 2