Is your bathroom in need of some TLC? Distract the eye with small details for an up-to-date look
Following your kitchen, your bathroom is probably the hardest-working room in your home. It's a frequently used space that has to stand up to the wear and tear of daily traffic and the dampness caused by hot baths and showers. These factors mean that, without proper care and upkeep, your bathroom can start to look a little worse for wear. But never fear; there are simple things you can do to boost the mood and update the look of a tired space. And the best part? Infusing some new love into your lavatory doesn't have to come at a great cost.
We checked in with Darcy Shaw, national buyer of bathroomware for Beaumont Tiles, who shared his top-five tips and tricks to make your bathroom beautiful again.
1. Sprinkle in some stylish accessories
One common misconception is that since bathrooms are often smaller than other spaces in your home, you needn't worry about decor items. The opposite is true. Well-placed accessories are the secret to making your space feel truly pulled together. Darcy suggests injecting some luxury storage to your bathroom by adding tallboys, shower caddies and toothbrush tumblers. "Declutter your bathroom and add style with beautiful bathroom accessories," he says.
We're also fans of bringing in some greenery. Incorporating a little colour from nature is a sure-fire way to lift your bathroom. Whether they're real or synthetic, colourful or simply green, a few plants can go a long way in adding the perfect pop of colour to your bathroom.
2. Tap out!
Updating your bathroom's tapware is another style-savvy way to set your space apart from the rest. It's not only simple, but also cost effective, allowing you to add incremental improvements to your bathroom. As tapware is such a prominent feature of a bathroom, it's important it makes an impression. "Taps come in so many stunning designs and colours, you will never be short on choice for the perfect look for your bathroom," says Darcy.
"Elegant gold tapware or beautiful matt black tapware are fantastic alternatives to the popular stainless-steel or chrome looks and are sure to add that special something to your bathroom."
3. Mirror, mirror on the wall
When you add some pizzazz to your bathroom mirror, not only does the appearance of the space improve, your reflection does, too! And as Darcy points out, mirrors are not only practical necessities, but can also add a greater impression of space and light and have a huge effect on the appearance of your bathroom. "When it comes to mirrors, remember they come in all shapes and sizes and if you need that extra storage, you can install a mirror cabinet," says Darcy.
Investing in a statement mirror can give your bathroom that much-wanted wow factor and can act as the perfect finishing touch to your space.
4. Bathroom hardware
Updating your bathroom hardware can give your space a new lease of life. And when it comes to your powder room, sometimes it really is the little things that count. When we talk about hardware, we're referring to towel rails, towel and bathrobe hooks, toilet paper holders and soap dishes. "Replacing your bathroom hardware can be a simple way to make an improvement to your bathroom, but always remember to measure up," says Darcy. "You need to ensure your replacement pieces fit exactly in the original space to avoid any unsightly holes."
5. Make your vanity pop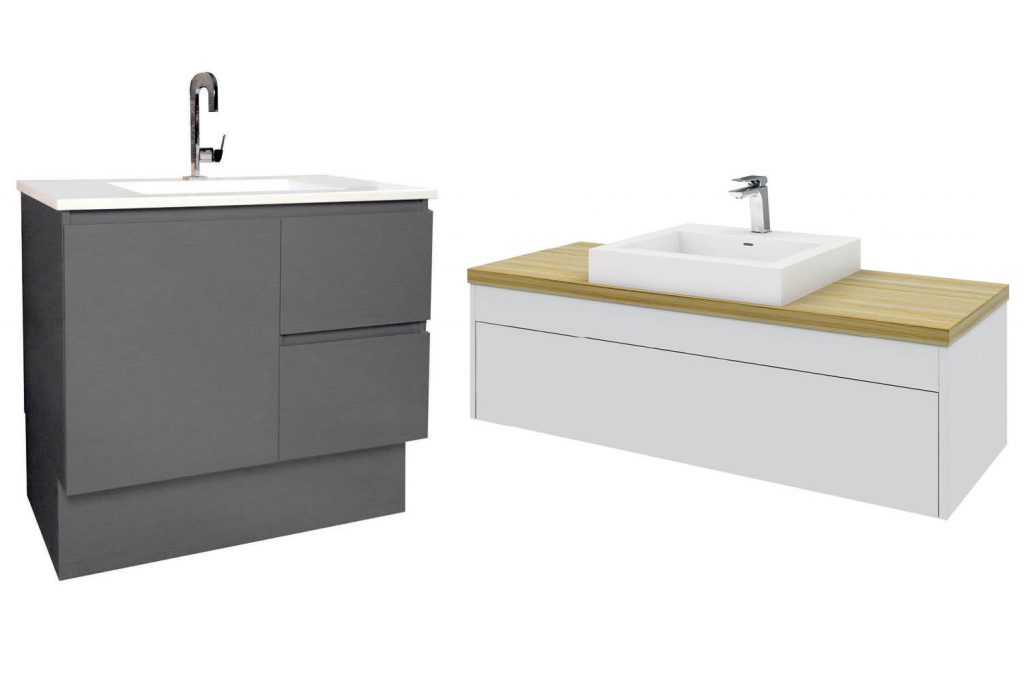 Wake up a tired, dull bathroom by updating the vanity. A vanity or countertop is an integral part of your bathroom's decor and is often the first thing people notice when they enter the space. And as Darcy points out, a new vanity is well worth the investment. Think greater storage space, better colour choice and soft-close drawers. "The easiest item to replace in your bathroom is your vanity," Darcy says. "Whether you prefer a freestanding or wall-mounted unit, when choosing your vanity, you need to think about how much storage you want and the look and feel you're after."
Edited by Stephanie Russo
Originally in Home Design Magazine Volume 20 Issue 3