Rome wasn't built in a day — and neither was the stunning bathroom featured here.
The homeowners worked closely with the experienced team at Geelong Tiles & Bathware when planning the space, and took ample time to create a unique, well-considered bathroom for their new family home.
From the very beginning, the homeowners were set on a spacious, aesthetically pleasing room that didn't blow the budget, and they knew their choice in tiles would play an important role in the end result.
The striking tiles are the hero feature of this space, although the original tile selection was very different to the tiles ultimately used in the project. The original floor tiles the homeowners chose had been discontinued, which meant they needed to select a new tile. They couldn't visit the Geelong Tiles & Bathware showroom due to COVID-19 restrictions, so they had to do the selection over FaceTime. It almost felt like fate in the end, because the terrazzo-look tile they re-selected took their bathroom to another level.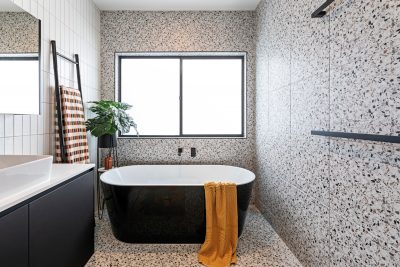 The homeowners opted for a simple colour and texture palette to accommodate for multiple styling opportunities. Although the space is predominantly black and white, the warm tones in the terrazzo allow for many seasonal styling changes. This, combined with the matt-black tapware, sleek joinery and the luxurious bath, has resulted in a truly breathtaking space.
Builder: build2grow
For more information: Geelong Tiles and Bathware