Some kitchens simply take your breath away — and this room from Smith & Smith Kitchens is one of them.
From the timeless shaker cabinetry and lining board panels to the contemporary square-edged benchtop and pared-back canopy, this kitchen is a recipe for stylish success. The almost navy colour on the cabinetry was chosen to blur the lines between blue and black, ensuring that the dark appliances truly appeared at home in the space. This cabinetry was teamed with perfectly centred brass handles, providing a fresh take on a traditional look.
When this cabinetry is partnered with the natural stone benchtops, the result is fresh and modern yet not so far from traditional as to be jarring. These natural honed marble benchtops were chosen not only for their striking looks, but also for their ability to reduce sun glare. The gas cooker was also moved farther out to ensure minimal sunshine landed on the appliance.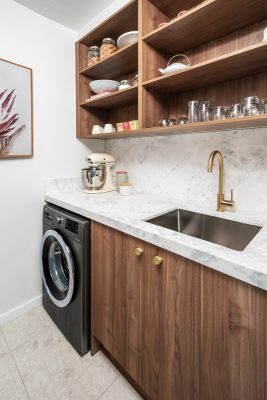 A butler's pantry was created by removing the old study wall and window and introducing a cavity slider. Here, the splashback and benchtop match the kitchen, ensuring that a sense of seamless living prevails and also allowing for easy cleaning. A second sink was placed in the butler's pantry to use alongside the appliances.
Design Lynette Yannakakis ( Smith & Smith Kitchens)
For more information: Smith & Smith Kitchens