Combine the latest innovation with the most stylish designs in one of the most important spaces of your home — the bathroom
When it comes to our bathrooms, sometimes only the best will do. Whether it's a quick pit stop in the morning or a spa sanctuary in which to unwind at night, this space needs to offer form and function to the max.
We've rounded up the latest in bathroom furnishings so you can create a space where you can enjoy all the perks that come with it. Tech-up or glam-up your space to turn a simple trip to the bathroom into a luxurious experience you won't want to end.
HOT PRODUCTS
FEEL THE HEAT

Towel warmers have never looked so good. Aligned with the trademark VOLA style, all technical elements of the T39 towel warmer are built into the wall. A far cry from the common radiator-style towel warmer, this built-in modular heater towel rail is made for your dream bathroom. It's designed for maximum design freedom so you can choose the number of bars and location to fit tiles or layout arrangements. Combining gorgeous aesthetic and clever technology, this towel warmer would be a crowd favourite in any home. VOLA T39 towel warmer, en.vola.com
EMBRACE YOUR SPACE

The Embrace Smart mirror features superior control and functionality. When turned off, the Embrace looks just like a sophisticated mirror. When turned on, however, you have all the functionality of a splash-proof, high-definition computer at the command of your fingertips, gestures and voice. The Embrace Smart can control your entire home, from the lighting to the air conditioning, music, fans and even the kettle! It's a fantastic item for any bathroom. You can check the weather or order an Uber while shaving or putting on makeup. Embrace is resistant to steam and moisture and is protected against low-pressure water jets from any direction. Embrace Smart mirror, embracesmartmirror.com
ROCA-BYE BABY

Heightening the connection between aesthetics and the senses, Roca's revolutionary Cyprus Stonex shower floors offer a unique textured finish that feels warm and natural underfoot while seamlessly integrating with the bathroom floor. Available in four contemporary finishes — Pizarra, Arena, Cemento and Blanco — these classic designs will add sophistication to any bathroom. Roca Cyprus Stonex shower floor, reece.com.au
HIT THE FLOOR

Say goodbye to damp towels and musty smells with Comfort Heat's underfloor heating. With the heating system warming from the floor up, your bathroom will be the best room in your home. Naturally a more thermally efficient method of heating a space, underfloor heating warms the air too. Completely hidden from view and soundless, this discreet and luxurious heating system allows versatile design possibilities, particularly for a modern or minimalist style. Underfloor heating extends the life of your bathroom renovation, reducing mould or grout discolouring for a space that'll look great for years to come. Comfort Heat underfloor heating, comfortheat.com.au
WASH AWAY YOUR CARES
SLIDE INTO COMFORT
Shower like royalty with the nature-inspired Methven Tūroa. Whether you prefer a misty aerated spray or a massaging pressure, the Methven Tūroa provides a personalised showering experience. With one simple slide of a finger you can seamlessly transition from a firm, invigorating spray to a gentle, encompassing warmth and anything between. The award-winning Tūroa design showcases an understated elegance in both use and appearance. The perfect combination of minimalist design and advanced technology allows the Tūroa to be tailored to your showering preference. Methven Tūroa VJet™, methven.com/au
MAKE EVERY DROP COUNT
The Nebia spa shower utilises the latest in shower technology and is designed to cleanse 10 times more of your skin's surface area. Ten precision-tuned nozzles atomise the water, delivering millions of microdrops to soothingly clean your skin. The Nebia spa shower conserves 70 per cent of the water used by ordinary showers, saving you money on water and heating bills. The rust-proof aluminium design is refined and sturdy, crafted to withstand the wear and tear of constant use. Be prepared for your shower experience to never be the same again. Nebia spa shower, nebia.com
A CLEAN DREAM
Get clean the right way, and we don't just mean for yourself. The Hansgrohe Raindance Shower Select offers not only a pampering shower experience, but is equipped with QuickClean technology to rapidly remove dirt and limescale deposits from your showerhead. And nothing says luxury more than a self-cleaning appliance. Combining showering pleasure and efficiency, the Hansgrohe Shower Select combines water and air for a voluminous, light and soft water flow. This clean dream machine is also green, and its EcoSmart function uses 60 per cent less water than conventional showerheads so you can feel good in all ways with this shower. Hansgrohe Raindance Shower Select, bathe.net.au
SINGING IN THE RAIN
The connection between wellness and our homes is a big topic nowadays. Exploring how the bathroom can affect its owners is the Gessi Wellness range, and part of this collection is the ceiling showerhead. It is a multifunctional system with soothing Rainfall, Waterfall, Mist and Chromatherapy functions. Lighting up in various colours, the Gessi Wellness ceiling showerhead can transform your shower into a balancing green or calming blue for a uniquely relaxing experience. Available in round or square and integrated sleekly into the ceiling, this showerhead allows for extensive design versatility. Gessi Wellness ceiling showerhead, abey.com.au
BATHING BLISS
RIDING THE WAVES
The Sound Wave acoustic bath by Kaldewei allows you to be literally immersed in your favourite tunes. The bath acts as a sound box to amplify music, whether the bath is filled with water or not. When relaxing in this bath, the music is more than audible; it can also be gently felt through the bath water. A true experience for the senses, this technology is simply awe-inspiring. Easy to operate with any Bluetooth-enabled device, the complex music system is made easy with a simple tap on your phone. Kaldewei Sound Wave bath, bathe.net.au
COLOUR CODED
Brighten up your bathroom with one of these beautiful Victoria + Albert baths. The new colour service allows you to customise the bathtub's exterior finish. With the choice between 194 RAL colours in gloss or matt, the possibilities are endless. Each finish is multi-layered using a special catalysed paint repeatedly while being hand-polished between applications. This technique provides exceptional depth and lustre to the finish and is considerably more durable than most hand-painted surfaces. From orange sunset hues as a statement piece to rich green to match a botanical colour scheme, these baths will be the hero piece of your space. Victoria + Albert baths, vandabaths.com/aus/australasia
SOAK IT IN
The first and only of its kind in Australia, the Decina Freestanding Soaker Bath collection is a frontrunner in design and innovation. Perfect for candle-lit nights, this gorgeous collection features increased internal depth for a full-body submersion. Combined with a thermally efficient materiality, it will provide hours of bathing bliss and relaxation. Crafted from premium sanitary-grade acrylic for a lasting product that is scratch- and chemical-resistant, these baths boast a luxurious high-gloss finish. Freestanding Soaker Bath collection, decina.com.au
PINNACLE OF DESIGN
The Atollo marble bath by Mamo Living is more than a bath; it's an experience. Brought to life with the latest manufacturing techniques and materials, the balanced lines of the bath create a graceful silhouette that is perfect for bathing comfort. Crafted from Bianco Carrara natural marble that's honed to sleek perfection, the exceptional product has a pristine finish both internally and externally and is extremely durable. The premium qualities of natural marble mean it will last for years to come. Mamo Living Atollo marble bath, candana.com.au
CALL OF NATURE
FIT FOR A KING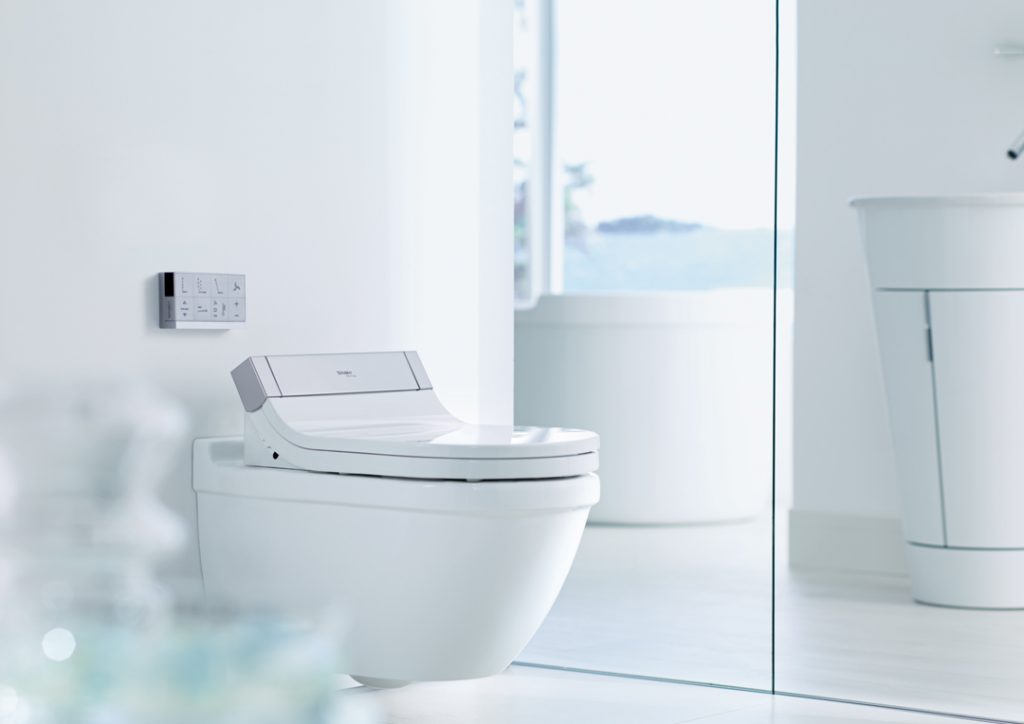 Prepare to be refreshed with the Duravit SensoWash shower toilet. The SensoWash represents a new range of shower-toilet seats catering to the modern needs of hygienic cleanliness, sustainable and efficient design, convenient operation and individuality. You won't miss the slamming of the toilet seat with the SensoWash's soft-close mechanism. With this product's functions all remote-controlled, you can choose the desired shower setting from the choices of Rearwash, Ladywash and Comfortwash. More than just a toilet, the SensoWash provides a new feel for design, comfort and cleanliness. Duravit SensoWash shower toilet, bathe.net.au
GOING WITH THE FLOW
The culmination of a century of research and development, the TOTO NEOREST integrates cleanliness, comfort and convenience into one spectacular suite for the ultimate experience. Innovative technology is built into every element of the suite, from its rimless design and gentle, cleansing washlet through to the Tornado Flush feature that efficiently cleans the bowl's surface. Dramatically reducing the need for cleaning agents and maintenance, the high-tech E-Water function uses regular tap water and converts it to hypochlorous acid to clean the wand and bowl (when not in use), before returning it back to tap water.
What a toilet! TOTO NEOREST toilet suite, bestlink.com.au
BLOWN AWAY
There are far more important things to do than clean your toilet. With this idea in mind, Decina's Renee Cyclonic Clean™ toilet suite ticks all the boxes for low upkeep and effective flushing. The combination of Cyclonic Clean™ and Cyclonic Flush™ provides maximum toilet pan cleaning results after every flush. Nano Glaze coating protects against 99.9 per cent of bacteria, oils and dirt for a sparkling-white toilet. When doing the minimal cleaning required for this suite, the dirt forms more easily into droplets so you can throw away aggressive cleaning products with a simple wipe. Renee Cyclonic Clean™ toilet suite, decina.com.au
COMPLETELY IN HARMONY
Explore where bathrooms and contemporary design meet: the Visign Viega touchless flush plate range. Not just for hygiene but gorgeous aesthetics, these flush plates are sleek, minimalist and well suited to any bathroom. Utilising state-of-the-art infrared electronic controls for clean, touchless operation, these flush plates add unobtrusive beauty and ease of use to a bathroom. A gentle wave of the hand will activate the small or large flush, while leaving no fingerprints behind. Available in a range of chic finishes, the Viega touchless flush plate will bring a bit of sparkle. Visign Viega touchless flush plate, bathe.net.au
TAP INTO POTENTIAL
GET REAL WITH TEEL
Originating from the exploration of two shapes organically flowing together, the Teel collection by Phoenix Tapware offers dynamic design and timeless style. The elegant, slender tapware collection would suit a range of bathroom styles. An embodiment of beauty in a simple profile, the Teel collection comes in four on-trend finishes: chrome, brushed nickel, gun metal and matt black. The technology behind this product makes it a standout of ergonomic design and sophisticated aesthetics. Teel collection, phoenixtapware.com.au
TAKE A GESS(I)
Don't just buy for today, but for years to come. The special Gessi steel AISI 316 offers a resistance similar to stainless steel in any environment for a lasting product. The tapware will never lose its shine, elegance or rich colour, needing only minimal maintenance. Unusual in appearance, the metal pattern of the tapware can add detail or industrial chic to a bathroom for a unique finish. The Italian-made and -designed tapware incorporates luxe appeal in a sleek package for tapware like no other. Gessi 316 Bathroom collection, abey.com.au
SIMPLY ICONIC
Armed with the latest of European progressive cartridge technology, the Ortho wall-mounted mixer collection is tapware made for the modern bathroom. The stylish central dial seamlessly operates the water flow, activating the hot-water mixing once turned to 90° and releasing only hot water at maximum turn. Longevity and durability are built into the mixer from its brass construction, allowing it to stand the test of time. The iconic, award-winning design is influenced by principles of modernism and geometric shapes combined to present a unique, engineered and stylish mixer. Ortho wall-mounted mixer collection, phoenixtapware.com.au
VOILÀ VOLA
Hands-free features aren't just for cars. The VOLA HV1E basin mixer employs an on-off sensor for the most hygienic washing of hands. Ideal to keep soapy hands confined to the basin area and not over the vanity top, with a simple movement of the hand the water can switch on. Available in a range of colours and finishes, this high-tech mixer would complement a range of bathroom styles. VOLA HV1E basin mixer, en.vola.com
Originally published in Bathroom Yearbook 23