Top 7 black bathrooms. From all-over black to modern monochrome, these dark bathrooms are sure to set the mood.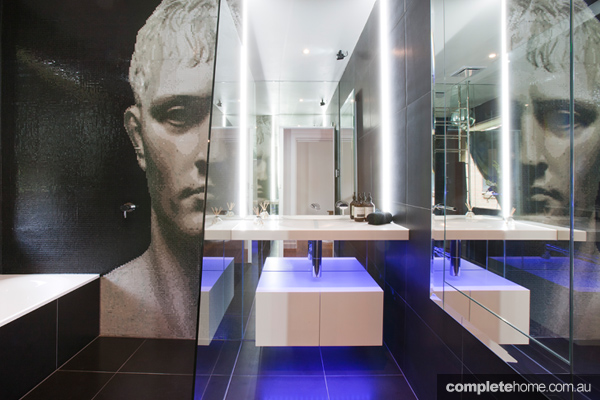 1. Award-winning
Designer Sam Robinson has won multiple awards for this bathroom including Australian Bathroom Designer of the Year. With an impressive feature wall that harks back to Renaissance period sculpture and the clever use of mirrors and lighting, this bathroom is truly timeless. Designer: Sam Robinson for Royston Wilson, roystonwilson.com.au
WE LOVE: The Renaissance inspired mosaic.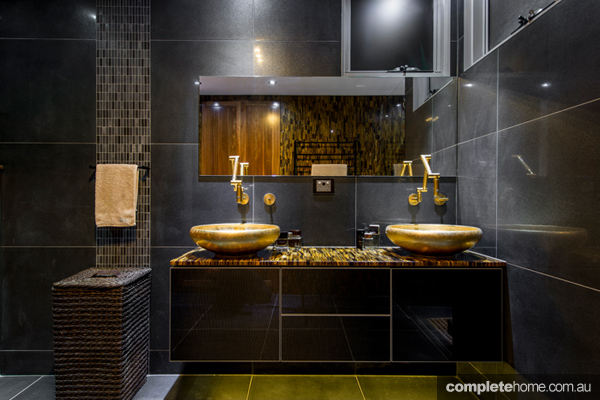 2. Tigers Eye
A unique interpretation on the dark bathroom, this design uses strong ochre and golden brown tones.  Caesarstone Concetto Red Tigers Eye natural stone is utilised in the vanity top and feature wall, adding a bold and masculine touch to the bathroom design. This contrasts with the beautiful Spotted Gum timber features of the bathroom. Designer: Lee Hardcastle for Enigma Interiors, enigmainteriors.com.au
See more from Enigma Interiors
WE LOVE: The luxurious gold leaf basins.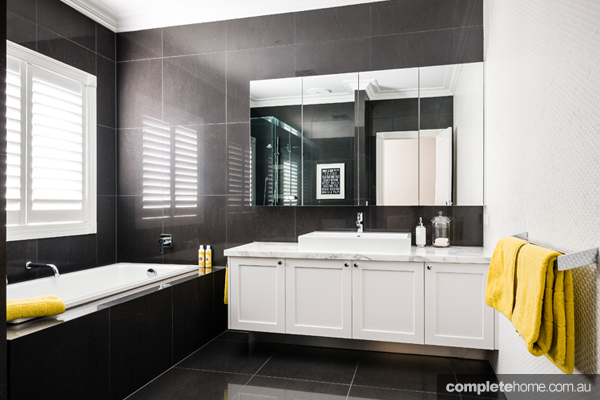 3. Classic
This classic yet modern take on a bathroom by Ultimate Kitchens uses a striking monochrome colour scheme.  A suspended vanity and mirrored cabinets creating a look that is both sophisticated and distinctive. Designer: Jeff Richardson for Ultimate Kitchens, ultimatekitchens.com.au
WE LOVE: The stylish contrast between the white mosaic feature wall and the black floor tiles.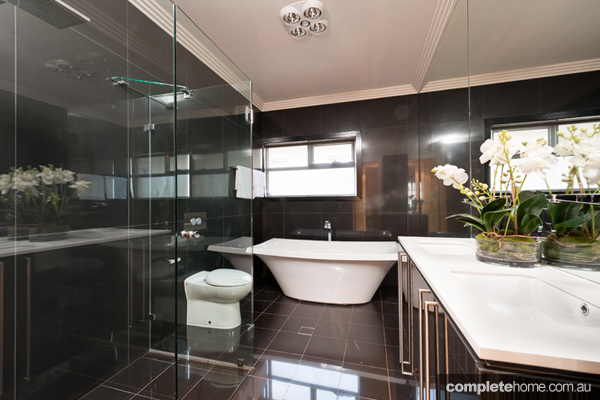 4. Spacious
This bathroom designed by Outside Square uses minimalist ideas to create a functional and family-friendly bathroom. Working within a small space this innovative design has allowed for a spacious and timeless bathroom that doesn't compromise on storage and is perfect for the whole family. Designer: Angela Gianakis for Outside Square, outsidesquare.com.au
WE LOVE: The extra-large tiles on the walls. Minimising grout lines creates the illusion of more space!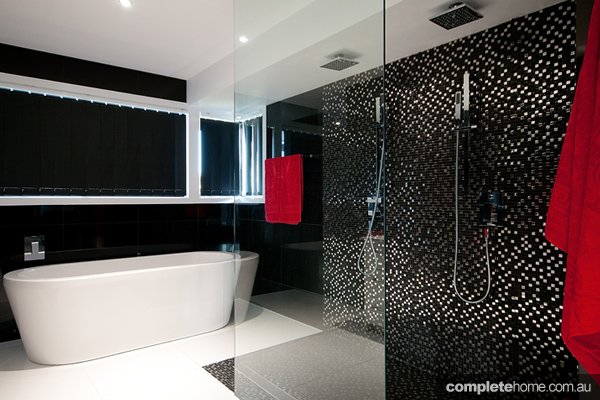 5. Monochromatic
With a monochromatic theme, this decadent bathroom design by TRENDS kitchen + bathroom uses a balance of light and dark. Featuring, black wall tiles and white floor tiles this bathroom has a sleek finish that is not too dark and not too light. Designer: TRENDS kitchen + bathroom, trendsdesign.com.au
See more from TRENDS kitchen + bathroom
WE LOVE:  The futuristic feature mosaic tiling in the shower.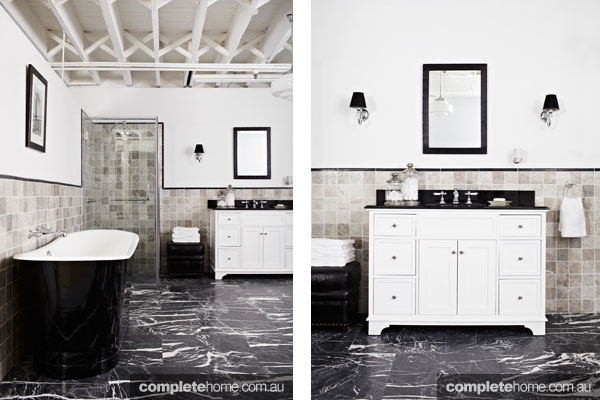 6. Art Deco
Capturing the era of the Great Gatsby, this art deco themed bathroom design is glamorous and bold. The glossy finish and acid-washed marble floor tiles are standout features of this bathroom. Marble, chrome and granite highlight the black and white colour scheme. Designer: Schots Home Emporium, schots.com.au
See more from Schots Home Emporium
WE LOVE:  The tone and texture of the acid-washed marble floor tiles.
7. Mocha
This dark bathroom design with mocha toned porcelain tiles and grey marble uses a neutral palette to create a luxury hotel style. Incorporating organic and elegant features within this bathroom make it a relaxing retreat. Designer: Pierre for Gasparre Tiles with Sydney Bathroom Renovations and Cass Brothers, gasparretiles.com.au
WE LOVE:  The warm tone of the mocha porcelain tiles
By Olivia Whenman