Straw bale is an aesthetic, environmentally friendly, alternate way to build your home. Using what was — until recently — merely a waste product of the grain industry, this method is now becoming popular with a number of builders focussed on the construction of earth buildings.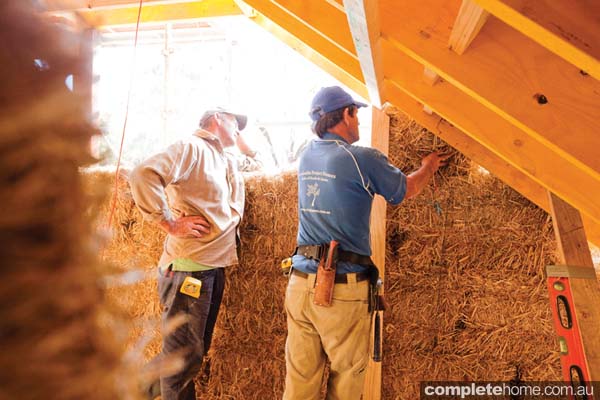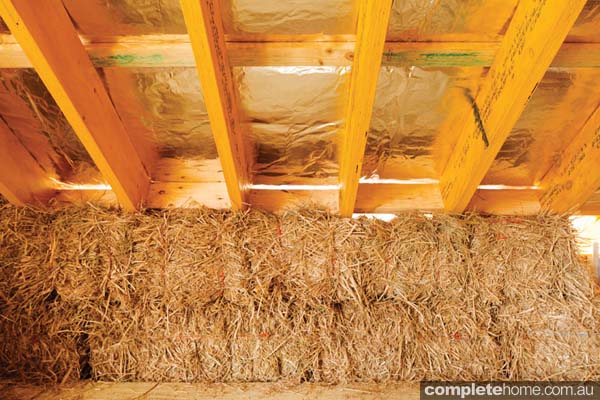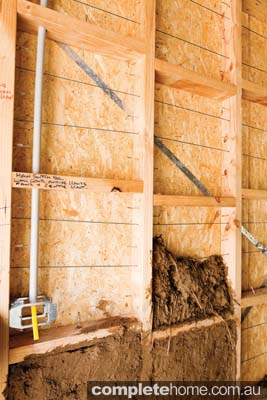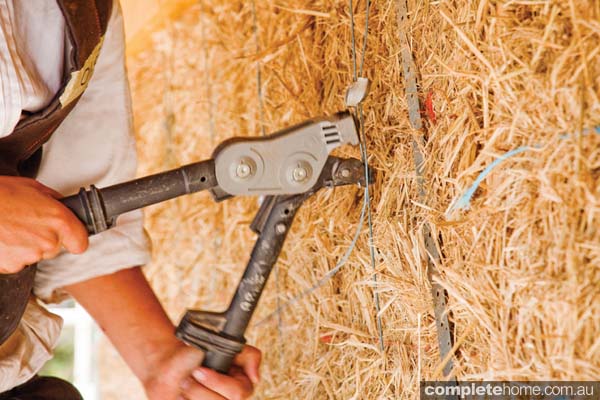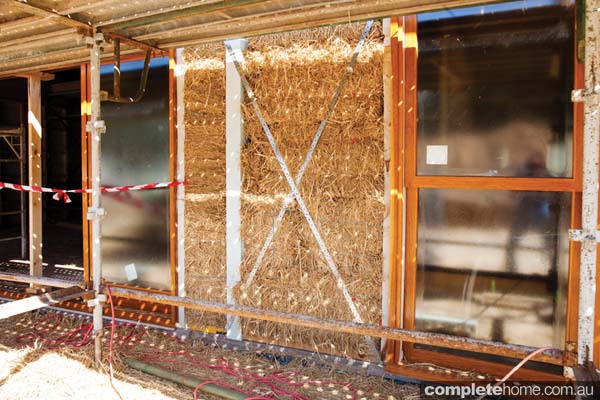 As much a piece of art as a building, straw bale houses are given form by the builder who sculpts the materials of straw and clay to create a thing of beauty. What is also interesting is with experience, you too can become involved in the construction of your own home using this method if you so desire.
Straw is the stubble left after the seed head of a crop like wheat, rice, oats, rye, flax or barley has been removed. It has been used in construction ever since man started cultivating such crops and was originally used in tied bundles held in a reinforced frame — generally timber — to make a wall (grass and sugar cane waste are also other possibilities for bales). These walls were then rendered on both sides with cob (clay, straw and water mixed together). The first straw bale building constructed was thought to be in the US in about 1860. It was a simple construction that did not have rendered walls and was eventually eaten by cows grazing on the building.
Demolition by farm animal aside, one of the main downsides to constructing straw bale is that it is overall labour intensive to erect when compared to conventional construction techniques. That said, the building of straw bale walls is much less labour intensive than using other materials such as concrete block, brick, adobe or stone, and requires considerably less skill.
There are a couple of main ways you can construct a straw bale home. One is the stacking of bales to form walls with a bonding system similar to building a brick wall — there have been buildings of up to three storeys constructed using this method. The more popular technique is the post and beam or external frame method. This is where the straw bales are used as infill between the supporting structure or the second skin of a building, with a cavity between the external wall and internal straw bale wall.
If you live in a bushfire-prone area and you are required to comply with the new Australian bushfire code, it will be necessary that the external face of the building is a fully rendered wall. The most environmentally friendly method of rendering is the use of cob and this would be applied to both external and internal surfaces of the straw bale walls. Another alternative is a mix of cement and lime render, which is applied over chicken mesh fixed to the walls. In both cases, the walls are then sealed and painted when dry. When using the cement and lime render, you could add oxide colour straight to the mix — thus saving the need to paint the surface. A spray-on render is also obtainable.
Availability of straw bales is seasonal and depending on where you live in the southern hemisphere, the season will be from October to January. It can be important to find out when bales are being made in your local area, so you do not end up paying the additional costs of transporting bales from further away. It is also advisable to find a dependable supplier who, not only makes a well-compressed bale, but is also able to provide undercover storage to keep the bales from getting wet.
Keeping the bales dry at all stages of construction, up until the walls are rendered, cannot be emphasised enough. There is no point making your job harder than it already is by having wet straw, which can lead to deterioration and fungal growth in the straw bales. And the question of whether you will have a problem with rats and termites can be best answered by saying that if your preparation and diligence to detail is carried out during construction, these pests will be no worse than any other building constructed from more conventional materials.
Straw bales provide you with a great degree of flexibility in your design, allowing you to sculpt and add details, while letting your creative side go wild. Bale building is forgiving, encourages individual creativity and leads to final structures that are climatically adapted and energy-efficient. Many straw bale homes have that soft, comfortable feel about them providing a great connection with the earth — something that other homes can sometimes lack. But they also are a style of building able to accommodate all the mod-cons of a modern life.
Like any building it is the attention to detail that will get you a great result. If you are not good with fine detailing, you would be better off to engage a qualified builder with experience in straw bale construction who can work with you to achieve the budget and result you want. Having a set of plans designed and drawn by a professional who understands, and has worked with, the material before is important to getting a building you will love and call home.
A well-detailed set of plans that clearly shows all the details of constructing a straw bale building will also make your passage to approval through your local council much easier. Your local council may have a resistance to construction methods they are not familiar with, so it is important to ensure they clearly understand what you want to construct, leaving no room for ambiguities that could stop them approving your plans. Showing pictures of other straw bale buildings that are local, but not necessarily in the council's jurisdiction, can go a long way to help with your approval.
Ultimately, a straw bale house will be different — it will be warm, comfortable, energy-efficient, environmentally friendly and a home that will last for a hundred years or more. For the owner-builder this is one material that allows them to be intimately involved in the construction of their home. With some basic training and professional advice, you should be able to raise a cost-effective structure that will have your blood, sweat and tears built into the finished product.
By Ian Cleland
From Grand Designs Australia magazine Vol. 2 No. 1