Top 9 grey bathroom designs. Grey doesn't have to be gloomy! Check out the latest shades in these sleek, winter-toned bathrooms.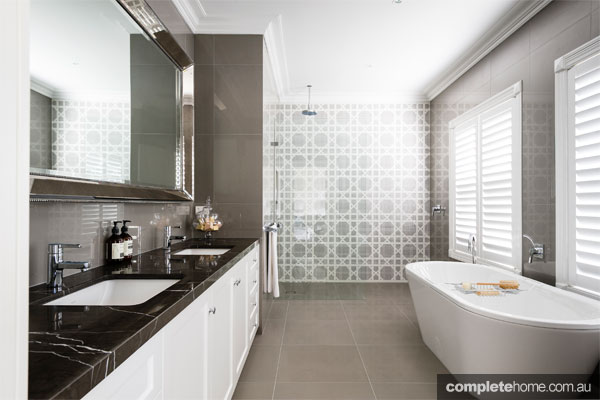 1. LUXURIOUS
A simple palette of grey, white and black makes this bathroom design minimal yet sophisticated. The use of a variety of patterns, textures and shades assists in creating a timeless and memorable design. Features include a large luxurious mirror above the vanity, walk-in shower and freestanding bath. Designer: Jeff Richards for Ultimate Kitchens, ultimatekitchens.com.au
WE LOVE: The grey feature mosaic tiles in the walk-in shower.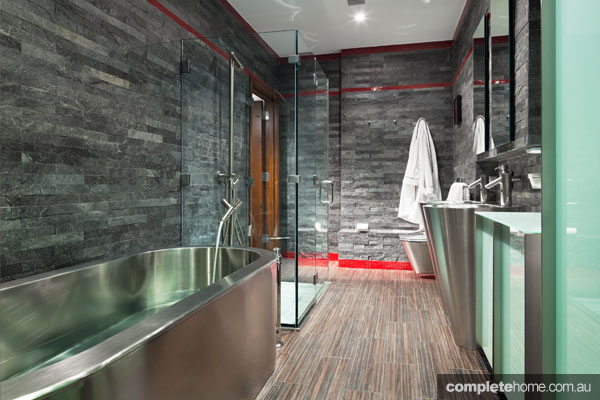 2. TEXTURAL
The major feature of this bathroom design is the stylish grey textured wall tiles. With splashes of red to offset the monochrome palette, other features include a metallic bathtub and sink, making the design modern and artistic.  Designer: Fractal Constructions
Take a look around the rest of this home here
WE LOVE: The metallic bathtub.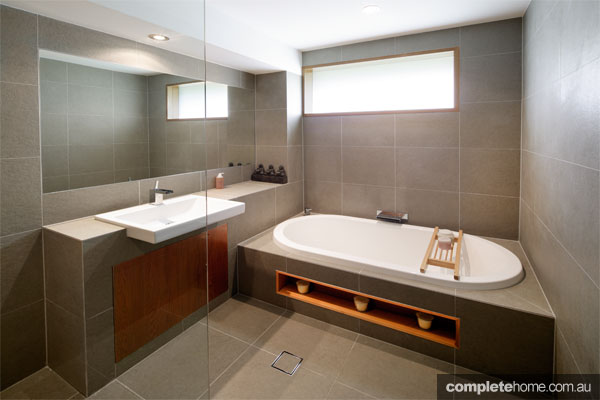 3. SMOOTH
Using a simple and smooth design, this bathroom creates a relaxing haven. The main feature is the grey ceramic floor and wall tiles that add a sleek and sophisticated edge to the open-plan bathroom. Another interesting feature is the frameless glass shower. DESIGNER: Marilyn Paya and built by Designline Kitchens & Bathrooms, designlinekitchens-bathrooms.com
See more from Designsline Kitchens & Bathrooms here
WE LOVE: The sleek recessed mirrored cabinet.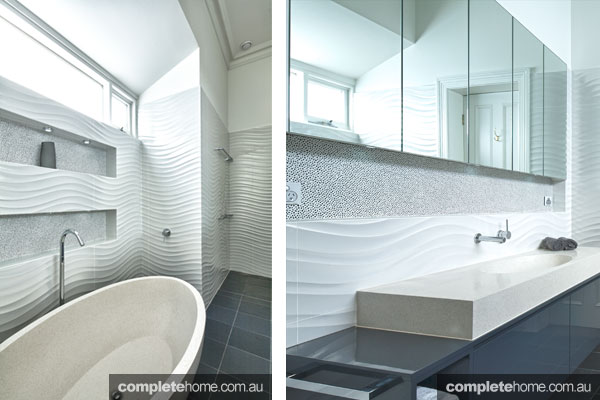 4. FRESH
Light grey hues and intricate tiling are the eye-catching features of this fresh and modern bathroom design from Bathroom & Kitchens by Urban. Using pattern and tone to create a tranquil atmosphere, other cool design attributes include an Apaiser Mosman bath and LED lighting.  DESIGNER: Bathrooms & Kitchens by Urban, byurban.com.au
WE LOVE: The contrast of the black semi-polished porcelain floor. Dark and sleek!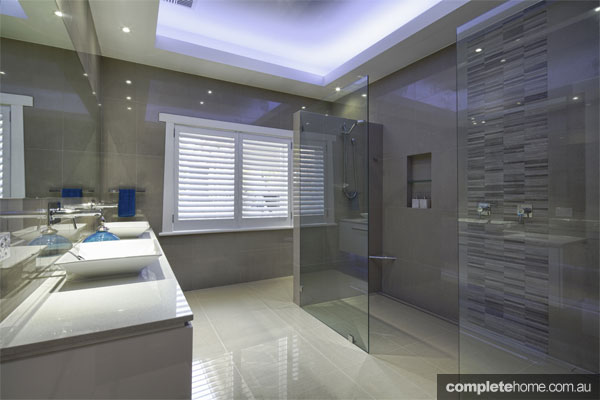 5. HIS AND HERS
Stylish and secluded, this deluxe bathroom design includes his and hers twin showers and a double vanity. Feature tiles in Dark silver Travertine contrast nicely with polished porcelain floor and underfloor heating ensures this design is the ultimate couple's retreat. DESIGNER: David Cocks for Bathrooms & Kitchens by Urban, byurban.com.au
WE LOVE: The dark silver Travertine feature tiles in the shower.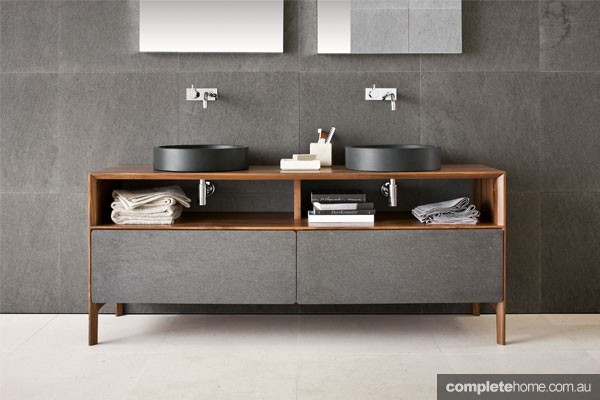 6. LIGHT
Luca Martorano's bath collection challenges the depiction of stone as bulky and dense. His Neos collection by Neutra is a series of pieces that have a soft and light visual aesthetic. Durable, resistant and made in Italy, the Neos collection is all about quality and natural, simple design. DESIGNER: Luca Martorano.
See our interview with Luca Martorano here
WE LOVE: The stone and wood combination in the vanity design.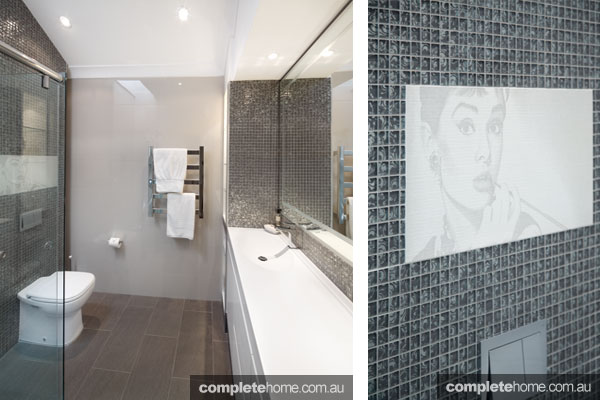 7. STATEMENT
A stylish print featuring the iconic Audrey Hepburn adds a touch of glamour to this black-and-white bathroom. Offsetting the stylish granite-look tiles and statement print is a simple yet chic sepia toned palette. DESIGNER: Pierre Cerroni for Gasparre Tiles, gasparretiles.com.au
WE LOVE: The idea of a statement piece in a bathroom design!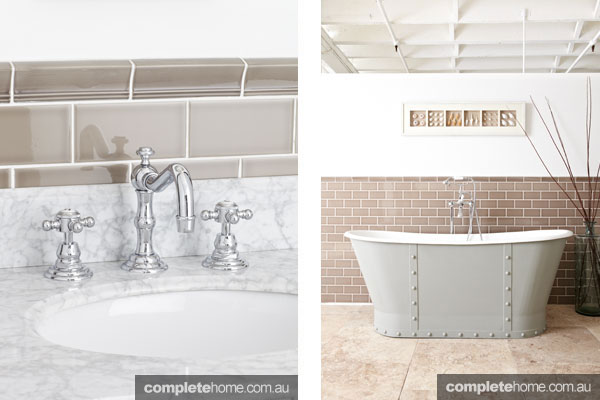 8. OLD-WORLD CHARM
Using inspiration from bathrooms of old, this bathroom design is a quirky take on Industrial-age aesthetics. A chic light grey and white colour palette creates a relaxing ambiance, while period features including a cast-iron bathtub and a marble-topped vanity highlight the antique appeal of this bathroom. DESIGNER: Schots Home Emporium, schots.com.au
See more from Schots Home Emporium
WE LOVE: The grey rivet cast-iron bathtub – a unique and stylish feature in a modern bathroom design.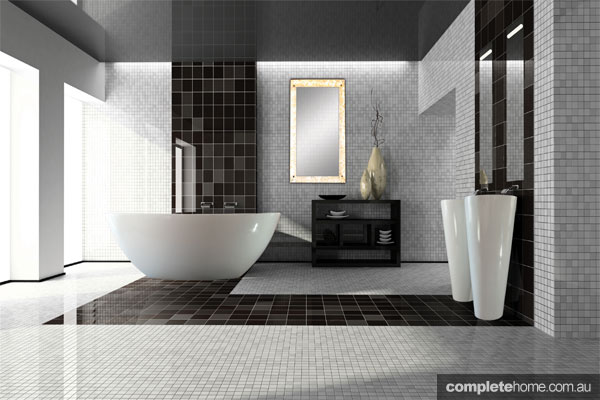 9. POLISHED
Glamorous and beautiful, this bathroom design includes mother-of-pearl square tiles from the Kamirro Oyster tile range. White Kamirro stone sinks and bathtub also create a fresh contrast with the polished grey feature tiles used on the walls and floor. DESIGNER: Kamirro Stone, kamirro.com
WE LOVE: The shade and tone in this bathroom design.
By Olivia Whenman