Bathrooms, as the name would suggest, began their long and illustrious history as places in which to bathe.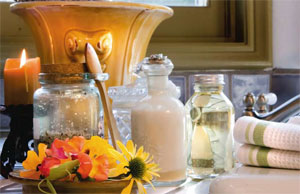 This once humble wet area has indeed come a long way since the days when washing the body was a matter strictly of hygiene and high society. The bathroom, and what goes on behind its doors, has become synonymous with relaxation and indulgence — a place beyond simple ablution and bodily functions.
We all know and love our bathrooms as places of refuge, where the sins of the day can be physically, and oftentimes spiritually, washed away in a lather of bubbles, hot water and dreamy steam.
Thanks to spa baths and power showers, bathing be a rejuvenating and even indulgent experience. And, if you take things one step further, your bathroom can become somewhat of a home beauty spa. With so many DIY beauty therapies on market shelves, bathrooms have the capacity to turn from den of tranquillity to hive of activity in the flash of a waxing strip.
To this end, bathrooms are once again taking on the utilitarian functions of yore. Nowhere can this concept be more readily realised than in modern country designs, where the mix and match of old and new create a wonderful bold contrast both pleasing to the eye and open to the miraculous arts of beauty therapy. By including a towelling-covered chair and a side table full of nail-care products, you can create an instant manicure station where you can sit and paint and pamper till your heart's content. Or how about a pedicure station with a basket filled with loofahs and pumice stones, polishes, soothing foot balms and a foot spa safely tucked into your bathroom cupboard?
The nail "cures" we perform within our bathrooms today are a modern version of the French manicure, developed in the 18th century and popularised in the 1920s and '30s. And while no one can argue that a manicure or pedicure by a professional isn't a luxury in itself, there are plenty who argue a fine performance, as well as pampering, can still be performed at home, especially due to the plethora of products devised to strengthen, nourish and coat your nails.
Another parlour favourite that can be administered at home is the facial. Facials are almost as individual as the faces they treat. Masks, peels, steaming, massaging, exfoliation and even extraction are all part of this beauty boost and, depending on your complexion and bathroom design, the regime can be altered to suit your every need. You can even try your hand at one of the many home-made facial recipes: try bicarbonate of soda mixed into a paste with water for a cheap and effective exfoliator. Egg whites and yolks make a great peel, and honey left on warm skin for up to half an hour cleans the pores. The pantry can become your very own laboratory and the bathroom your beauty salon — the only caveat for this enterprise being that any emulsions should be made on the day, as close to the time of use as possible. These are products with a definite expiry date!
No matter which beauty regimes you like to pamper in, the bathroom is the perfect private space in which to indulge them. After all, most have great lighting, which is mandatory for satisfactory tweezing of brows or application of makeup and the obligatory bathroom mirror is perfect for monitoring one's results.
And what, might you ask, is the benefit of all this bathroom business? Well, apart from the obvious monetary advantages of DIY and avoidance of such time-wasting efforts as trawling through traffic and waiting your turn, there are the more unquantifiable aspects, such as being able to book your appointment at the drop of a hat, enjoy the surrounds you yourself have decorated to your tastes and, for those of us who've perhaps had enough of Enya, you can pick the soundtrack as you see fit. Now sit back, relax and enjoy!