So you've changed the shower head. How else can you make your bathroom eco friendly?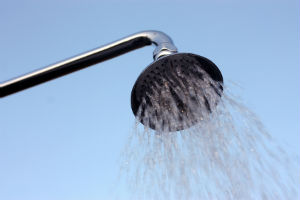 Tip 1. SLEEK SHOWERHEADS: Those huge, plate-sized showerheads now signal times past; today's eco showerheads are stylish water savers. Architect Melonie Bayl-Smith says all the top bathroom suppliers now create products with high-effi ciency ratings. "From an aesthetic point of view there are not the limitations on people's choices any more," she says. A water-effi cient showerhead will save about half a tonne of emissions and about $50–$100 a year if you still have electric hot water heating. Of course, showers don't waste water if they're not turned on, so gather some willpower and keep yours about the same length as the hourly news update. An egg timer will help keep you on track — but remember, you have to turn it over to save any emissions! There are plenty of water-saving tips at www.waterforlife.gov.au.
Tip 2. GREEN CLEAN YOURSELF: Cleaning yourself is infinitely more enjoyable than scrubbing tiles, especially if it's chemical free. Ecostore founder Malcolm Rands particularly recommends avoiding the sodium laurel sulphates (SLS and SLES), parabens, and cocoamidopropyl betaine chemicals often found in shampoos and hand and body washes, as they can irritate the skin, mimic female hormones and impact on our immune systems, among other undesirable effects. Educating yourself about what to avoid can be tricky, so ecostore product labels clearly list what's inside each bottle. Buy from more than 400 stores in Australia, or visit www.ecostore.co.nz.
Tip 3. POWER SUCKERS: While we may be getting better at saving water, we're not so savvy on the power front. Archicentre NSW general manager David Hallett recently noted that while spas may be out due to attempts to save water, we're powering forward on other bathroom features. "One out of three renovators want heated floors and heated towel rails are pretty standard," he says. The green solution? Ditch the heated floor for a nice pair of slippers and a big fluffy organic cotton robe and, of course, choose green power for your electricity needs.
Tip 4. CLEAN IT GREEN: Options abound for green cleaners. DIYers should get their hands on Shannon Lush's original bestseller Spotless (ABC), a book that will excite even the most reluctant cleaner. Most of her tips are chemical-free solutions passed on from her family. If you live in Sydney and want someone to do it for you, give Green Clean Australia a call. They'll clean your bathroom (and the rest of your house), with nary a chemical in sight. www.greenclean.com.au.
Tip 5. STICK A BRICK IN IT: Creating your own half flush is a simple tip that will save loads of water. Placing a brick or other solid object in the old toilet cistern will reduce the water used every flush. Not into DIY? Ecological Homes sells a weight system that does the same job (ph 1300 730 707). In many circles, flushing is almost passé. The old adage "If it's yellow, let it mellow, if it's brown, flush it down" is no longer antisocial. A quick mention to guests of your philosophy will usually suffice.