Turn a lacklustre bathroom into a luxurious personal space with wallpaper. Plus 5 quick installation tips!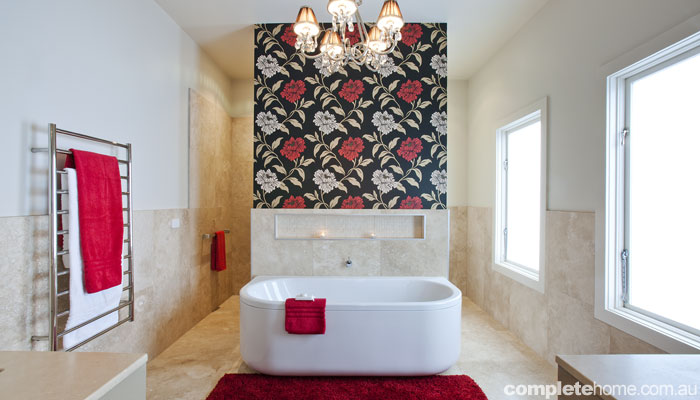 This ensuite above was designed as beautiful sanctuary with a retreat-style feel, as a space for relaxation. "Somewhere you can feel like you have been transported to another place," Katrina Luxton of Royston Wilson Design explains.
Fluidity, shape and colour all played a key role in the design, with the wallpaper installed to link the elements. "The wallpaper has a very definite look and was installed on the bath wall above the tile splashback. This is complemented by a rug that picks up the colour of the wallpaper. The effect is magnificent," Katrina says. The chandelier adds to the allure of the space, accentuating the lavishness of the space.
Travertine was used on the vanity tops, floor and walls, and acts as a perfect backdrop for the stronger colours in the wallpaper and rug. The appeal of a natural stone is subtle in its luxury.
The lines in this bathroom are clean but not minimalist. The wallpaper, chandelier and rug add the warmth, impact and luxury that were essential components of delivering the dream for this client.
Katrina Luxton from Royston Wilson Design shares five quick tips when it comes to installing wallpaper in your bathroom.
1. Employ a professional to do the hanging.
2. Use a quality product. Wallpaper, like most things in life, varies in quality.
3. Avoid hanging directly where your water source is. Use tiles to create a splash barrier and then paper above that.
4. Wallpaper can be changed far easier than tiles, so it allows for a "change of scenery" without any fuss.
5. Use wallpaper in the same way that you would a feature wall — flaunt it!
For more information, visit roystonswilson.com.au
From Luxury Home Design magazine Vol 15. No. 4