With stunning his and her vanities, this caramel-toned bathroom provides a natural, earthy look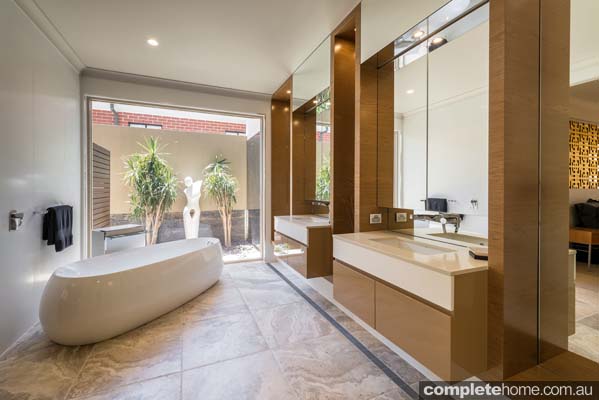 "Function, creativity, and the sanctuary of the outdoors were embraced in creating this luxurious retreat. The brief was for a bathroom that was opulent but functional for everyday use. The design enables the owners to enjoy their bath while having a peaceful view of the private courtyard. A his-and-hers designed vanity area provides the owners with full-length mirrors and personal mirrored cabinets that reflect the courtyard, bringing in the outdoors.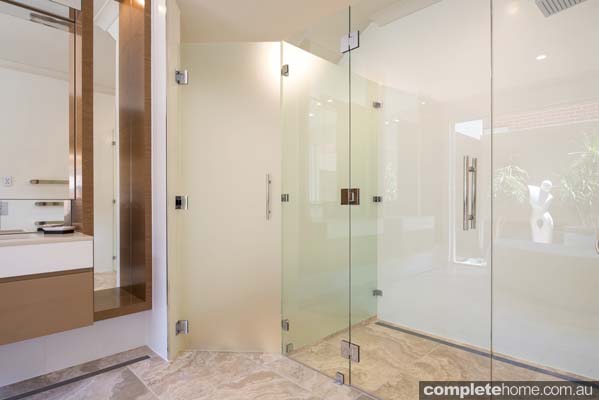 This layout allows the owners to simultaneously get ready without disrupting each other. The separated water closet delineated with translucent glass provides further privacy.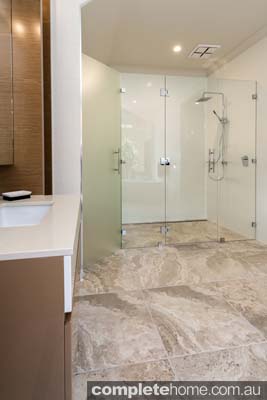 The brown, earthy tones used for the walls, tiles and cabinetry meld colour and texture seamlessly for a harmonious, natural look that complements the courtyard. The mix of materials and colours creates an atmosphere of relaxation and luxury."
Designer: Angela Gianakis for Outside Square
Winner: 2014 HIA/CSR Bathroom Design of the Year
SHOP THE LOOK
Vanity top Engineered stone in Ivory
Basin Under-counter vanity
Bath Freestanding
Taps Chrome wall basin mixer 200mm, chrome bath shower mixer, bath shelf and spout
Tiles Porcelain
Mirror Custom-made
Heating Three-in-one heat, light and fan unit
SHOP THEIR SHOWROOM
outsidesquare.com.au
155 Magill Road, Stepney SA
(08) 8363 5363
Originally from Bathroom Yearbook magazine, Volume 19