With an outdoor bathroom or shower area, you can revel in the full resort experience. Here's everything you need to know.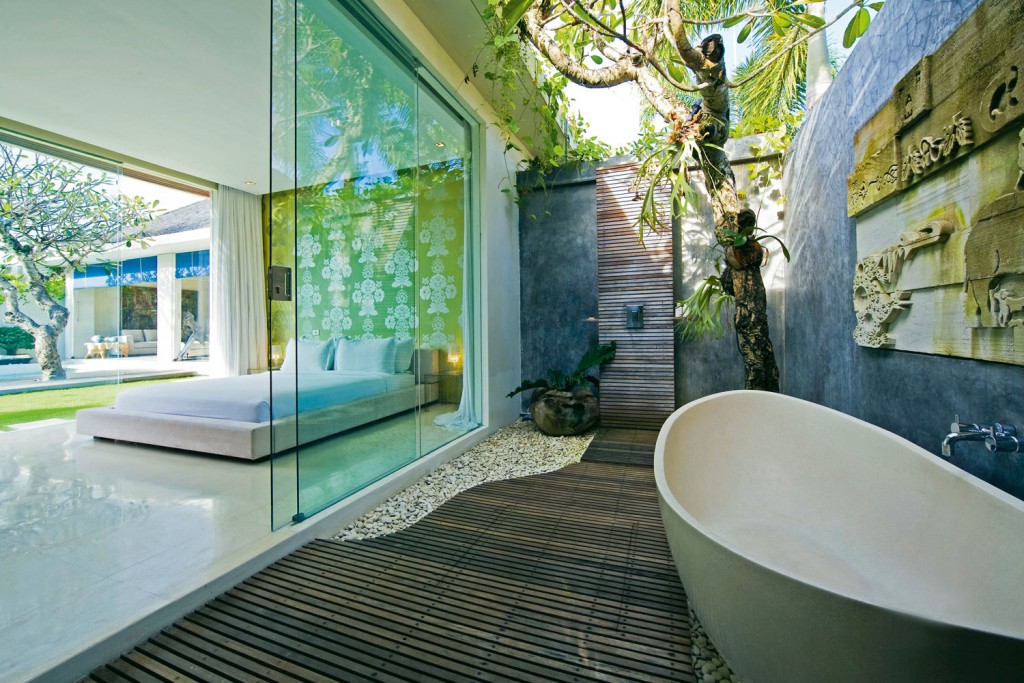 Take inspiration from this outdoor bathroom at the luxury Chandra Villa in Bali, chandrabalivilla.com
With so many indoor rooms now found outside too — such as kitchens, living and dining rooms — it was only a matter of time before the bathroom joined them.
An outdoor bathing area offers a unique feeling of relaxation and peace, providing a special place where you can unwind and appreciate nature's bounty. An outdoor shower or bath offers a place in your outdoor room where you can enjoy the movement of water on your body, surrounded by the plants and gentle breezes of the garden. This experience can be enjoyed during the day or at night and in all seasons, providing you with a personal retreat in your very own outdoor room.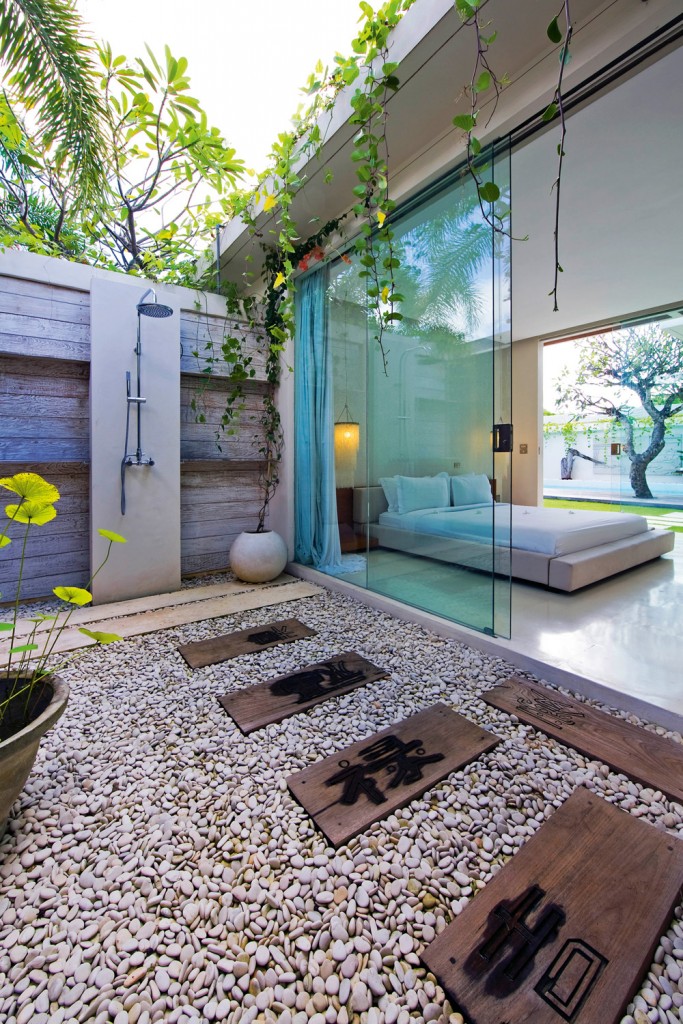 This Asian-inspired outdoor shower area can be found at the Chandra Villa in Bali, chandrabalivilla.com
Shower power
An outdoor shower can be incorporated into most outdoor rooms and provides a practical function — a tailored location for rinsing off after being in the pool or spa, or for cleaning up after working in the garden — preventing the need to tiptoe through the house on your way to the bathroom.
As well as being practical, an outdoor shower also adds to the atmosphere of external living. Not only will showering outside enhance your overall outdoor experience, there's also something quite amazing about immersing yourself in water with only the sky to cover you.
One of the best things about installing an outdoor shower is that you don't need a lot of space. With sufficient high walls, a shower head and adequate drainage, you can be showering outside in no time. And for those who prefer an enclosure, incorporating folding glass shutters or upright screening plants will help deter prying eyes. For screening, opt for a natural material that's tactile and welcoming against bare skin.
Outdoor shower on a New York rooftop. Photo courtesy of Sawyer/Berson Architecture & Landscape Architecture.
On a firm footing
To ensure your outdoor room caters to the needs of an outdoor shower, there are a few practicalities that need to be addressed. The floor of the shower area must be able to withstand water and prolonged periods of dampness. Treated timber is a suitable option. Not only does it feel good underfoot and provide an adequate grip, the spaces between the timber slats will allow good drainage.
Pavers are another suitable flooring option for shower areas. Provided they have a matte finish and are slip-resistant, pavers can help create that real "indoor bathroom" feel. Porous stone can also be used as long as it is in a position where it can dry in the sun.
It's also important to consider the flooring of the rest of the outdoor room. If polished or honed stone is your main floor surface, you'll need to completely separate your shower area from the rest of your outdoor room to ensure water doesn't accidentally drain into the living area and become a slippery hazard.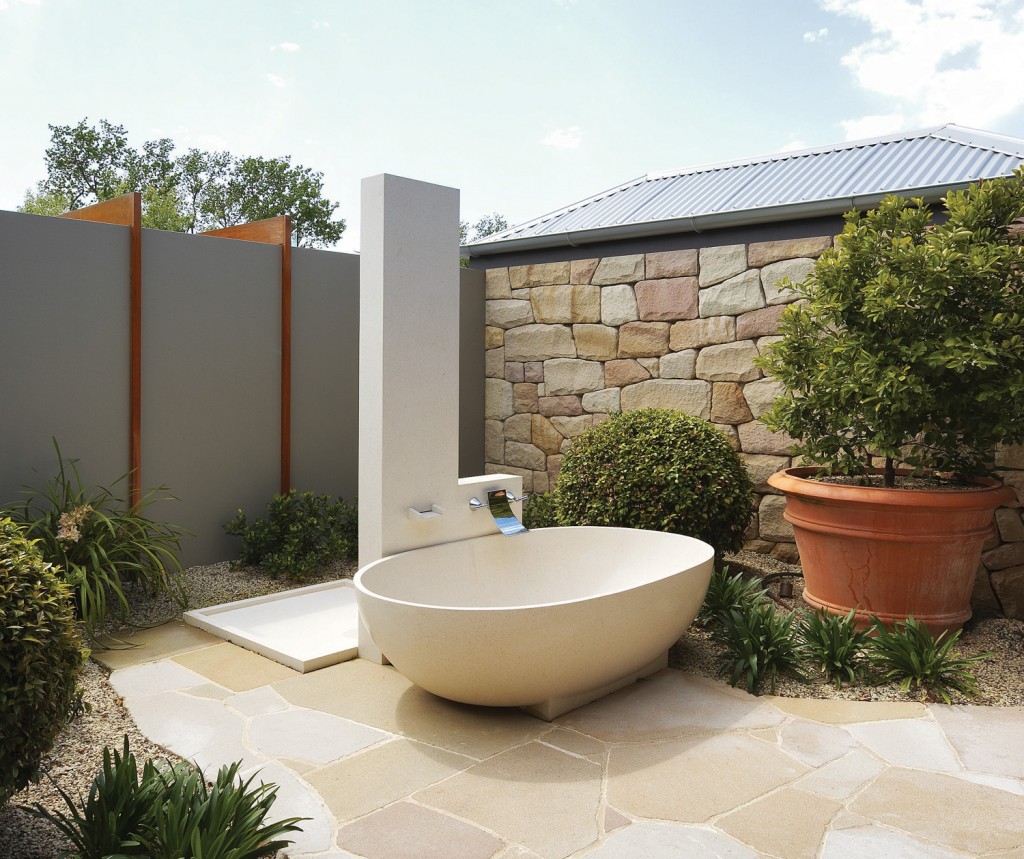 This bathing area incorporates a bath and a shower. Photo courtesy of the Claron Property Group.
Spas and baths
Spas have become very common in outdoor rooms and tend to go hand in hand with swimming pools. However, if you're looking to create a more "bathroom" atmosphere in your outdoor room, why not install a bath instead?
Can you think of a better way to bathe than by soaking in a tub with nothing but the stars above and greenery around? And if you have a view from your outdoor room, positioning the bath so you can enjoy the magnificent vista will only add to your overall outdoor experience.
Unlike the outdoor shower, the bath is generally a more personal item. It's a place of pure relaxation, where you can soak and let time pass without a care. The stillness of the water also allows you to take in the natural surrounds and the movement of the foliage. Add some subtle lighting at night and scented candles or incense burners and you have your very own spa retreat. If you want a truly indulgent bathing experience, sprinkle aromatic flower petals on the surface, such as rose or geranium petals, or frangipani.
Free-standing baths also make a great design feature in outdoor rooms. When not in use, they provide a unique focal point, their presence suggesting relaxation and calm.
Creative thinking
A pavilion or pergola canopy with open sides lets the garden come up close, or you can have a semi-open room with motorised opening roof and walls, or a large gas-lift window. Alternatively, build a bathroom that's open to the sky but enclosed with solid courtyard walls, or with sectioned walls that can be opened further, with sliding screens or louvres closed for privacy when you need it, or pushed back to enjoy a view.
As an outdoor bathroom is a larger space compared with its indoor counterpart, bathroom fittings can look best when they are oversized. Free-standing tubs instantly produce a resort-style look; a large, free-standing bath, whether of acrylic or stone, makes a great centrepiece in an outdoor bathroom. Make sure your substrate can carry the weight as some filled stone tubs will be well over a tonne.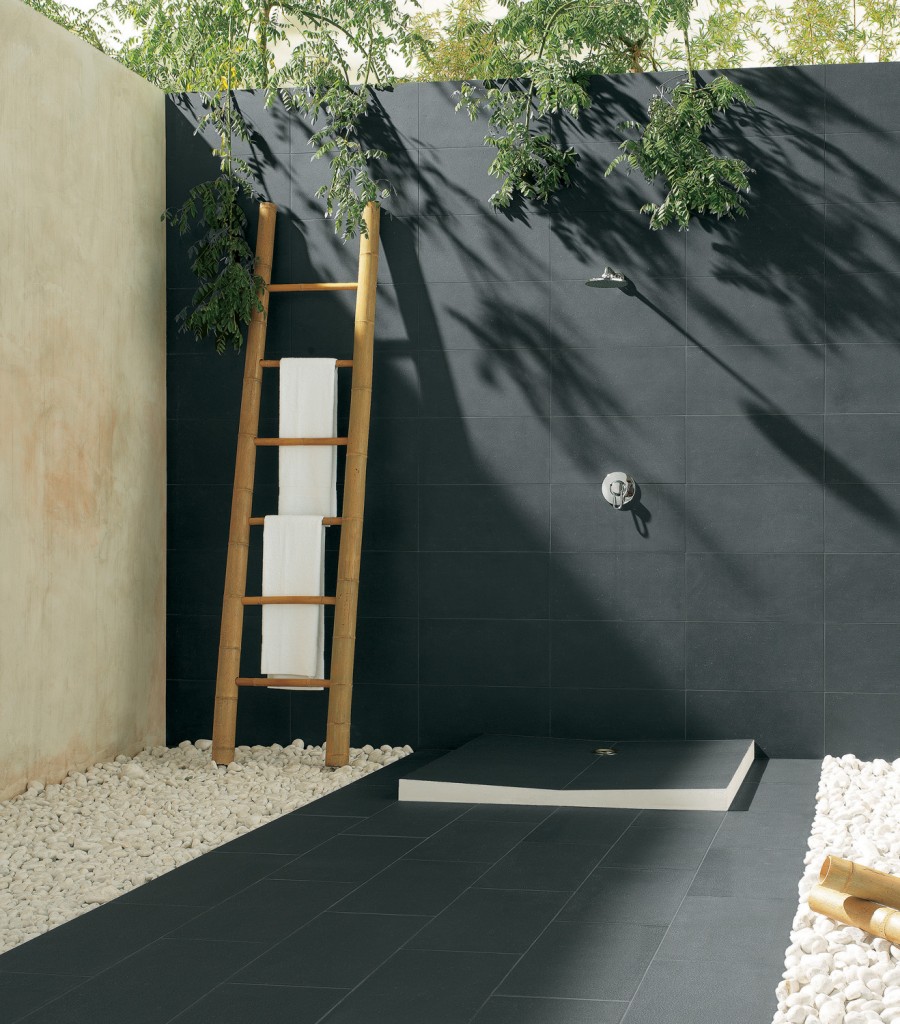 An outdoor bathroom requires privacy and must be able to weather conditions outside. Photo courtesy of Apaiser.
A private haven
Privacy is an important issue when it comes to outdoor bathrooms, as the experience of showering or bathing outside will only be enjoyed if you feel relaxed and at ease. With the right design considerations and screening from plants and structures, you can enjoy your outdoor bathroom without challenging your comfort zone.
For privacy and to truly appreciate your natural surroundings, a green shower screen may be the way to go. Opt for water-loving plants that thrive in moist atmospheres and enjoy the lush greenery while you shower. A dense stand of bamboo will also act as a great screen to protect your privacy in an outdoor bathing area.
The inclusion of an outdoor bathing facility, whether a shower, a bath or both, brings added value to your outdoor room by providing you with a personal and intimate connection to the space. They reinforce the notion of the outdoor space as an extension of our homes and enable us to enjoy our outdoor rooms in a more personal way.
Outdoor bathroom design tips
If choosing pavers for your outdoor bathroom, make sure they have a matte finish and are slip-resistant.
To feel more enclosed while showering, consider folding glass shutters or a mass of upright screening plants.
If your outdoor room has views, position the bath to take in the vista, enhancing the outdoor bathing experience.
When not in use, baths make a unique focal point, so consider their placement in your overall design concept.
Check out second-storey views and the locations of distant neighbours. Build walls tall enough to provide privacy.
The practicalities
Water needs to go somewhere, so select a spot with a slight incline. Another option is to install drainage tiles beneath flooring.
Prepare for winter if water lines are run. Include indoor cut-off valves and drain locks to prevent frozen pipes.
For a permanent location, bricks make a substantial base. Smooth river rocks also work well, as does a deck-type foundation.
Coordinate the building materials with your home's facade. Coordinate, too, with any nearby outdoor structures.
A AAA-rated rose will use 52 litres less water during an eight-minute shower than a conventional showerhead.