From wild, Serengeti style to Japanese-themed, we've compiled a selection of the most beautiful bedrooms to get you inspired for your next bedroom makeover.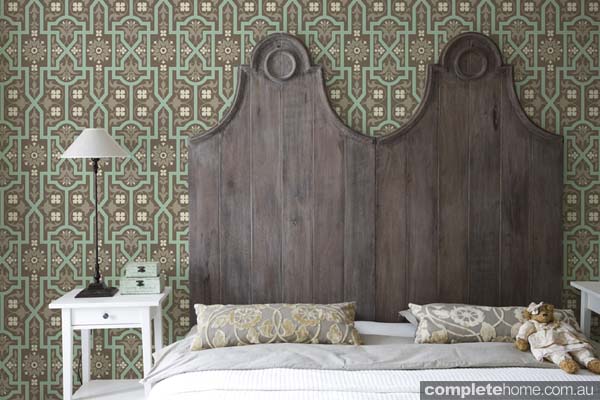 1. Rustic charm
Muted tones and simple furnishings contrast highly detailed wallpaper in this rustic, calm-inducing bedroom.
Wallpaper: Architectural wallpaper by Wallpaper Republic, wallpaperrepublic.com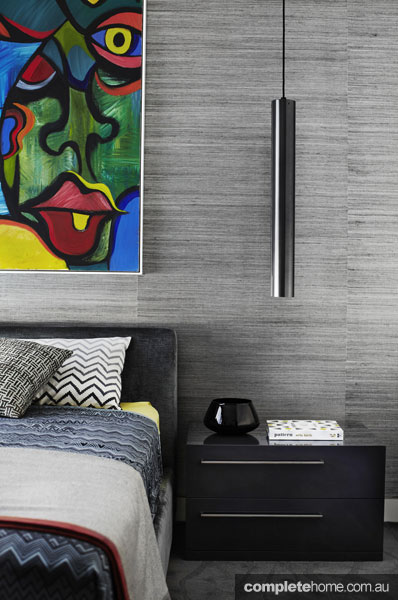 2.  Eclectic and tactile bedroom
An eclectic mix of pleated wallpaper, sleek furnishings and patterned fabrics lend a tactile element to this bedroom. A colourful artwork completes the space and adds a pop of colour.
Designer: Christopher Elliot Design, christopherelliotdesign.com.au
Photography by Sharyn Cairns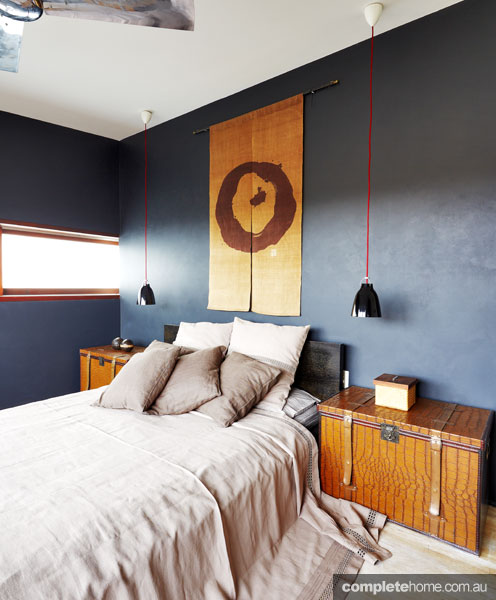 3. Japanese-inspired bedroom
This relaxed bedroom featuring Japanese-inspired décor is a great decorating option for a young male.
Designer: Brooke Aitken Design, brookeaitkendesign.com
Photography Marian Riabic
4. French and fauna
Hints of green and an abundance of natural light make for an airy and elegant bedroom. This one is located in a villa in the South of France.
Take a look inside the rest of this home
Designer: Kelly Hoppen, kellyhoppen.com
5. African-themed bedroom
There's no shortage of animal print in this Serengeti-themed bedroom. Note the giant peacock that watches over you while you sleep.
Designer: Amgad Kamel Interiors, akinteriors.com.au
Photography by Andrew Lecky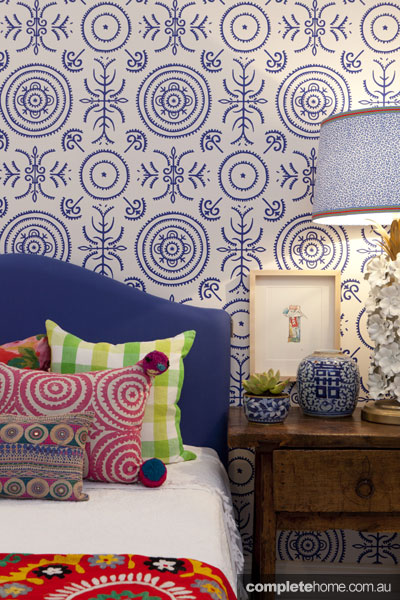 6. Prints and patterns
Mixed prints and patterns come together in this fun, bright, vintage-style bedroom.
Wallpaper: Round and Round the Garden in Ginger Jar Blue by Anna Spiro for Porters, porterspaints.com.au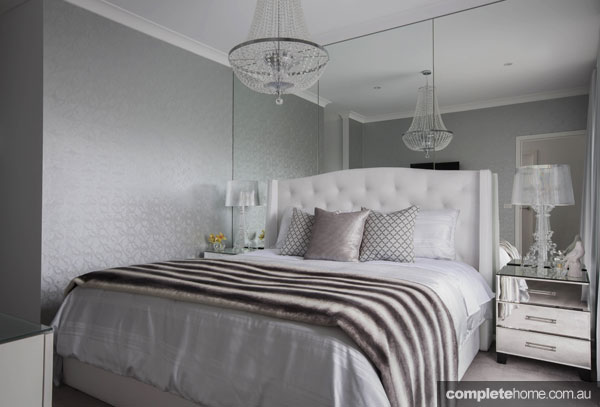 7. Mirror, mirror
In this sophisticated bedroom, a large mirrored feature wall reflects light and gives the impression of more space, while adding a sense of effortless luxury.
Designer: Massimo Speroni, massimointeriors.com.au
Photography by Stu Morley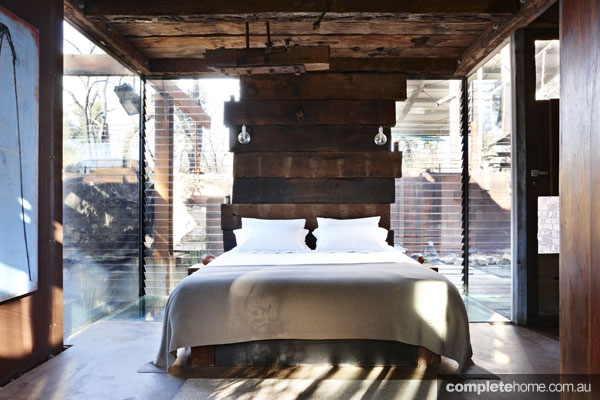 8. Industrial bush bedroom
This industrial-style bedroom (part of the Bushfire house seen on the LifeStyle Channel's Grand Designs Australia) features a rustic bedhead surrounded by floor to ceiling windows.
Designer: SWALE Developments, swale.com.au, Hamilton Design, hamiltondesign.com.au
Photography by Rhiannon Slatter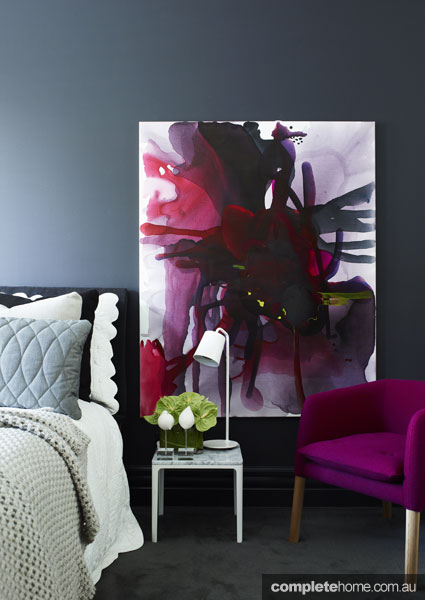 9. POP of colour
Bold colours from an eye-catching artwork are repeated around the room to make this bedroom really pop.
Designer: Canny Design, canny.com.au
Photography by Derek Swalwell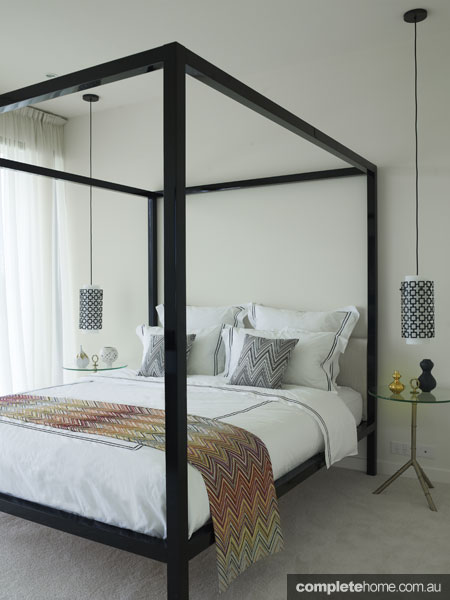 10. Hollywood-inspired bedroom
Missoni furnishings add detail to this otherwise simple '50s Hollywood-inspired bedroom.
Take a look inside the rest of this home
Designer:  Greg Natale Designs, gregnatale .com
Photography by Anson Smart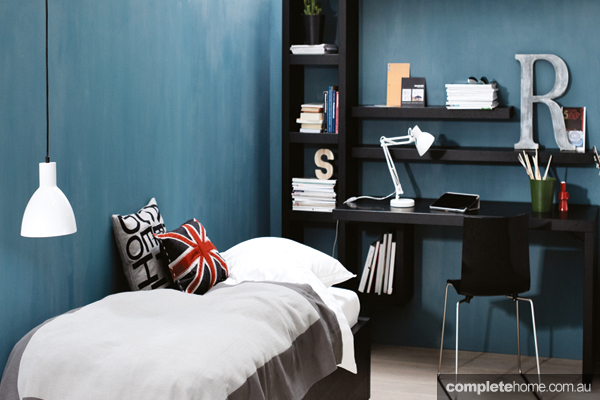 11. The spare bedroom/office
Simple furnishings compliment a rich wall colour in this flexible office space/spare bedroom.
Furnishings: Bo Concept, boconcept.com.au
Find out more about Bo Concept here
By Sarah Knox