For the past 50 years, designer Barbara Hulanicki —  known for her Art Deco fabric and wallpaper designs — has influenced tastes in both fashion and interiors throughout the world.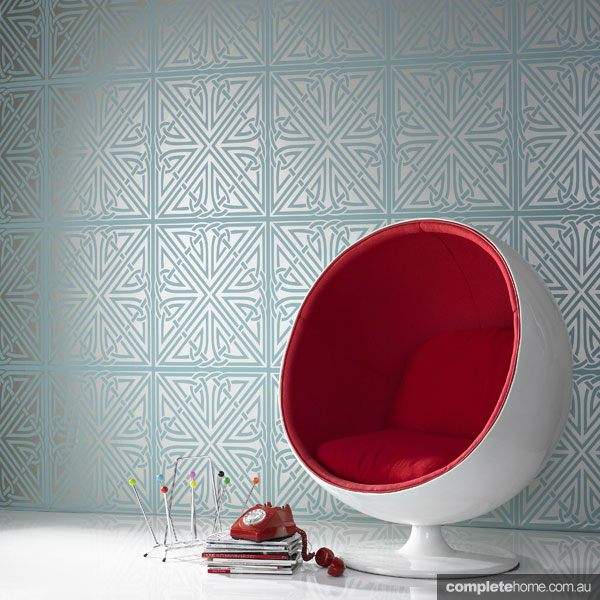 Viva wallpaper by Barbara Hulaniki.
"If my house was burning down I'd grab pictures of my son, my (late) husband Fitz (Stephen Fitz-Simon) and my passport. Then I'd think, great, I can start again."
These spirited words sum up the courage and resourcefulness that have established 76-year-old Barbara Hulanicki as one of the most celebrated and gifted designers of the 21st century.
After a few false starts, a 1960s mail order dress company started by Barbara and Fitz blossomed into BIBA, an atmospheric Art Deco-style department store. The fantastic outlet featured the lavish Rainbow Restaurant, topped by a decadent roof garden which was home to four flamingos — Bill, Ben, Splosh and Pecks — which strutted amongst fountains and floral displays.
Poster from Biba and Beyong exhibition, 2012, Brighton, England and Feathers fabric by Barbara Hulaniki.
BIBA was a magnet for the beautiful young things of the day, where the hoi polloi mixed with rock stars and everyone looked and felt fabulous. Sadly, BIBA was forced to close and Barbara moved to Brazil, all the time designing, illustrating and coming up with new ventures in fashion and makeup.
In 1987 she was invited to design the lobby of the Marlin Hotel in Miami and from that, many successful collaborations followed. She found herself working on hotels, nightclubs, restaurants, recording studios, and on the homes of celebrities, in particular Gloria Estefan and her husband.
Barbara's advice to budding interior designers is to "learn about the practical side of the business before venturing out on your own" and perhaps this is something she learnt herself the hard way. Reflecting on her very first interior design project in the early '80s, for Ronnie Wood of The Rolling Stones, she ruefully commented that designing "Woody's Bar" in Miami was expected to take six months but she and her husband were still working on it two years later.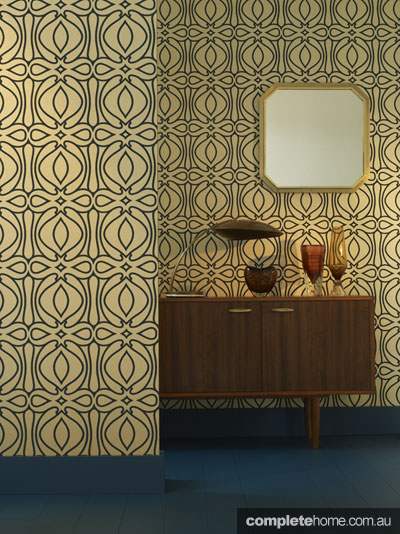 Baroque wallpaper by Barbara Hulaniki.
There is no contemporary equal to Barbara Hulanicki; not only does she have her finger on the pulse of cutting-edge design, Barbara is the pulse. Her portfolio contains everything from paint and wallpaper to fabric and clothes, accessories and furnishing and many interiors. Even English wellington boots have been given the Hulanicki treatment with a skull design, and she recently launched a fashion and home range in India.
Barbara is quoted as saying, "I am tired of walking into a room and knowing where everything has come from. In America everything looks like its Armani Casa, all very masculine with a white sofa in the room." So true to her word, Barbara's latest stunning redesign of central London's Cuckoo Club is in striking fuchsia.
Born in Warsaw, Poland, in 1936, Barbara Hulanicki was awarded the Office of the Order of the British Empire (OBE) in 2012. She runs her sought-after design company from Miami, where she also lives.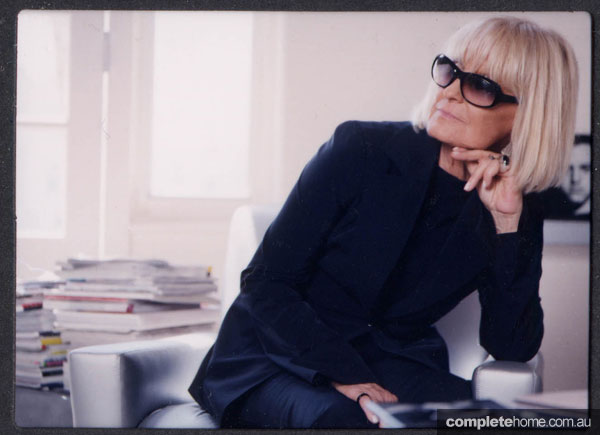 Barbara Hulanicki.  Photography by Dania Graibe
barbarahulanickidesign.com
By Carrie St James
From Home Design magazine Vol. 16 No. 1