From the bathroom to the bedroom, here are some storage ideas that are as clever as they are stylish.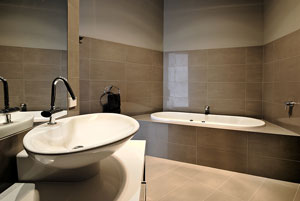 Bathroom solutions:
Now available in the Häfele Home Collection Catalogue is a complete range of bathroom accessories and fittings that have just been released. New to the bathroom fitting range are Häfele Home vanity basins, mixer taps and pop-up wastes. The vanity basins are available in semi-recessed, drop-in and over-counter styles to suit your bathroom design. The basins are quality white ceramic, most including tap holes. The designer mixer taps are available in styles to complement the basins. To finish off your vanity area, the pop-up wastes, with or without overflow, help do away with unsightly basin plugs.
The range also includes a selection of modern chrome-plated bathroom accessories for the Häfele AquaSys range. Reflecting the current design trends, Häfele AquaSys bathroom accessories combine a contemporary look with guaranteed robust solid brass construction and sturdy fixings. A durable bright chrome finish offers protection from wear and will maintain its brilliance for many years, even when subject to harsh cleaning agents.
Another space-saving innovation from Häfele Home is the bathroom railing system. Accessories, such as soap dispensers, brush holders, shelves and consoles fit securely onto an attractive chrome-plated steel railing. The railing can be mounted under your mirror or onto an available wall.
For more details on the Häfele Home bathroom range, visit www.hafelehome.com.au to request your free catalogue.
Home wardrobe fittings: 
If you're looking for intelligent, practical and modern storage solutions for your wardrobe, Häfele Home offers a range of oval-shaped hanging rails, which are stronger than the traditional round rails. There are also pull-out tie racks, pull-out belt racks, trouser racks, skirt racks, scarf racks and shoe racks that have fixed and pull-out capabilities.
By combining design with quality fittings, Häfele offers the perfect balance of style and functionality for your wardrobe in the new Synergy Collection of wardrobe fittings and storage solutions. These provide convenience and organisation without compromising the aesthetic in your wardrobe.
The Synergy Wardrobe accessories range includes wall hooks, hampers, hanging rails, and pull-out pant, scarf, tie, and belt racks. Synergy's range of finishes and complete line of matching accessories add to its ability to fulfill a variety of needs, while maintaining a clean and organised look in your wardrobe.
Wardrobe lifts are also a popular way of doubling the storage space within the wardrobe, especially tall wardrobes, where useful space is wasted above the top shelf. If you have the space available, there is a wardrobe lift to suit most applications. The wardrobe lift can carry between 5-15kg of clothing and helps separate clothes that are not regularly worn, such as coats and jackets. Thus, more room on the lower wardrobe rails is created for everyday clothes.
Pull-down beds are an ideal solution for small apartments, studies or rooms where space is at a premium. The pull down bed is available as a single or double and is easily lowered or returned to its closed position, to be neatly hidden away behind a panel. The slatted base and adjustable head and foot fittings, combined with a Latex mattress, allow for a very comfortable night's sleep.
For more information, visit www.hafelehome.com.au to request your free catalogue.