With Hansgrohe, water becomes a pleasure. What used to be a bare washroom is now a place for recreation, relaxation and wellbeing — not just for the body, but also for the soul.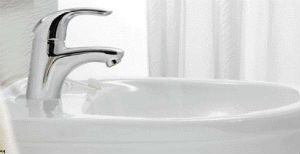 Hansgrohe's contribution to this development has been significant. A shower or mixer from their range is a masterpiece of technology and form that you can enjoy every day. With more than 100 years of company history, Hansgrohe is committed to tradition.
Continuous innovations from their think tank have set trends in the world of bathrooms and established worldwide standards, as well as winning many design awards. With that in mind, Tradelink now offers a selection of Hansgrohe products exclusively to the Australian marketplace.
Bigger is simply better:
It's only logical that a large shower can do more. This is what Raindance is all about: large spray discs for wide shower rain. The same quantity of water is distributed more efficiently and the body more completely enveloped. Raindance breaks all dimensions, not only as a hand shower, but also as an overhead shower. All this is thanks to Hansgrohe's unique AIR-injection technology. AIR can do more and is employed in all Raindance showers. Mixed with air, the water released becomes softer or harder, depending on the spray mode — and your daily shower becomes a feast for the senses. For your eyes, you can truly see the air enclosed in the voluminous drops. For your ears, like a rain shower, the sound of AIR has a calming and vitalising effect.
For the skin, your most expansive and receptive sense organ, a pleasant layer of air-enriched water completely envelops and warms your body. Importantly, thanks to AIR, the water consumption of a large shower is no higher than that of a conventional shower.
Focal points:
A good mixer has much to offer. Hansgrohe not only designs and produces mixers that can be enjoyed for a long time to come, the company will also please even the most discerning of personal tastes. Each piece boasts meticulous workmanship with world-leading Hansgrohe technology, but at comparable prices, ensuring any Australian bathroom can enjoy the sophistication these European mixers can offer.
Focus E mixers are mixer lines that shine with a lively swing and fresh elegance, and the Focus S range is as pure and clear as the water it delivers. Match any of these with a Raindance shower and you've created a harmonious oasis where water is celebrated and enjoyed. These Hansgrohe products and more are available Australia-wide exclusively through CDL outlets.
For more information TRADELINK Tel: 1300 658 277 Website: www.tradelink.com.au Mico Design Tel: 02 8354 0999