To create a chic and contemporary look in your bathroom, look to Guglielmi.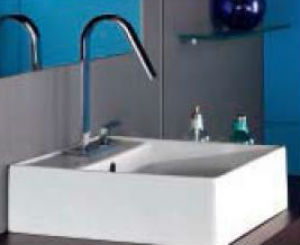 An Italian company built on values, intuition and innovation, Guglielmi strives to satisfy the most demanding requirements. Delivering technologically advanced and highly aesthetic products, Guglielmi makes tapware that imparts glamour and prestige to any setting. With four distinctive tapware ranges on offer, Guglielmi has ensured that even the most discerning of customers has been considered. AltaGamma® is an innovative and refined collection designed to create very personal surroundings.
The objective: to stand out. 
Both AG and GQ tapware share this characteristic, but for very different reasons. The AG range boasts a unique three-blade spout design, delivering a sheet-flow water effect through three identical slits in the top of the spout. In addition, each piece boasts smooth curved surfaces with fluid movement from the base to the spout, offering a sleek and stylish piece of tapware that will blend seamlessly with any interior.
For tapware that is as unique as AG but with a completely different look, the GQ range features strong edges and slimline projections. The boldness of the square body is matched with a slimline square handle, accentuating the tapware's contemporary design. The GQ range offers not only this stout mixer but also a similarly strong but slimline two-piece mixer. This two-piece mixer still boasts the strong edges and slimline handle, but offers a flowing spout that delivers a luxurious sheet-flow water effect. G'day® is the collection for the next generation: functional, smart and essential.
This collection offers a truly European design in the Sprint range of mixers that portray a stylish look without overshadowing other elements in the bathroom. The cylindrical base of the mixer creates a strong foundation, with an elegantly slimline spout projecting out and flowing toward a softly arching end. An equally slimline pin-lever handle complements the mixer's soft design. The range offers additional flexibility with four different basin mixers to choose from, ensuring a perfect match regardless of bathroom design. Hi-Water® has evolved through much research and innovation, together with creative examination of the product using design and technology. Vendome has emerged through this innovation, offering a distinctive finish on a stylish European-inspired mixer.
The slimline body and softly sloped spout have a simple look, but it's the minimalist handle design that draws attention. In place of a standard pin or lever handle, a "thumbprint" design is embedded in the handle, creating a truly stylish look while maintaining ease of movement. Guglielmi tapware delivers individual solutions through innovative design and superior craftsmanship.
Create a bathroom that highlights the individual masterpiece of an AG two-piece Basin Mixer; encourage European flair with existing fittings through the addition of a Sprint Extended Basin Mixer; or stun onlookers with the confident styling and chic highlights of a GQ Basin Mixer. Whatever the choice, Guglielmi tapware offers a spectrum of opportunities for the intrepid homeowner.
Available exclusively through Mico Design and Tradelink stores nationally.
For more information on Guglielmi:
1300 658 277
www.tradelink.com.au
www.mico.com.au