The Gold Coast becomes the perfect setting for a Balinese hideaway.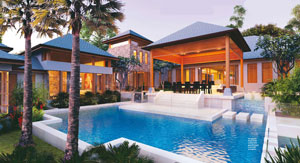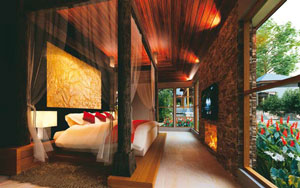 Brentnall Great Australian Homes doesn't just build homes, but creates esteemed lifestyle sanctuaries. Brentnall is renowned for investing passion and architectural flair into each of its luxurious homes, creating timeless designs with quality craftsmanship that will surpass decades of generations. 
The multi-award-winning luxury home builder has more than 75 years of combined experience in the design and building industry, with an impressive portfolio showcasing
exquisite homes creating some of the most opulent addresses in Australia and overseas. 
True to the ethos of building homes that become more than just a house or a place to reside, Brentnall is focused on providing elegant designs purpose-built to be the owner's private sanctuary, setting a new benchmark for a quality lifestyle. The company's latest creation, perfectly positioned in the rolling Gold Coast hinterland, is no exception.
"Inspirations" is the latest Brentnall Homes project currently under construction, comprising an 850sqm masterpiece, built to mirror a luxurious Balinese retreat. The design, inspired by the exclusive resorts found throughout the Balinese islands, features sprawling bungalows set amid lush tropical gardens. The new Inspirations home is set on a 4000sqm sloping block of land in the prestigious acreage subdivision of Huntington Downs in Maudsland, near Oxenford, on Queensland's Gold Coast. 
Capturing the exotic feel of a Balinese bungalow, using timeless finishes and just the right balance of air, light and space, Brentnall Homes has brought the essence of Bali right into the home's core and expansive surroundings. Timber accents and stone finishes, floor-toceiling windows and pavilion-style cathedral ceilings create the authentic Indonesian feel, complete with lush, fragrant gardens. Add to the landscape the dramatic backdrop of the Australian bushland setting and your own private Balinese hideaway becomes the ultimate in tranquillity. 
Inspirations offers a country retreat with city convenience — only 45 minutes to Brisbane and 20 minutes to Surfers Paradise, the heart of the Gold Coast with a stretch of famous coastline and beaches. This project is the embodiment of Brentnall Great Australian Homes' mantra: to inspire the imagination and illustrate the endless possibilities the company can offer those looking to create their dream home. 
The prototype of Brentnall's style and distinction, Inspirations is set to become the official display home and will be available for sale, with a generous lease-back option. 
All Brentnall homes are signature pieces (the leading designers never build the same home twice) and for this reason buyers can enjoy the assurance of owning an exclusive, one-off property. 
The portfolio boasts hundreds of uniquely designed architectural masterpieces to stimulate your senses, and all can be easily modified to suit individual tastes and budgets. The objective is to build fewer, but finer, prestigious properties, meaning the individual attention received when building homes is uncompromised. 
All Brentnall homes feature simple, elegant and practical style cues inspired by both the designer's passionate expert knowledge, interpretation and artistic flair, combined with the input of the clients' tastes, ideas and aspirations. 
Whether it's a sprawling contemporarystyle mansion or a classic Victorian-style country estate, building homes that create an impression and establish an empire is the company's forté. For this reason, Brentnall Homes specialises in building homes in rural and country areas and most recently discovered the Gold Coast hinterland as the perfect canvas on which to create some of its finest work. Solar energy resources feature strongly in Brentnall's homes, as its aim to minimise its carbon footprint is paramount in every project. All completed Brentnall homes feature a minimum five-star energy-efficiency rating, giving homeowners peace of mind when
it comes to managing their own carbon contributions in years to come. 
Brentnall Great Australian Homes is one of the few female-operated building and design companies in Australia, offering a unique female perspective on the whole building process, from design through to completion. The design team is the same team that builds, working with you every step of the way to ensure a personal touch is maintained throughout the entire construction process. The team pride themselves on working tirelessly on a personal and hands-on level with clients and contractors to ensure the finished product is nothing short of perfect. 
Delighted customers are a testament to Brentnall's commitment and dedication to delivering a home exceeding the client's hopes and dreams. When choosing Brentnall Homes to design and build your home, the possibilities are endless.
Brentnall Great Australian Homes
1800 822 297
info@brentnallhomes.com.au
www.brentnallhomes.com.au