Create a bright, fun and inviting kid's playroom with design tips from Dulux's colour expert Bree Leech.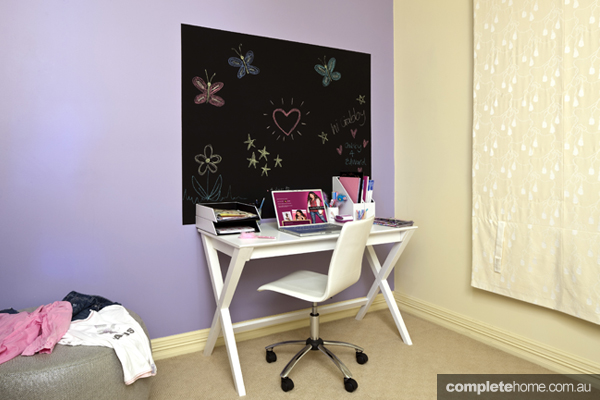 Important for a child's development, creating an atmosphere that is not only safe but also motivating is essential for their growth. Techniques for expanding their social development and early learning phases can be as simple as choosing the right colour for their nursery.
"Play is what being a kid is all about and a playroom provides a wonderland for kids to make noise, host parties and play games together with friends or on their own," says Dulux's Colour Expert Bree Leech. "Important elements to consider when planning a playroom makeover include theme, style and colour."
By choosing the correct paints and accessories, such as pillows, throws, rugs and beanbags, children will find it a place to escape to.
"For young kids, vibrant paint colours on walls such as bright blues, greens and yellows are popular and create an inviting and cheerful environment to play in," says Bree. "Painting furniture such as tables, chairs, shelving and wall units is a clever way to inject colour throughout the room, refresh tired pieces and complement existing colour schemes."
To really get the children involved, let them help with the design and colour choices.
"Not only will this make the room more appealing for them to play in, it will also reflect their personality," says Bree. "Keep it simple by offering them a choice of three favourite colours rather than overwhelming them with an entire paint chart."
To make the room really practical, apply some Dulux Chalkboard paint to the walls or tables. You'll never have to worry about stains and dirt marks again.
"The beauty of chalkboard paint is that the surface can be erased with a damp cloth to create a blank new blank canvas," says Bree.
6 kid's playroom design tips:
1) Create stations; such as construction corners, arts and crafts, reading nooks and multimedia centres
2) Use child friendly VOC paint which is easy to clean
3) Ideal for keeping toys and books tidy and off the floor, invest in some storage bins and shelving
4) An easy way to create an area for reading is to buy some bean bags and cushions for children to snuggle into
5) To make a splash, be adventurous with your paint colours. Try creating wide strips or a simple graphic design
6) Make the room seem like it belongs to the children by hanging their drawings or posters around the room
Image courtesy of Dulux
From Renovate magazine Vol. 8 No. 6