The Kitchens & Bathrooms Quarterly magazine team put three stick blenders to the test — find out which one pulverises the competition.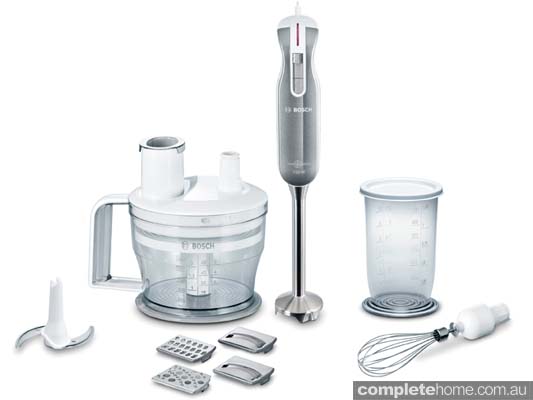 Bosch Hand Blender, $229
This blender is the total package. You can blend, mix, beat, whisk, chop, slice, grate and shred – all standard features on this everything-in-one kitchen appliance. The gentlest stick setting is perfect for whipping up the perfect fruit smoothie that will keep the kids sleeping through your weekend breakfast. It was the easiest to clean, with fewer edges to trap in food, but sometimes the 750W of power wasn't as impressive by comparison, possibly due to the smaller blades. As a total kitchen machine, however, it's the perfect appliance. Available in silver/white finish.
SCORE: 4 stars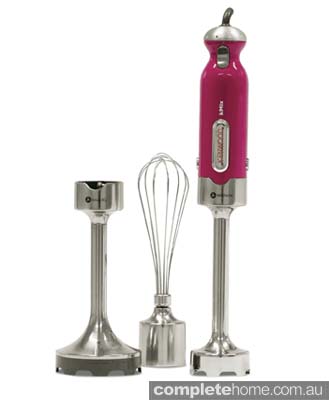 Kenwood kMix Triblade Hand Blender, $199
Even on the lowest setting, this superior — and seriously pretty — blender will pulverise everything from heavy duty vegies into winter soup, to delicate and creamy health shakes.  With an additional four settings, this stick mixer is powerful, detachable for easy cleaning and magnificent on display in passion pink. The unit can feel heavy in the hand but its performance is worth it. Key features include 700W motor, Triblade technology, high quality die-cast aluminium body and durable stainless steel blades. Plus retro styling and fashionable colour range.
SCORE: 4.5 stars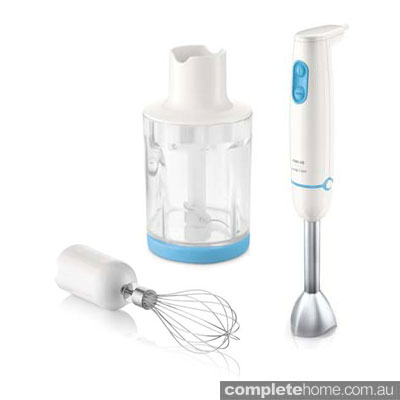 Philips Jamie Oliver Hand Blender, $79.95
At this nice price you're getting great value for a hard working 650W blender that also comes with a compact chopper accessory for processing pesto and salsa, plus a detachable whisk accessory for whipping. The unit is very light in hand, simple to use with its two-speed settings, and has a fun pop of retro blue colour. Ensure you clean the blender soon after use as the dome-shaped end could get tricky to wash at the sink; however, it's also detachable for cleaning in the dishwasher. The blades are a good size and titanium coated, ensuring they stay sharper, longer.
SCORE: 3.5 stars
Check out our interview with Jamie Oliver here.
From Kitchens & Bathrooms Quarterly magazine Vol. 20 No. 2