Whether your personal interior style is calm and elegant or vibrant and exciting, there's a bedding trend to suit every taste this year.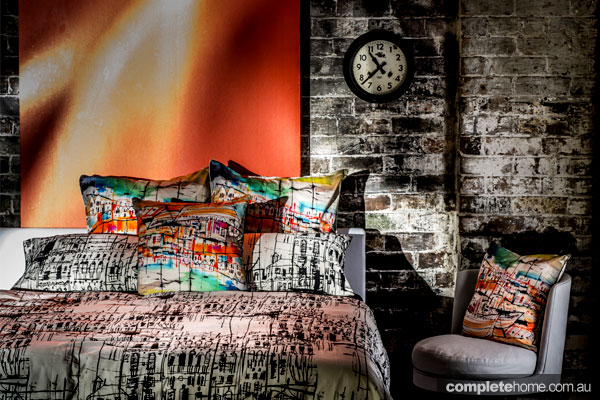 "For the Italophiles"
With wild colours and patterns, you have to admire the eclectic style of this bedding range.
The San Marco quilt cover with view of Venice is printed in black on cream cotton sateen. Pillow cases are in black and white, with European pillow cases and cushions showing a colourful watercolour scene of a coastal fishing village. linenhouse.com.au
Tully bed and Feelgood chair from Fanuli Furniture. Fanuli.com.au
"For the eco-conscious"
If organic materials and natural colours is your style then the bedding trend for Eco-friendly is perfect inspiration.
Earth-friendly waffle blanket in natural, white organic cotton sheets and alpaca throw from Ecodownunder. Ecodownunder.com
Tully bed in white from Fanuli Furniture. fanuli.com.au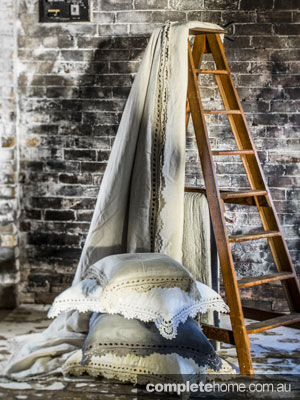 "For the connoisseur of hand-crafting"
A bit of lace, frills and embroidery, perfect for anyone with more quirky tastes.
Evelina doona cover with standard and European pillow slips in luxury natural and piece-dyed, muted toned linen with beautiful hand-crocheted border. Sheridan.com.au
Beige Latralon rug in nettle, wool, hemp and silk by Ziga Rugs. zigarugs.com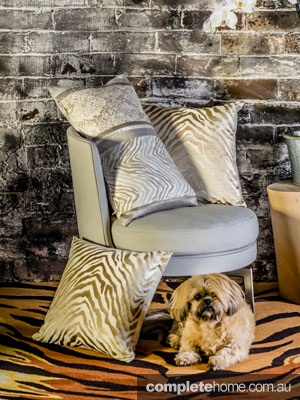 "For the wild at heart"
Animal prints and patterns don't necessarily mean garish and tacky. These cushions are chic and restrained.
Embroidered Aberdare cushions in viscose and silk and Belgravia cushion in cotton, viscose, silk and polyester with feather inserts by Laura Ashley. Laura-ashley.com.au
Feelgood chair and Fiord stool from Fanuli Furniture. Fanuli.com.au
Tiger Skin rug in rust and orange Tibetan wool from Ziga Rugs. zigarugs.com
Model: Angel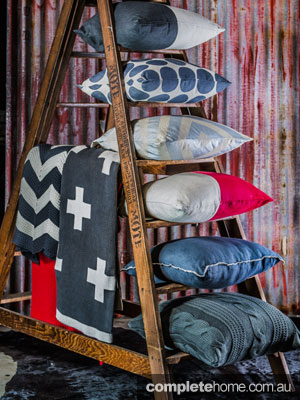 "For the cosy creatures"
Cosy up with assorted patterned cushions and throws from Aura by Tracie Ellis.
From top: Dipped cushion in teal, Spot cushion in aqua, Grande Gatsby cushion in teal, Dipped cushion in deep red, Picot Edge cushion in jade, Cable Knit cushion in Ocean, Moss Stitch throw in scarlet, Chevron throw in charcoal, Crosses throw in charcoal. aurahome.com.au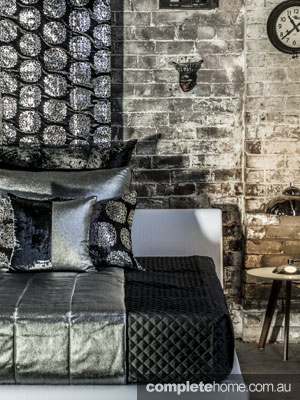 "For the glamour pusses"
If you like metallic styles mixed with sophisticated black; a sumptuous and glamorous look.
Torino cushions and throw in plush black velvet, complemented by metallic silver linen and Trieste cushions in black plush velvet, complemented by a stunning silver luxe metallic print from Duoviva — The Bedroom Stylist. duoviva.com.
Quilted bed cover in black diamond quilt by Da Vinci. davinciaustralia.com.au
Tully bed, Astra lamp and Charlie table from Fanuli Furniture. fanuli.com.au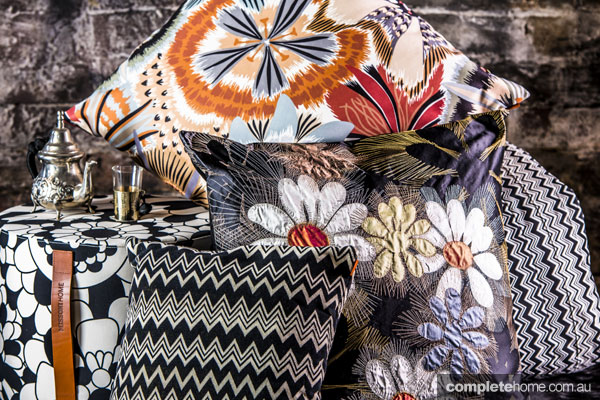 "For the fashion queens — and kings"
Unusual and colourful designs, perfect for enhancing any bedroom.
Cartagena pouffe with organic, linear, black and white floral print on lightweight, 100 per cent cotton canvas from Missoni Home.
Omdurman cushion with ink-printed passionflower design cushion in 100 per cent satin Trevira in a bright colourway from Missoni Home
Orly double-faced jacquard daisy design cushion with woven silver and copper metal threads from Missoni Home.
Orvault woven chevron-design cushion in yarn-dyed Trevira from Missoni Home.
Oz doona in 100 per cent cotton percale sheeting with printed chevron design in black and white colourway from Missoni Home.
All from spenceandlyda.com.au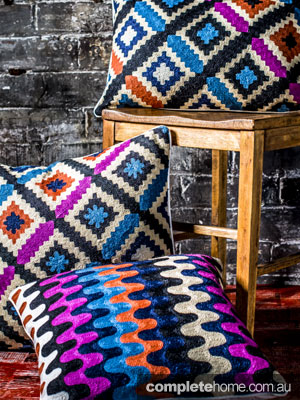 "For the style gurus"
You have to be bold and stylish to go for these patterned pieces.
Kashmir Collection C cushions with chain-stitch embroidery in wool with 100 per cent cotton backing from Moss River. mossriver.com.au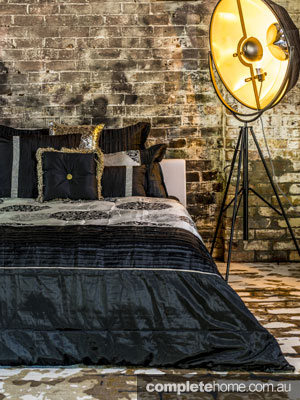 "For the Classics lovers"
Become refined with gold and black bedding.
Siam black doona cover with jacquard motif panel in plain black slub faux silk and cotton polyester percale. Europe pillows in black, Tiara cushions in plain and crinkle texture faux silk with vertical diamante tape trim. Front cushion: Edinborough black slub faux silk with multi-colour fringe. All from Da Vinci Australia. davinciaustralia.com.au
Tully bed in white and Fortuny lamp from Fanuli Furniture. fanuli.com.au
Beige Latralon rug in nettle, wool, hemp and silk by Ziga Rugs. zigarugs.com
Words Kate St James, FDIA
Stylist Sabrina Treliving
Photography Tim Bauer, photography Assistant Aaron McNulty
Originally featured in Home Design magazine Volume 16 Issue 6