Whether you have an integrated kitchen/laundry or family size laundry, creating functional storage can be easy. Tanya Selever of Tansel Stainless Steel Wireware tells you how.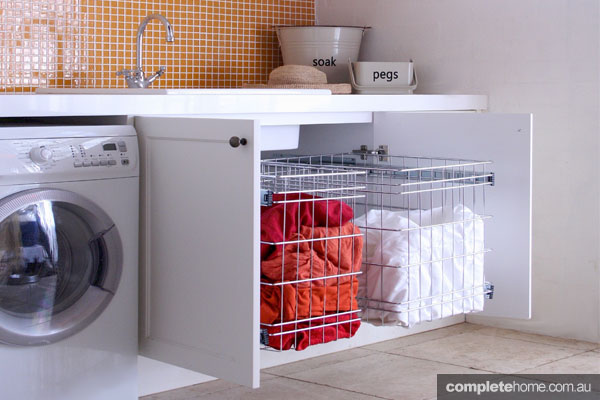 Compact space
Tilt door, side mounting (on just one side) and bottom mounting of baskets reduce the space required for tracks and slide out mechanisms. This allows you to utilise as much of the available space in a cabinet, especially a narrow space with plumbing obstructions.
Large family
Space permitting, try double laundry baskets – one for colours, one for whites. One of the most popular pull out laundry baskets is 500W x 500H x 485D (121L). Laundry baskets can also be placed into bedrooms and bathrooms to keep spaces tidy and reduce overflow in laundries.
Functionality
The humble free standing laundry basket is by far the least expensive solution, but, if you require a hidden slide out solution, some of these products can optimise space and reduce clutter:
Drawers: There are loads of drawer systems that range from budget, to soft and self-closing. Look for a laundry basket that can be inserted into the drawer to give you maximum functionality and concealment.
Hinged doors: Although it's a two-step operation (open door, slide basket out), it's the most economical and flexible. Baskets can also be fitted around existing plumbing.
Tilt door: Best for smaller spaces with poor access, but there are limited size options available.
No door: If concealment is not a concern, this solution offers maximum functionality without extra cost for doors.
Materials
Stainless-steel: The most durable but can be more expensive.
Chrome-plated steel: Less expensive but not as durable.
Powder-coated: Economical but limited life span.
Fabric/canvas: Economical, good option if the canvas bag is available for replacement after a few years.
Melamine or high moisture resistant (HMR) board: Can be customised but doesn't breathe and prone to swelling if exposed to moisture.
Image: Tansel Stainless Steel Wireware
From Kitchens & Bathrooms Quarterly magazine Vol. 20 No. 2