Light plays a major factor in Archicentre home renovations, says this leading building advisory organisation.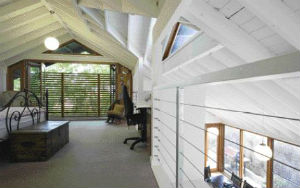 ''More light" is a mantra repeated by tens of thousands of home renovators every year. The mantra is music to an architect's ear, as exploring intelligent ways of letting light in is one of the more creative parts of their brief. From skylights to clerestory windows, light wells, bi-folds and glazed openable walls, architects are forever working with forms to find new ways of expressing light and space.
A lot of older homes don't invite in the light like some contemporary houses do. "Period home styles came originally from Europe, utilising functions appropriate for cold weather climates," explains Archicentre's David Hallett. "What worked well there was admittedly a little out of step here when there were hundreds of days a year of good solar power being wasted." Renovating has been a handy way of rectifying the situation.
Archicentre reports a growing trend of home renovators booking Design Concepts for the sole purpose of investigating ways to admit more light into stubborn old, cold period houses.
Archicentre
1300 134 513
www.archicentre.com.au