The world's first remote-controlled pop-up barbecue is changing the face of outdoor design.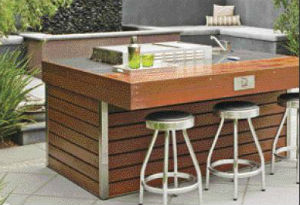 Combining press-button convenience with sleek, contemporary styling, the world's first remote-control pop-up barbecue — the BBQ on Q — is reinventing the alfresco entertaining experience and changing the face of deluxe outdoor kitchen design.
An Australian design innovation, the patented BBQ on Q makes it possible to have a barbecue that is totally integrated into an outdoor living area — and we have Melbourne designer Mick Edmunds, director of engineering company, Neo Q, to thank for it.
Neo Q is a new business dedicated to designing innovative products for the home and the BBQ on Q is the first product to be launched.
"The BBQ on Q, which is made here in Australia, allows the barbecue to be hidden away and stored within the bench space, protecting it from the weather, dust and dirt," says Mick. "Because the barbecue is removed from sight when it's not in use, it isn't the focal point of the outdoor entertaining area, which means owners and architects are not hampered in their design efforts by having to accommodate a bulky barbecue unit that is always on view — creating an alfresco kitchen and dining area with clean, uncluttered lines."
The unit comes standard with a quality barbecue made of premium stainless steel (manufactured in Australia by Lifestyle BBQs), but your outdoor kitchen can be easily customised by your choice of benchtop material (including stone, timber, stainless steel, glass or tile), cabinetry and other appliances. The result is a design that fully complements the architectural style of your home or the decor of your outdoor room.
Of course, convenience of use is a major attraction of the BBQ on Q. "With the touch of a button, the barbecue is raised or lowered and securely stored. No more wheeling the barbecue around the side of the house or shrouding it under voluminous, black vinyl covers," says Mick. "And the best part is that, when the barbecue is stored, the benchtop is restored to become a multifunctional surface that can be used as a servery, bar or food preparation area."
The BBQ on Q is manufactured in Melbourne and can be ordered direct from Neo Q. As all units are made to order, delivery is usually six to eight weeks from order placement.
And a final word from BBQ on Q designer, Mick Edmunds: "Australians have produced some of the world's most loved inventions, including the Hills Hoist, the two-stroke lawnmower and the ute. Now there is a new Aussie backyard icon — the BBQ on Q."
Photography Patrick Redmond  
For more information visit www.bbqonq.com.au