Interior designer Darren Palmer shares his advice on how to achieve a beautifully crafted interior in your home.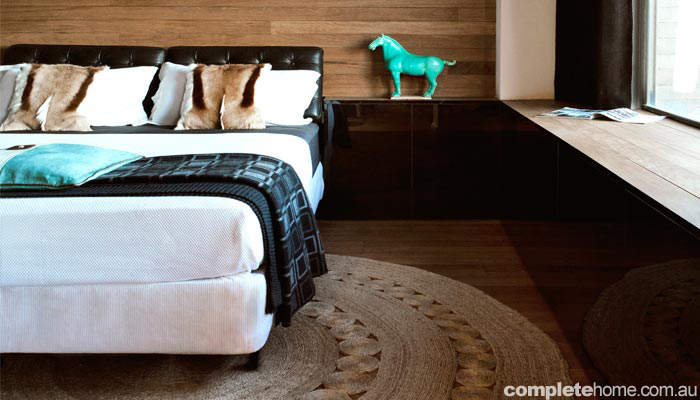 By Darren Palmer
To make your project come to life, you need to be creative. Big ideas are born from a single thought and ideas-driven interiors are the most successful of all.
There are few times in one's life where it pays to daydream, but planning your interior is surely one of them. Let your mind roam free and unencumbered. If you can literally sit yourself in the space that's great; if not, mentally place yourself in your property and imagine every detail. Picture how it might look, feel and even sound, fleshing out your mental picture with as many ideas, pictures and feelings as you can muster. Shoot right for the stars, as now is the time to think big. When the reality of your situation, project and budget come into play, you can always scale your ideas back or adjust them to suit.
The brief
A brief is drawn from conversations with your designer and is given to you for approval or comment so you can be sure the designer shares your vision and has an accurate understanding of what is to be achieved. The process isn't limited to working with a designer, though, and is often overlooked as unnecessary if you are managing your own project. However, without the benefit of a brief you won't have a bible to refer back to when making decisions based on look, style, feel and function. All of these elements are integral to your finished outcome; if they're not clarified at the very beginning, delays and confusion can occur by bouncing between styles, layouts, finishes and fixtures. Your brief should outline:
–          Your target market (age, income, household size, occupants — this could be you and your family, a tenant or the end buyer).
–          The ambience you want to achieve.
–          The functionality of the property.
–          Items for inclusion.
–          Items for removal.
–          Primary and secondary objectives.
–          Priorities in terms of budget allocation.
–          Anything that makes you understand your outcome before you start sourcing tradespeople and products.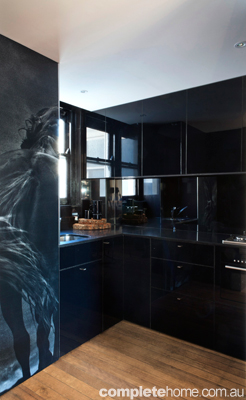 Concept
Your brief will be your starting point, defining areas of attention and works for completion. Next, you need to decide exactly how you're going to achieve the result.
A concept can be as simple as a feeling, such as "relaxed beach" or "sophisticated city" or could be tailored to suit its occupant, such as "stylishly feminine" or "bachelor pad". The concept will allow you to sort through finishes and schemes to achieve the right look and feel to represent your vision. You'll need to find plenty of references — online, books and/or magazines are great sources — and create a scrapbook of ideas and inspirations. Having a clear idea of the types of colours, finishes, textiles and inclusions will make your job easier, faster and cost-effective.
When deciding on the creative direction of your interior, be careful not to mistake a concept for a theme. Themed interiors can look crass and tacky (think Mexican Hacienda), whereas a clever idea carried through appropriately will yield the best possible result.
Planning
At the planning stage, you'll know what you want and how it is going to look and feel. The next step is to work out how things will function and flow. Get out your scaled floorplan to see how the space is currently configured and if you can find any major issues that may have simple solutions.
These concerns should be the major focus of your project. Allocate time and budget to fix planning and layout problems, such as badly located walls or doors, restricted available light and making the most of outlooks, to present your property in its most appealing way.
Look at the proportion of the rooms and how they affect the home's flow and liveability. Improving the layout of a kitchen or bathroom, or even relocating them if poorly positioned, should be top priority. An accurate, to-scale floorplan is also necessary to ensure furniture fits well into the space, allowing for proper walkways and visual space between objects. It's far better to troubleshoot the position of items in your plan than it is to move things around in the space — or worse, have items not fit at all. Also, be sure to check the size of furniture (sofas, tables etc) and inclusions (kitchen cabinets, benchtops and appliances) against access openings such as elevators, doorways or halls.
Cohesion
Choosing your décor isn't only about size and position; it's also important to have a consistent, cohesive and considered approach to the items you choose. Most people don't know where to begin when creating their space. Armed with the scrapbook containing your concept images, do a reconnaissance trip prior to purchasing, taking images of possible inclusions for later perusal. This the best way to make considered buying decisions to ensure everything you choose fits within the overall scheme.
Once you have most of your potential selection sourced, lay out everything you're considering on a finishes and inclusions board so you can see if all the items you have sourced compare favourably to your concept scrapbook. You should immediately see if anything clashes or stands out in an abject way. Don't fret! Remember, you haven't bought anything yet, so if you find something that needs replacing simply do more research to find the perfect piece.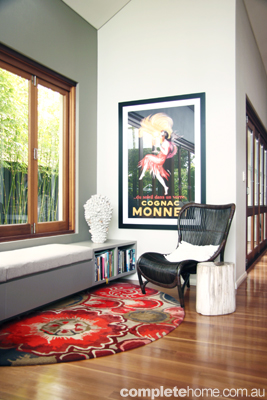 What to buy first
It makes sense to lock in the items that are the hardest to source or those with the least variation of choice — it could be the flooring, the benchtop, that perfect dining table or an amazing artwork. Start with whichever item is most specific to your concept — your focal piece, the one that your concept wouldn't be complete without.
Once you have your focal piece, you can then see which elements you want to mirror and contrast to form the basis of the rest of your selections.
Take this rug (above) by Easton Pearson for Designer Rugs as an example. Its central colour scheme, floral pattern and shape could be used as the foundation for a selection of furniture and fabrics that have curved lines or you could play on the rug's contemporary take on a floral motif, or both. In this case the rug becomes the base of a cohesive palette, but the same principle will apply regardless of your focal piece.
Complement and contrast
The best interiors are varied, textured and layered — a vast contrast to a boring, beige room that doesn't have a focal point. Use your brief, concept scrapbook and finishes and inclusions board to narrow your search and find the right pieces for your desired look, thinking all the while about how the furniture, colours and textures you choose add to, or take away from, your overall idea.
All the items in your interior should work in harmony — some are complements, drawing on commonality; some for contrast, to add interest and variety. It's important to avoid matching items, such as lounge suites or complete packages of furniture. Striking the balance between variety and uniformity is the hardest to master, but when it's found you'll be astounded with the results.
Images:
1. and 2. This bachelor pad by Darren Palmer had two underlying ideas, the first incorporating animal iconography in the springbok cushions and sculptural horse (bedroom), and stallion image panel (kitchen)
3. The sitting area by Darren Palmer was the starting point of the overall scheme, with the Easton Pearson Designer Rug being the first purchase.
4. Ralph Lauren's Ladies' Day Floral Spectator fabric was used as the starting point and central feature of the room. The fabric was used on opposite ends of the room, becoming a focal point from all aspects of the space.
From Grand Designs Australia magazine Vol. 1 No. 1