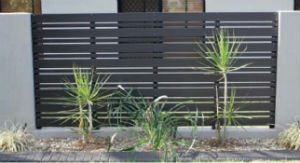 Sneak a peek at Futurewood's range of sustainable composite decking boards and timber-look fencing slats
Future-proof your garden with the Futurewood range of eco-friendly timber decking and fencing replacement products. The current range includes CleverDeck, a composite alternative to rainforest hardwood decking, plus EnviroSlat and Smartfence timber-look fencing slats, which can be used instead of rainforest hardwood timber.
"Futurewood products have been designed to look like timber but offer better value due to their very special combination of features," says David Elms, director of Futurewood Pty Ltd. "All our products are low maintenance, rot proof, termite resistant and UV resistant. And as our products are designed to replace hardwood timber, they promote the use of sustainable alternatives.
"In the case of CleverDeck composite decking," he continues, "we go one step further by using recycled materials — HDPE and rice husks/hulls — as the primary ingredients."
NewTech-CleverDeck is a high-quality, low-maintenance, eco-friendly composite decking product. In addition to being termite and rot resistant, it has an R11 slip-resistance rating (as tested by the CSIRO). It comes in two standard sizes: 86mm x 23mm x 5400mm and 138mm x 23mm x 5400mm, and four colours: Walnut, Mahogany, Slate Grey and Saltbush.
The decking is a breeze to fix using the optional concealed fix system. This consists of black PP clips and a choice of blackened stainless-steel screws for fixing to either steel or timber joists. By using the NewTech deck clip system, deck installation time can be reduced by up to 65 per cent.
Futurewood-Smartfence is a synthetic, timber-look screening material that will not rot and is resistant to UV light and termite attack. Solid yet lightweight, it is made from a virtually waterproof building-grade polymer that was developed in the United Kingdom more than 30 years ago.
Smartfence comes in 40mm, 65mm and 96mm wide x 15mm thick and 3600mm long boards/slats, each with an indented woodgrain finish, and is available in six standard colours. The colour runs throughout each board so any small scratches can be easily polished out.
As with CleverDeck, Smartfence is available throughout Australia. Smartfence pre-finished boards are supplied in boxes of 16, 10 or eight pieces while CleverDeck is supplied in pack lots or job lots.
"It is part of our customer service philosophy to provide all the information a consumer needs to make an informed choice about the material they choose for their deck, fence or screen," adds David. "And because we know your time is valuable, we aim to respond to all email enquiries within 24 hours — most within a few hours of the enquiry being made."