The Malvern Residence, designed by architect Robert Schulberg, showcases strong lines, brilliant use of natural light, generous proportions and modern artworks. The artworks provided by LUMAS Gallery from their portfolio of contemporary limited edition art.
Living Room
Huntley Watson layered sophisticated, functional and comfortable pieces, along with some cherished family items to soften and compliment the raw architectural space of the open plan living area. The rich ocean blue aqua accents in the artwork were picked up in the furnishings and create a calming atmosphere.
Former glory traces of the decline are side by side in Werner Pawlok's Havana artworks. Palatial residences from the old sugar aristocracy seem to entrust him, revealing their weathered countenances. The beauty of the Cuban capital and the history of Havana have bittersweet aftertastes. It is a lost world, left to decay. Pawlok brings the viewer under the spell of the old city, in which former luxury is felt merely as a relic of the past.
Sitting Room

Luxurious velvets, unique shapes and layered textures are complimented by a daring artwork from LUMAS, creating a plush sanctuary with touches of drama.
As an illustrator, Olaf Hajek learned to bring words to life with his pictures. However, when this master of fantastical drawings is given full creative reign, it would be entirely superfluous to accompany his picture with words. Hajek is a storyteller and a global border-crosser. He transcends cliches and prejudice, and samples from diverse cultural pools until he finds access into a new world.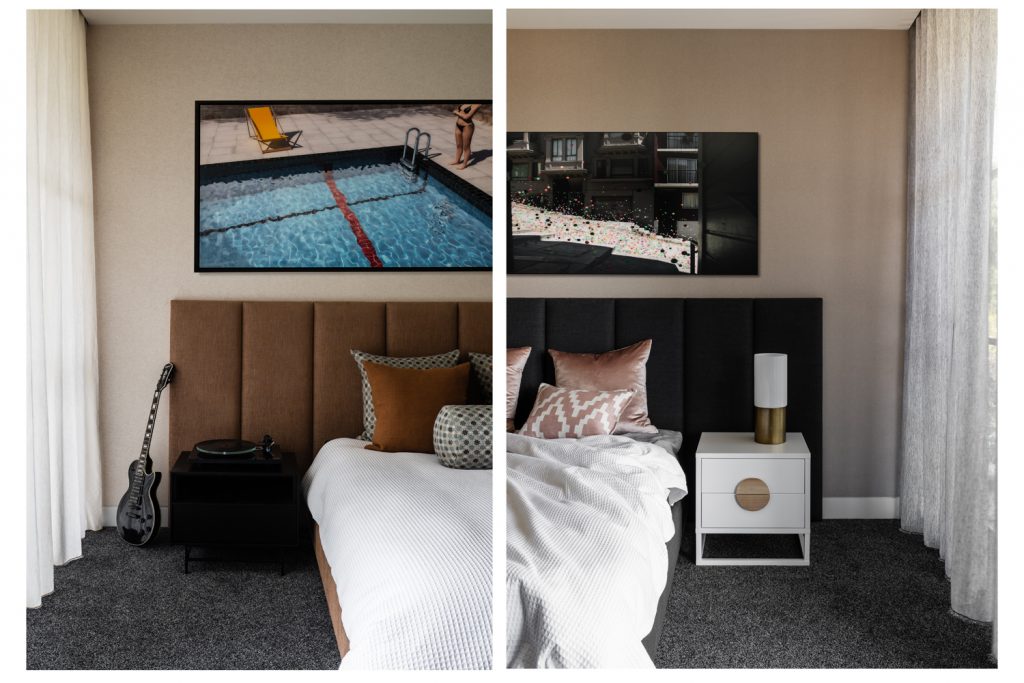 Bedroom
Soft materials and earthy colours are juxtaposed against dark tones to create a rich and grounded atmosphere. The pops of colour and playful image used above the bedhead bring life and excitement to the room.
By taking up and in part, adopting art historical genres and motifs, Gero Greis follows in a long tradition of artists through all periods who reflect the work of predecessors thematically and in motifs. Like Vermeer, for example, sunlight streaming in breaks through the oppressive mood of a closed room. Gero Greis chooses a similar arrangement to express this effect with painterly accuracy, but in his style of formed, smooth, but no less emotional transmission, characterised by a hyperrealistic depiction of surfaces and precise illumination.
It was an impressive spectacle when Sony let loose 250 thousand shockingly colourful superballs in the streets of San Francisco. Peter Funch [https://bit.ly/3t2jW6W] was there to take amazing photographs in which you have to look twice to believe what you are seeing: an unleashed mass of small, colourful balls hopping down the hills, past the American emblems of normality. The unloaded automobiles parked in front of the wooden row houses interfere with an established sedateness, with which unrestrained anarchy suddenly interferes.
To learn more about how LUMAS can help you find the perfect artworks for your home or next project, contact our team today. LUMAS operates online and in 25 galleries worldwide.
For more information
Email: hello@lumas.com.au
Phone: (03) 9421 3525
Website: au.lumas.com