Let these one-of-kind designs for charity inspire your next upholstery project.
1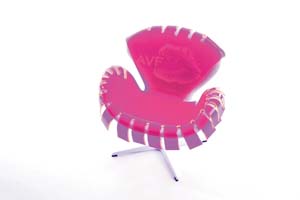 2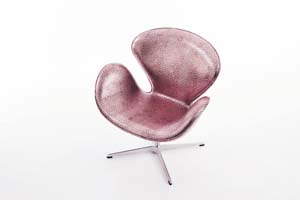 When it comes to upholstery, it's all about thinking outside the box when choosing fabrics. Everything from clothing and blankets to industrial materials and even recycled non-textiles are fair game. A formal piece of furniture can be given a new lease on life with an idiosyncratic fabric or vice versa. Like these classic Arne Jacobsen swan chairs, which were transformed into one-of-a-kind collectibles for the Pink Swan Project, a joint initiative between SUITE New York and the Breast Cancer Research Foundation in America. The chairs were auctioned off to raise money for breast cancer research. Metal fringing, wool bouclé, Missoni knits and neon pink plastic are unlikely embellishments that serve these re-worked pieces well.

1. Painter and designer, Madeline Weinrib is responsible for this version. It is sophisticated, but still has a sense of playfulness.
2.This design from D.B. Kim of PYR for Swarovski is the embodiment of girlishness with its pink crystal fringing and fluffy, white inner panel.
3. The feather detail on Jamie Drake's is very glam.
4. This neon pink plastic version from contemporary furniture designer Alexandra von Furstenberg is a little bit racy!
5. Margherita Missoni has used a pattern that is characteristic of her family's renowned fashion label, Missoni, in her interpretation of Jacobsen's design.
6. This chic version of the swan chair is in keeping with interior designer, Julie Hillman, modern, eclectic style.
7. This art deco design from fashion designer Holly Fulton for Swarovski is so elegant.
8. British interior design superstar Kelly Hoppen's interpretation is incredibly luxe with metal fringing and rich, red velvet.
9. Check out this metallic pink snakeskin version from New York-based interior designer, Campion Platt.
10. This pop art-inspired design is from prolific interior designer Karim Rashid.

3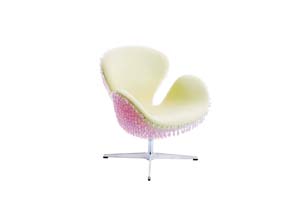 4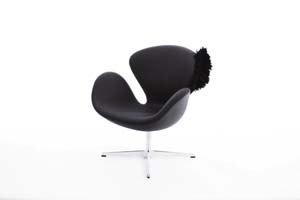 5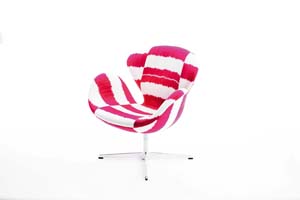 6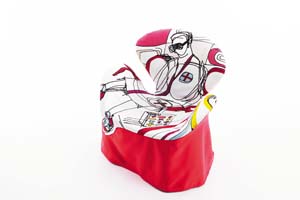 7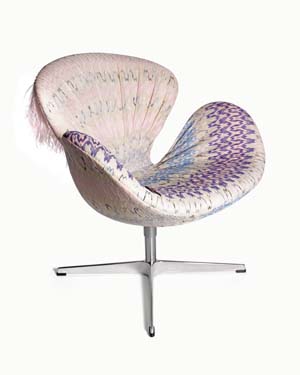 8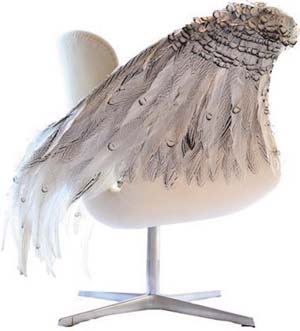 9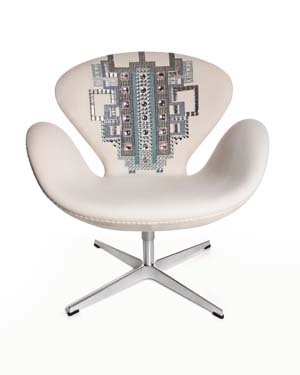 10