Tapestries conjure to mind medieval castles, marvellous churches and grandiose designs, but these lovely portable artworks aren't just for the grand homes of Europe. A tapestry can look just at home in your house, teamed with everything from French Provincial to traditional country furnishings.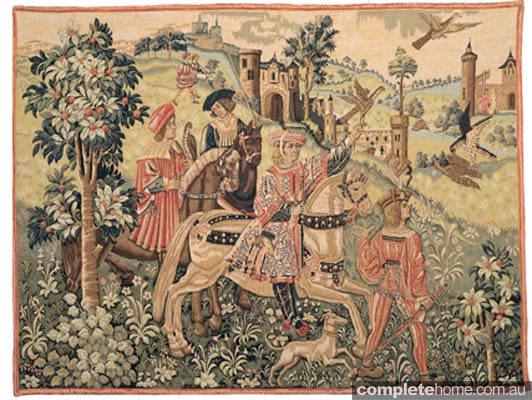 Tapestries create a versatile platform for decorating, featuring a range of colours that tie in with existing fixtures and cover bare walls with a pictorial story. Tapestries are perfect wall hangings for large walls and curved large stairwells. They are a wonderful form of 'portable art' that you can roll up and move around the house when you feel like a change, without the risk of breakages.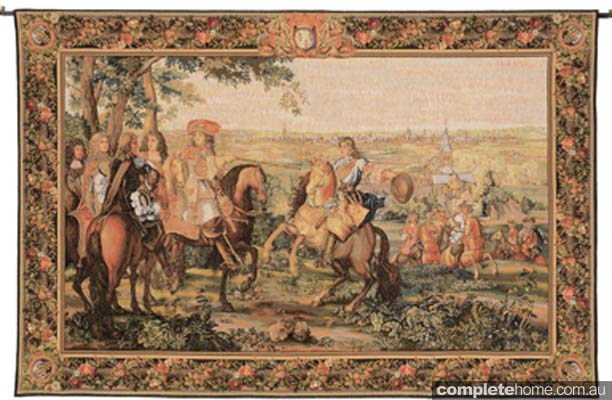 In the Middle Ages (13th and 15th centuries), until the Hundred Years War, the Ile-de-France was the leading producer of tapestries, with Paris the undoubted capital. Then the war and the systematic plundering of towns sent the tapestry makers fleeing northwards, where they founded the Ateliers d'Arras (Arras studios). When Arras was pillaged, they went on towards Flanders, which became their new centre.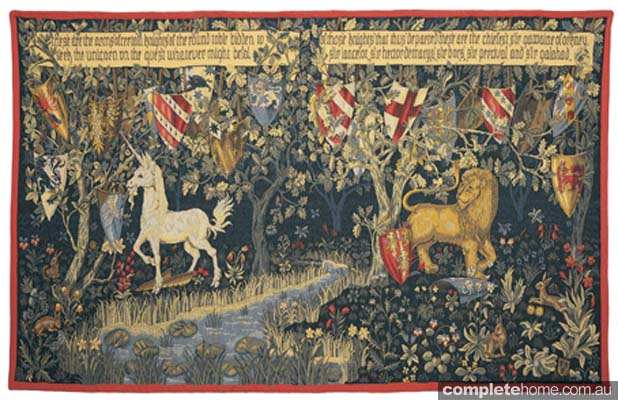 Towards the end of the 15th century, the Val de Loire became a popular place for tapestry makers, and it was in this "cradle of French kings" that the most prestigious works were made, now found in museums. This was the period of the "Mille Fleur" tapestry, with rural scenes overflowing with freshness and charm, where gentle ladies, lords and peasant folk frolic on a background of "bord de Loire" flowerets. Perhaps some of the finest examples are the series of the Lady with the Unicorn tapestries, which hang at the Cluny Museum in Paris.
The end of the Middle Ages saw an appearance of epic scenes. Kings and princes had tapestries woven of their tournaments, combats, victories and even their hunting parties. This period remains the most prolific for unrivalled masterpieces.
With the Renaissance and arrival of Italian artists, tapestry radically changed style. Associating painting and tapestry, Raphael introduced the art of compositions, order, clarity, perspective, décor and the rich borders and arabesques that characterised the highly coloured style of the Renaissance period.
Modern tapestry weaving owes much to the vigour and freedom brought by the Arts and Crafts Movement, headed by William Morris in England. He revived many old crafts; tapestry weaving being one of the beneficiaries of his fresh vision and creative energy. He had a high-warp loom built in his bedroom, where he taught himself to weave from an 18th century French craft manual. With colleagues and friends he designed tapestries, such as the Woodpecker, based on medieval styles and techniques.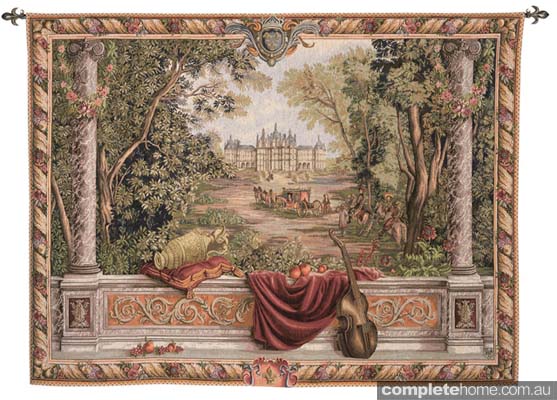 Today, although there are more than eight centuries between us and the first works woven by French tapestry makers, Fleur De Lys Tapestries is proud to offer all art lovers these genuine collector items to decorate a room, whatever the style or size of the interior.
Nowadays tapestries can be seen in many French chateaux, restaurants and homes and are suitable in entrance halls, dining rooms, lounge rooms and other areas of your home where an object d'art can be appreciated.
True works of art, painstakingly created by artisans, these beautifully finished tapestries are an ideal investment as well as heirloom pieces for your family and home.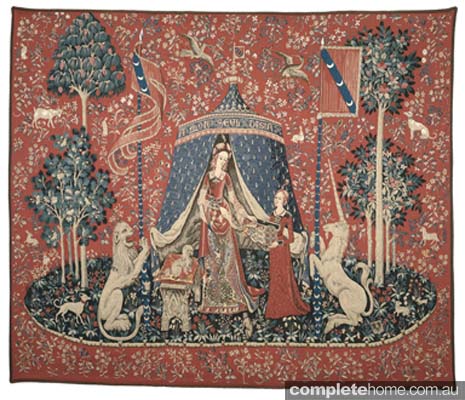 All tapestries are woven on looms by French craftsmen, using natural fibres such as wool, silk and cotton to reproduce many original designs from the Middle Ages to the 19th centuries.
Tapestries should be bought from reputable dealers, such as Fleur de Lys Tapestries, who will ensure that your tapestry hangs correctly using specially made 'near-wall' hanging rods.
Fleur de Lys offers its clients tapestries which have been hand-picked as being the most beautiful and artistic still being made by French craftsmen. This family business, established in 1985, continues to supply discerning clients throughout Australia and New Zealand who appreciate the warmth and elegance that tapestries bring to interior decoration. Tapestries are always available in small to very large sizes from the extensive stocks held.
FLEUR DE LYS TAPESTRIES
Tel: 03 9803 4419
Website: fleurdelystapestries.com.au
Originally from Period Style magazine, Volume 9