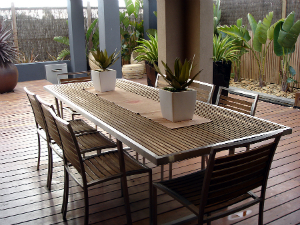 Classic or contemporary, bring a touch of European style to your outdoor living with a trip to the Yardware Factory Outlet
Yardware offers an extensive range of reconstituted stone and iron products designed to complement any living space around your home, be it a paved dining area or a covered outdoor room. Whether your taste runs to the classic or the contemporary, the Yardware Factory Outlet has the perfect piece to put that all-important finishing touch to your courtyard, poolside entertaining or garden room.
Dining tables are available in many shapes — round, square or rectangular — and in sizes ranging from large to small. Fashioned from reconstituted stone, they will outlast most other products currently available on the market, ageing gracefully while maintaining that certain warmth normally only associated with indoor furniture.
To complement their tables, Yardware produces an impressive selection of reconstituted stone benches and galvanised iron chairs. The latter boast a hand-painted finish and come with optional outdoor cushions for extra comfort.
Yardware's iron range is truly all-embracing and extends to pool chaises, sun lounges, ottomans, occasional chairs, side tables, Italian market umbrellas, pots, urns and fountains … and that is just a partial list.
Thanks to their commitment to constantly adding to their product range, you can be assured that each time you visit one of their stylish Sydney displays — either their showroom in Surry Hills or the Dural Outdoor Store — it will be a new experience.
To discover a treasure trove of discontinued lines, prototype samples, and damaged stock that is priced to clear, it is well worth paying a visit to Yardware's Factory Outlet. While they do not price compete with their other stores for new items, you will be able to source fantastic pieces at a discounted price.
YARDWARE
Visit the Yardware factory outlet at:
6 O'Riordan Street
Alexandria NSW 2015