We talk to the extraordinary Peter Gilmore, Electrolux ambassador and executive chef of Quay, the highest-ranked Australian restaurant in the world.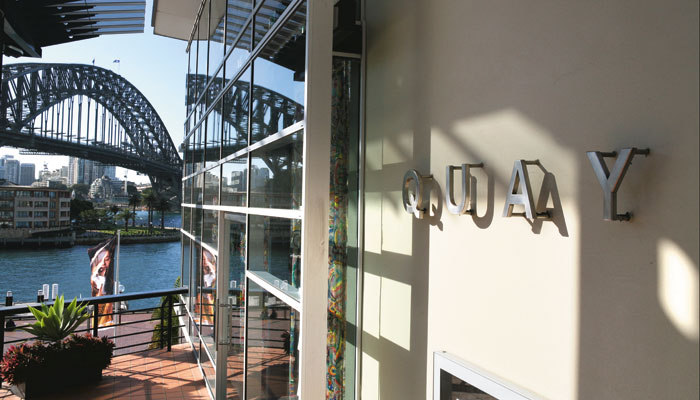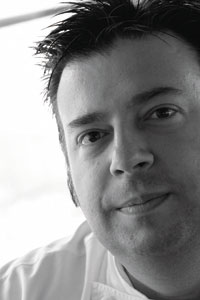 When I first meet Peter Gilmore it is as part of an Electrolux launch, held in the private dining room at Quay — an upstairs room that commands an amazing view of Sydney Harbour, the Opera House and the Harbour Bridge. Peter is here for a cooking demonstration, at which he will show us how he creates some of the signature dishes on Quay's menu as well as talk about the philosophy behind much of the food created here.
It's a fascinating insight into the mind of a top chef — less a lesson in how to create this meal at home (I wouldn't dare try) and more an acknowledgement of the innovative and creative processes at work in a first-class restaurant.
Peter has recently launched his first cookbook, Quay: Food Inspired by Nature and it is an amazing collection of beautifully photographed and presented dishes — each accompanied by an introduction from Peter that brings a personal element to each recipe. The book very much reflects Peter's approach to food and cooking, which is based on seasonal, organic produce and making the most of nature's bounty.
In the introduction to his book, Peter says, "I am inspired by nature and have coined the term 'nature-based cuisine' to describe my food. Nature offers us so much diversity — a natural elegance and beauty — and it's the organic nature of food, its textures and flavours that is at the heart of my cooking."
Peter credits his mother as the inspiration for him to start cooking and remembers her as a passionate cook. This passion has been passed down and Peter now applies it to many areas of his life. "I'm passionate about nature's diversity and the sheer amount of variety that is available in the natural world," he enthuses. "At the moment, I'm really into heirloom vegetables and herbs, and I use them wherever I can."
In August 2001, Peter became the executive chef of Quay and his unique approach has seen the restaurant honoured with eleven consecutive Three Chefs Hat awards and be named as Restaurant of the Year five times in The Sydney Morning Herald Good Food Guide.
In 2010, Quay made culinary history when it was awarded Restaurant of the Year in the Australian Gourmet Traveller Restaurant Guide and The Sydney Morning Herald Good Food Guide for the second year in a row. No other restaurant in Australia has ever received both awards in the same year and Quay has received these accolades two years in a row. Quay is ranked 29th in the S. Pellegrino World's 50 Best Restaurants 2012 and was named Best Restaurant in Australasia.
"My main goal when I took over this position at Quay was to strive for excellence and innovation with my cuisine," Peter explains. "This is a continually evolving thing and it's impossible to rest on your laurels."
Peter has had a long association with Electrolux as a brand ambassador and I'm well aware that chefs of Peter's calibre are particularly careful about allowing their name to be used in association with any product, so I am keen to hear from Peter what it was about Electrolux that made him keen to take on this role.
"Electrolux has a commitment to innovation and high quality that mirrors what I try to achieve at Quay," he explains. "Electrolux is also a great supporter of the hospitality industry, so it felt like a very natural fit."
Summer is a special time for outdoor entertaining and, like most Australians, Peter is partial to a barbecue as the perfect laid-back dining option. "I love to cook a really good barbecue feast," he says. "It's a very relaxed way to entertain at home."
When it comes to his kitchen at home, Peter enjoys the flexibility and functionality of his Electrolux steam oven, citing its ability to steam vegetables and whole fish with ease and convenience. But, at work, he says his indispensible support comes in the form of his amazing team of young chefs and apprentices.
When one area of your professional life has been so successful, it seems to make sense to look at how this can be expanded into other ventures and that's exactly what Peter is planning for his future. "In partnership with the team at Quay, we are looking at opening a second, more casual restaurant with great food and ambience," he tells me.
It's a great idea: the same devotion to fresh produce, interesting flavours and impeccable presentation coupled with a relaxed dining atmosphere. Sounds like a great addition to Sydney's fantastic dining venues.

QUAY
Overseas Passenger Terminal
The Rocks, Sydney 2000
(02) 9251 5600
www.quay.com.au
By Melanie Gardener, Editor – Gourmet Kitchen Planner magazine
Images courtesy Electrolux
From Gourmet Kitchen Planner magazine Vol. 1