The previous kitchen in this Sydney home was a U-shaped design separating the dining space and cutting the room in half.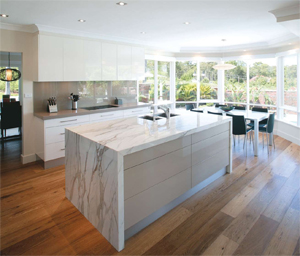 The heavy looking timber kitchen offered just one way in and one way out and, while it was still functional, it reflected the time when it was built.
Its owners wanted to open up the space so access to the dining table was easy and to point the long and wide island to the lovely outside view. Another design consideration was to demolish a bar area to the lounge room to make space for a walk-in scullery to ensure the kitchen appears as seamless as possible. The transformed kitchen is now super sleek and stunning to the eye.
"This kitchen comes to you, you are not chasing it," says designer Brian Patterson of Nouvelle. "Everything you need in a kitchen is here," he says.
The cutting-edge, modern design now boasts dual finishes, the latest in appliances, lots of drawers that open easily with the slightest touch and a bigger walk-in pantry with ample bench space and its own wine fridge, as per the owners' requests.
A seamless look now exists from the front of the kitchen. Electronic drawers in the island are Blum Servo Drive and from the front give a smooth look against the 60mm-thick Calacutta polished marble. This marble frames the drawers and caresses the space elegantly and the marble's grain then flows to the floor.
The cluster of stainless-steel appliances, such as the refrigerator and ovens, blend in seamlessly with the gloss cupboards and the sheer line that houses the pantry hides the full walk-in scullery. This appealing kitchen is now flooded with lots of light courtesy of bay windows that wrap around the dining table, and this light atmosphere complements the neutral palette of the space.