We take five to chat to acclaimed Spanish-Australian chef Miguel Maestre about Spanish cuisine and his participation in upcoming event, MasterChef Live.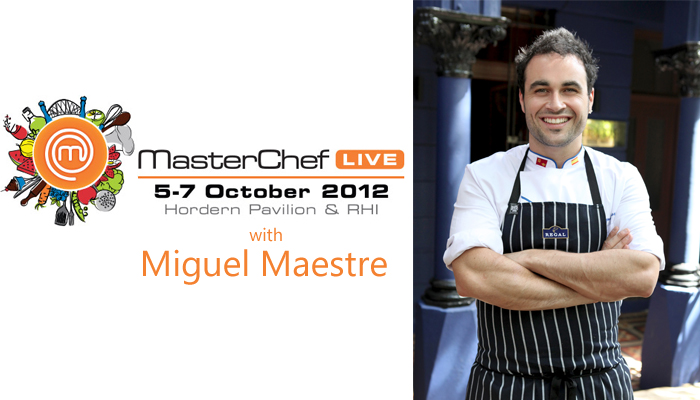 With an infectious smile and passion for food, Miguel Maestre has mastered his talent of applying Spanish ingredients and cooking styles to modern Australian cuisine. Miguel is the author of two best-selling Spanish cookbooks "Miguel's Tapas" and "Spanish Cooking" and has several cooking shows including Miguel's Tropical Kitchen and Boys Weekend. Miguel is also a regular on Channel 10's The Living Room.
We recently sat down with Miguel to discuss his love of all things Spanish and his upcoming event, MasterChef live. Here's what he had to say:
Q: As a Spaniard and advocate of Spanish ingredients, what is it you love most about Spanish cooking?
A: Spanish cooking is all about sharing so make sure you have all your family or friends over to get involved in the cooking and the eating.
Q: Where do you recommend Complete Home readers who have not experienced Spanish food before, start?
A: Keep it simple, use very fresh products with the best ingredients and make sure you enjoy with lots of sangria.
Q: With several successful cooking shows and appearances, you must cooked in countless kitchens; which one stands out in your mind and why?
A: EL Bulli in Roses, Spain because it was a dream come true cooking next to my idle and the best chef in the world. – Ferran Adria. The best culinary experience of my life. Words could not describe.
Q: What 5 ingredients can always be found in your kitchen?
A: Garlic, rice, saffron, spanish paprika, lemon. The basic ingredients of the Mediterranean diet. And of course lots of bread and extra virgin olive oil.
Q: Which kitchen appliance can you simply not live without?
A: My Thermochef and my Kitchenaid.
Q: What are your tips for throwing together a last-minute meal, for when unexpected guests drop by?
A: Spontaneity, imagination and always have jamon (Spanish ham) and queso (Spanish cheese) in your fridge to keep them entertained while you cook up a storm.
Q: You'll be participating in the Mystery Box Challenge at this year's MasterChef LIVE; are there any ingredient you're hoping won't come out of the mystery box?
A: I love every single ingredient in the world – all are very welcome.  I can't wait to take part in the Mystery Box Challenge alongside fellow chefs and contestants. I'll be taking part on Friday 5th October and am really excited about the challenge!
Q: Which Chef or former MasterChef contestant are you excited to see in action during this year's MasterChef LIVE?
A: That really cool Spanish guy who is really handsome, a fab cook and a family man….
Catch Miguel Maestre at MasterChef LIVE in October 2012!
MasterChef LIVE will offer everything from celebrity chefs, to cooking classes, demonstrations, luxury food shopping and even activities for the kids!
MasterChef LIVE will be held at the Hordern Pavilion and Royal Hall of Industries, Sydney. The event will run for three days from Friday 5th October, to Sunday 7th October, 2012.
Book your tickets at www.ticketek.com.au and for more information about the event visit www.mastercheflive.com.au