These incredible kitchen and bathroom projects stole the show at this year's KBDi Designer Awards Gala
Australia's finest interior designers gathered in the ballroom of Adelaide's Intercontinental Hotel in September to enjoy the Kitchen and Bathroom Designers Institute's spectacular Designer Awards Gala.
The Awards program recognises the outstanding talent of designers with category, state and national awards. We can't get enough of the gorgeous projects that took out the awards this year! Keep scrolling to check them out, they will no doubt leave you inspired and full of great ideas for your upcoming reno.
National Winners
KBDi Australian Certified Designer of the Year 2017: Darren James CKD Au
Outstanding design aptitude, flawless documentation, technical accuracy and impeccable attention to detail made KBDi-accredited designer Darren James CKD Au the clear winner of this national award.
KBDi Australian Kitchen Designer of the Year 2017: Katia Slogrove, Germancraft Cabinets
It takes confidence, courage and a great deal of skill to pull off a genuine Art Deco kitchen, and Gold Coast designer Katia Slogrove of Germancraft Cabinets delivered.
KBDi Australian Bathroom Designer of the Year 2017: Vanessa Cook, Smarter Bathrooms & Kitchens
With an ageing population and an increasing number of people with disabilities choosing to remain at home rather than in care, this design entry is an excellent example of what may become a typical brief, and how designers can create future-proof layouts to accommodate the varying physical abilities of homeowners.
KBDi and KBQ People's Choice Awards
This year, Kitchens and Bathrooms Quarterly magazine took pride in once again sponsoring the People's Choice Awards for Kitchen Design and Bathroom Design. We asked our readers to vote for their favourite kitchen and bathroom via completehome.com.au, with the spectacular projects below ultimately receiving the most votes.
KBDi & KBQ People's Choice Award — Kitchen Design: Belinda Nadile, Minosa
KBDi & KBQ People's Choice Award — Bathroom Design: Janine Izzo, Bathrooms and Kitchens SA
State Winners: NSW
KBDi Kitchen Designer of the Year Award + Large Kitchens Award: Marianne Gailer CKD Au, CBD Au, Blue Tea Kitchens
KBDi Bathroom Designer of the Year Award + Large Bathrooms Award: Andrew Wright, Impala Kitchens
Small Kitchens Award: Tracey Stern, Thinkdzine
Medium Kitchens Award: Belinda Nadile, Minosa
Small Bathrooms Award: Nenos Seamendo, Minosa
State Winners: Qld
KBDi Kitchen Designer of the Year Award + Medium Kitchens Award: Katia Slogrove, Germancraft Cabinets
KBDi Bathroom Designer of the Year Award + Small Bathrooms Award: Darren James CKD Au, Darren James Interiors
Small Kitchens Award: Katia Slogrove, Germancraft Cabinets
Large Kitchens Award: Darren James CKD Au, Darren James Interiors
Large Bathrooms Award: Helene Newson
State Winners: SA
KBDi Kitchen Designer of the Year Award + Large Kitchens Award: Nathan Wundersitz CKD Au, Spacecraft Joinery
KBDi Bathroom Designer of the Year Award + Large Bathrooms Award: Agatha Ozhylovski, Agatha O House of Design
Small Kitchens Award: Haris Bahtiyarov CKD Au, Alby Turner & Son
Medium Kitchens Award: Sophie Doumbiotis, Alby Turner & Son
Small Bathrooms Award: Paul Hutchison, Bathrooms & Kitchens SA
State Winners: Vic
KBDi Kitchen Designer of the Year Award + Medium Kitchens Award: Alexa Beer, Smarter Bathrooms & Kitchens
KBDi Bathroom Designer of the Year Award + Large Bathrooms Award: Vanessa Cook, Smarter Bathrooms & Kitchens
Small Kitchens Award: Stephanie O'Donohue, Smarter Bathrooms & Kitchens
Large Kitchens Award: Katherine Siketa, Smarter Bathrooms & Kitchens
Small Bathrooms Award: Stephanie O'Donohue, Smarter Bathrooms & Kitchens
State Winners: WA
KBDi Kitchen Designer of the Year Award + Large Kitchens Award: Dawn Metcalfe, Western Cabinets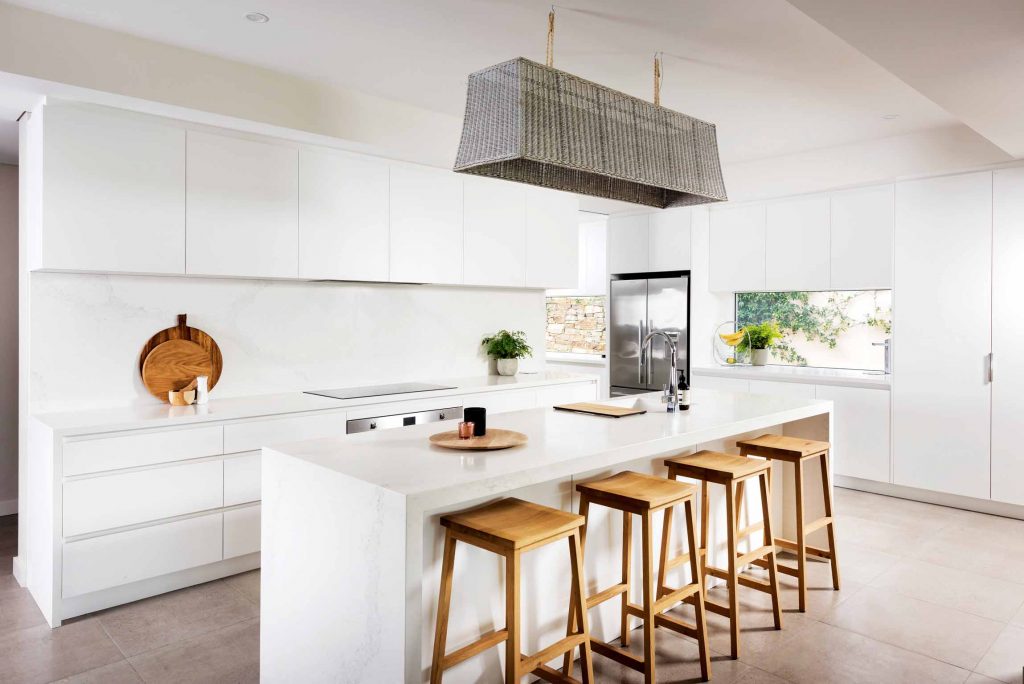 KBDi Bathroom Designer of the Year Award + Small Bathrooms Award: Maggie Milligan, Town & Country Kitchen Design
Small Kitchens Award: Robert Mazzilli
Medium Kitchens Award: Sue Jansen, Kitchen Capital WA Pty Ltd
Large Bathrooms Award: Kia Douglas, Western Cabinets
Australian Design Space Award
Nenos Seamendo, Minosa