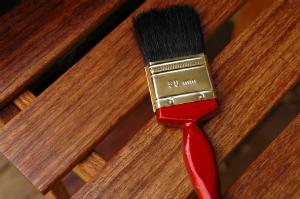 A major overhaul to the kitchen and bathroom was the main focus of this renovation project.
Prior to the renovation, the kitchen was in a very bad state after many years of neglect, and the bathroom hadn't been touched for approximately 20 years. The client's brief for the project stressed that although the property is a rental, the renovation needed to be achieved under budget. The house also needed to be functional, with modern, clean lines, to attract families.
Undertaken by Tonya Scheiwe of Style Elements, to start the work, a wall was removed between the living area and the kitchen as open-plan living was requested. According to interior designer Tonya Scheiwe, "The whole kitchen design was changed with greater emphasis given to pantry space and a huge island bench that doubles as a table that seats six.
"The bathroom was completely redesigned in order to fit in a separate bath and shower. A bathtub was necessary to attract a family to rent the premises. The main design consideration of this project was to create a functional kitchen and bathroom for a family and this was the over-riding inspiration for the project.
"An unusual challenge came when designing the bathroom space. Fitting the shower and bath side by side on one wall, as the bathroom is not large, was not easy. This was done by laying the shower base first and then building the bath hob over the shower base, thus reducing the shower base by a couple of centimeters, and it worked perfectly!
"My favourite aspect of the renovation is the island bench in the kitchen that seats six. The renovation's goal was to ensure that the house was family friendly and when it was available for rent, that it would attract a family, which it did. So the goal was achieved!"
PROJECT PARTICULARS
COMPANY NAME: Style Elements — Interiors
INTERIOR DESIGNER: Tonya Scheiwe
ADDRESS: PO Box 283, Wavell Heights Qld 4012
PHONE: 0403 829 543
EMAIL: info@styleelements.com.au  
WEBSITE: www.styleelements.com.au