We explore what exactly a sustainable kitchen is, and why it is important to think sustainably before your next kitchen project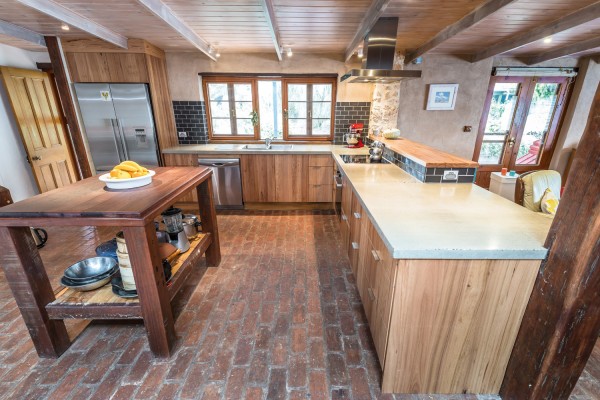 The environment
From the timber products you use to the appliances you choose, your kitchen design can positively or negatively affect the environment. Designing a sustainable kitchen is beneficial for the environment in three main areas:
1. Kitchens are predominantly made of timber: 
Sustainable kitchen design asks where the timber has come from and if it was sustainably sourced. Choosing timbers stamped with either the FSC or PEFC Certification logo is a great way of ensuring your timber has been sourced responsibly and will continue to be a sustainable resource.
"The Chain of Custody Certification scheme means everyone who touched your timber, from the forest to the shelf, is certified and regularly audited to ensure they are compliant," says Druce Davey, a design expert from Greener Kitchens. "It's the only way of knowing your purchase protects forests, habitats, waterways, and the species that rely on them — preserving them for future generations."
Recycled timber is built to last. Using recycled timber is a good way to ensure sustainable materials do not needlessly end up in landfill, but will benefit the environment and your kitchen for many years to come.
"Recycled timber has had a previous life, so it has all the character marks from a life well lived," says Druce. "Recycled timber is responsible, robust and long-lasting. It tells a story, it breaks the ice at parties, stores carbon, and it saves the trees."
2. Sustainability asks whether any aspect of your existing kitchen can be reused, renewed or recycled/upcycled: 
Even if you don't want to keep any part of your existing kitchen, can any of it be sold to others for reuse? Throwing away good-quality materials only adds to landfill, which takes its toll on our natural environment.
"Sustainability can mean recycling elements of previous kitchens or making use of recycled elements," explains Ellen Wundersitz, general manager of bespoke kitchen company Space Craft Joinery. "When considering sustainability in kitchen design, it's all about the mantra of reduce, reuse, re/upcycle. If money is tight, on-selling parts of your kitchen can even fatten your budget."
3. Thinking sustainably means being aware of the appliances and fixtures we place within kitchens:
Do your appliances have a high energy-efficiency rating? What are your taps rated on the Water Efficiency Labelling and Standards (WELS) scale? Using appliances and fixtures that are energy or water efficient and guaranteed to last will reduce wastage of precious non-renewable resources.
"Appliances with a higher energy star rating, taps with a higher WELS rating, hardware with a lifetime warranty, LED lighting, reconstituted stone from recycled materials, such as Eco by Cosentino, will all benefit the environment," says Ellen. "If your kitchen is part of a larger project, consider seeking the advice of an architect or builder to maximise passive solar design principles, whereby careful orientation of the build ensures northerly orientation of daytime living areas to capture sunlight in the cooler months."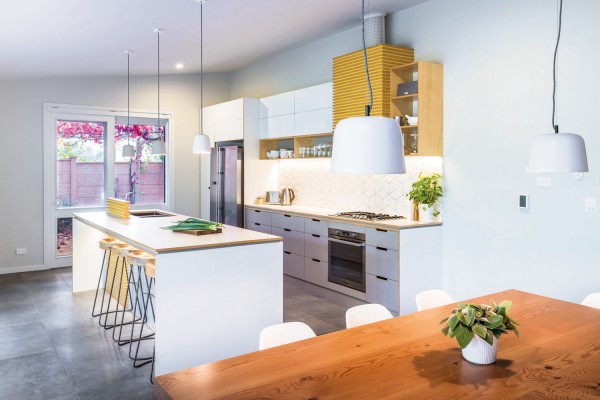 The Locals
When designing a kitchen, buying locally is always recommended as it benefits our businesses and economy, and means you are ensured a good-quality product that has met Australian standards. Additionally, shopping locally may mean that you are reducing the carbon footprint of your kitchen, because the materials you use are not being shipped over great distances and you may find manufacturers who are conscious about their carbon footprint within their production processes.
"Sustainable kitchens have a lower carbon footprint than a conventional kitchen. Often clients who have invested in a sustainable kitchen are also those who are part of a buy-local movement," says Ellen. "At Space Craft Joinery, we are taking steps to lower our carbon footprint in the office and workshop. By installing solar panels on the roof of our workshop, the sun now provides 100 per cent of our energy needs, eliminating our carbon emissions and reliance on coal power."
The Family
When building a sustainable kitchen, you are guaranteed to maintain a healthy home for you and your family. Some conventional kitchens can use cheap synthetic materials, varnishes, paints and glues that contain volatile organic compounds (VOCs), such as formaldehyde. These chemicals degrade the air quality in your home and can cause sickness or irritation in high concentrations. Kitchen cabinet carcasses account for 50 per cent of the timber products used in your design and are commonly made up of medium-density fibreboard (MDF). MDF contains timber particles that are bonded together with resins and glue. Depending on where the MDF is sourced, some products do not comply with Australian E0 or E1 (low VOC) emissions standards and may off-gas at dangerous levels. When thinking sustainably, you also need to think about health by choosing low-VOC paints and finishes, laminates that meet emissions standards, MDF alternatives, and E0 or Super E0 board materials.
"Hoop pine plywood is a great alternative to MDF because it contains minimal formaldehyde. Other MDF alternatives include Novofibre pressed straw board," says Ellen. She also recommends using Polytec
or Laminex E0 laminates.
"The Engineered Wood Products Association of Australasia (EWPAA) recently released a report* showing how imported timber panels used in kitchen construction had emission levels two to three times that considered safe," says Druce. "To me, sustainable kitchens are low emission and made using environmentally responsible materials. This makes for a kitchen that is a joy to be in."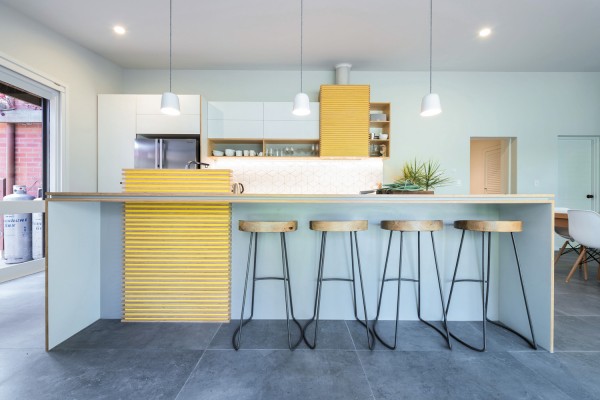 The Budget
Sustainable kitchens are usually well planned and built for longevity, efficiency and functionality — which will ultimately save you money.
1. Longevity:
Sustainable kitchens use quality and hardy materials such as reclaimed timber and, unlike MDF, will stand the test of time — which means you won't need to demolish your kitchen again.
2. Efficiency:
If you have utilised a sustainable mindset when fitting out your kitchen, you probably would have chosen high energy- and water-efficient appliances and fixtures. By reducing the amount of power and water you consume, your hip pocket benefits by reducing your bills.
3. Functionality: 
Sustainable kitchens generally need more planning than conventional kitchens, which means they are also going to be highly functional. Practical design and appliance choices for food storage and waste, using timers for appliances that don't need to be on all the time, and harnessing natural light so that artificial lights aren't needed during the day all contribute to a highly functional and cost-effective kitchen.
"A timber kitchen has much greater longevity and can be renovated, repaired or rejuvenated in time instead of being replaced and consigned to landfill," says Druce. "The key here is also in the design: to ensure the kitchen is incredibly functional and aesthetically time resistant so functional frustrations or on-trend components that date the kitchen do not encourage its replacement. Good design and sensitive functional planning will never go out of style."
The Potential
Sometimes the words "sustainable" or "organic" conjure up very limiting ideas of what can be done with your kitchen if you are not familiar with any sustainable kitchen designers and their work. But take heart — sustainable kitchens don't need to look any different than a conventional kitchen and, just like a conventional kitchen, there are endless design possibilities awaiting you. So even if you already have your dream kitchen in mind, remember that your ideas can also
be sustainable, too.
"You can be as creative with a sustainable kitchen design as with any kitchen," says Ellen. "Sustainable kitchens are, in most cases, better looking because they are often quite unique creations developed especially for the homeowners. There is
a real sense of connection to the family that it was built for, their lifestyle and their sense of style."
Druce agrees, adding, "A sustainable kitchen can be modern or traditional, beautiful, functional, respectful to the environment and the health of your home without any creative compromise."
Written by Carla May
Photography courtesy of Space Craft Joinery
Originally from Kitchens & Bathrooms Quarterly magazine, Volume 22 Issue 3