What a delight to sit down with Australian of the Year, Ita Buttrose, at her holiday home and talk kitchen makeovers, family recipes, and the state of the nation.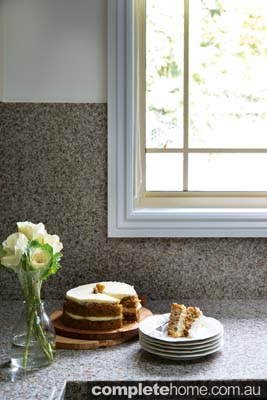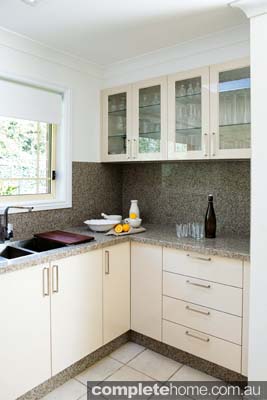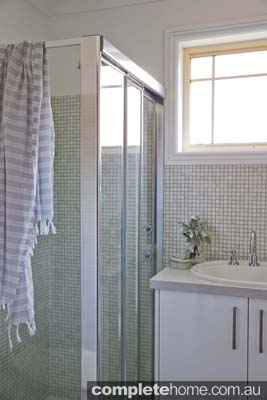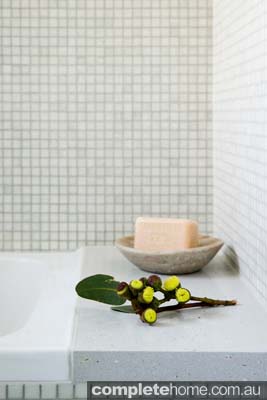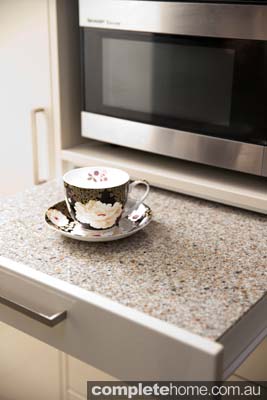 Karen: Congratulations on your new ambassador role with Granite Transformations. What led you to this opportunity?
Ita: This is my second kitchen renovation with Granite Transformations, so I know the company story and I like the fact that it's an Australian success story. As a company, they've gone from strength to strength – they started in a very small way here in Australia and now they're in America and the UK. And they really love what they do.
Karen: What design elements are important to you in a kitchen?
Ita: I like to have space when I cook, I love the addition of the integrated chopping board we designed. I like a kitchen that has plenty of light; kitchens should be bright because they're a focal point of your home. I also believe your kitchen has to be friendly and warm.
Karen: Did you choose the colour palette and materials for your new kitchen and bathroom?
Ita: Yes, I did. I was in Canberra visiting the Alzheimer's Australia national office and, while I was there, I visited the Granite Transformations Canberra showroom – I had a wonderful time. And you know it's one of those experiences where you think, "Oh, I love that, oh, I like that, oh, look at that cabinet, oh my, look at that, and that…". I mean, you'd take the whole lot if you could.
I thought I should be practical and think about my colour scheme and the lifestyle that I have here in the Southern Highlands of NSW, which is very relaxed. This is a place where my family visits, that's why there are cots, bikes and toys. It's a laid-back, comfortable style of living and the kitchen needed to reflect that.
Karen: Was it a deliberate choice to go with neutrals?
Ita: Yes, I like neutrals and I tend to put colour into the design in some other way such as accessories. In the bathroom, we went with a blend of greys and whites, with beige and cream in the kitchen.
Karen: What attracted you to the materials you eventually chose for the kitchen?
Ita: I thought it went with the house and the overall colour scheme and, being fairly neutral, I think it's very pretty and I felt like having a pretty, feminine kitchen.
Karen: Do you love to cook?
Ita: Yes! I went to a home science high school, so I can do it all – I can make bread, preserve fruit and basic cooking. My mother used to let me practice by giving me cooking chores – very clever of her – but the whole family cooks, we love cooking.
Karen: Do you have a favourite or regular family recipe?
Ita: Oh, the children have a whole swag of things they like. Any roast dinner that I care to cook, my beef stroganoff, tiramisu, baked apples with caramel sauce – it's very moreish, and I've got a dish that I do with chicken, tomato and several different sorts of cheeses – they adore that.
Karen: Why did you choose Mittagong for your holiday home?
Ita: I like the lifestyle and I've got a few friends down here whose company I enjoy. The dog loves it! I like the air and I like being able to garden. It's also much easier to write in the country, there are less interruptions.
Karen: Did you enjoy watching the recent TV series Paper Giants: The Birth of CLEO?
Ita: Yes, it wasn't too bad, well they took some liberties but I think, overall, they portrayed the '70s well – what it was like and how our attitudes were changing.
K: How has being Australian of the Year changed your life?
Ita: It makes you doubly busy because you receive numerous requests and you can't handle them all, plus we participate in the Australian of the Year tour of honour visiting every state. It's amazing the great interest and respect there is in the awards and the genuine goodwill of people. I'm very conscious that I'm in terrific company, so many notable Australians have held this role and you realise that you're following in distinguished footsteps. It is a huge honour.
Karen: What legacy would you like to leave from this Award?
Ita: To raise issues relating to older Australians: their health, attitudes, people's attitudes toward older people, improved age care for older people, giving them a better voice, and encouraging employers to give older workers a job. And as national president of Alzheimer's Australia, I hope to contribute to raising awareness of dementia and to removing the stigma that is associated with it. If I achieve any of those things, I'll be very pleased.
Makeover details
Kitchen
Benchtop & splashback Trend Surfaces in Bianco Modena by Granite Transformations
Cupboard doors Polytec in Cafe Cream gloss
Oven Bosch
Cooktop Bosch
Rangehood Blanco
Dishwasher Bosch
Fridge Fisher & Paykel
Sink/Taps IAG
Bathroom
Mosaic Tiles Trend Mosaic in Brilliante 280 by Granite Transformations
Vanity top & end of bath Trend Surfaces in Perla Bianca by Granite Transformations
Vanity doors Polytec Ultra White gloss
Taps & appliances Phoenix from Reece
Words & Styling Karen Miles Photography Sue Stubbs
From Kitchens & Bathrooms Quarterly magazine Vol. 20 No. 4