When it comes to the evolution of kitchens, it feels like we're on the brink of something monumental. Research has shown that technology will keep progressing, yet human elements are also predicted to make a resurgence.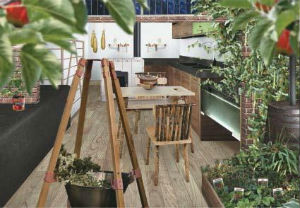 IKEA has recently shared with us the provocative results of an independent Future Kitchen study it commissioned that highlighted three key directions. The trends research consultancy, The Future Laboratory, came to the conclusion that by 2040 your kitchen will be your personal trainer, dietician, psychologist and lifestyle coach, and that's just for starters.
The key three kitchens of the future identified by this study have been embodied in:
the INTUITIV: where Big Mother meets Mother Nature

the ELEMENTARA: the back-to-nature kitchen

the SKARP: the smart kitchen.
The INTUITIV responds to your energy levels, nutritional needs and mood and, even though this is technology at its finest, it still meets expectations around sustainability and eco-friendliness. LED lighting adjusts to suit your requirements based on "brainwave readings" while aromatherapy-infused walls sync to your calendar so they can calm you before a big meeting or energise you before a gym session. According to the report, "The fridge will have selected some breakfast options, identifying the essential vitamins for your day via sensors. When you get home, a hologram chef will be on hand for recipe inspiration."
The ELEMENTARA kitchen is a return to nature and self-sufficiency. It is a choice to touch the earth lightly. It encourages you to grow your own food, with a garden or mini-allotment a standard extension of the room. And the refrigeration of your food will be in larders. The study reports "67 per cent of UK consumers try to buy energyefficient appliances, suggesting green awareness is on the rise". The ELEMENTARA bucks the technology trend and taps back into a wholesome, fresh, natural way of life.
The third trend identified is at the extremity of technology. Named the SKARP kitchen, this is where cooking meets "smart". This kitchen will communicate and provide synchronisation patterns for appliances. The study suggests, "Everything will happen at the touch of a button — communicating through iPad-style devices that will act as the brain of the kitchen, making our lives easier." Smart surfaces and self-cleaning appliances mean time will be freed up for more leisure.
These kitchens might seem a little extreme, but we are already seeing current examples of the INTUITIV, ELEMENTARA and SKARP in shops today. While we are only just nervously experimenting with these ideas, it isn't hard to imagine these kitchens actually unfolding over the next 30 years.
Mel's kitchen essentials:
Melanie Gardener, editor of Kitchens & Bathrooms Quarterly, shares her five kitchen must-haves. Getting the design right is key, but a functional kitchen often boils down to the appliances and accessories, too. Here is what Mel just can't live without…
Coffee machine: Even if you don't drink coffee, your guests will, so it's worth investing in a machine that not only looks the part but brews a great coffee too.

Fresh herbs: The perfect pick-me-up for any meal and they add a wonderful touch of green to any kitchen

Bench space: Whether you cook often or infrequently, it's vital to ensure your kitchen layout includes enough bench space for preparation, serving and entertaining.

A good set of knives: Unless you are a MasterChef in the making, you don't need a full set. Just choose knives that do the jobs you need to do most often.

A decent chopping board: Make sure you choose a chopping board that is the right size for the types of items you slice and dice regularly.