For the third year running, ProductReview has named Better Built Homes the Best Home Builder in Sydney & NSW
The Penrith-based home building business overtook 23 competitors in the Home Builders category to take home top honours of best in Sydney and NSW on the basis of weighted customer reviews and sub-ratings in a competitive judging process.
In determining the category winner, ProductReview considered customer reviews from all stages of construction, from commencement to post-completion occupation, in addition to factors such as customer service, transparency, structural integrity, and overall build quality.
Better Built Homes Director and Co-Founder Aaron Gampe was thrilled by the win and emphasised that it was the result of a cohesive, collaborative team. "I was rapt to win the award and be recognised as one of the best home builders in NSW for the third year in a row, and I'm especially proud of all the hard work from our staff that goes into giving our clients a better home building experience," Gampe said, adding that Better Built Homes' strong customer service focus is central to the company's ongoing success and reputation as one of Sydney's best home builders.
"We strive to deliver great quality homes for our customers, wherever they are building homes in NSW and regardless of budget and project size," Gampe explained. "This includes taking care of all the challenges that come with building homes: the design and construction process is long and complex, and we work closely with our clients and collaborators to ensure the smoothest possible experience."
With the Sydney home building and construction industry set to ramp up again in coming months, Better Built Homes has already set our sights on the future. "We are excited to be starting construction on our North Richmond display homes in the next few weeks," said Gampe, "We're sure that our current and future customers will love these homes as much as our existing offering."
The ProductReview Awards are held annually by ProductReview.com.au, Australia's leading consumer opinion website. Attracting over 4.5 million visitors and 35,000 reviews per month, the site is a resource for Australian consumers seeking to share their unbiased experiences and opinions and make an informed decision about purchasing products and services.
The Awards celebrate excellence across categories including Appliances, Electronics, Services, and Shops. The Home Builders sub-category falls under the Services category, and attracts an average of 42,000 users to ProductReview.com.au each month.
In order to be eligible for an award a product or service must be included in a selection of the most popular categories on ProductReview.com.au, have full retail availability to the Australian public for most of the year preceding the award, and have a minimum average rating of 4.1 stars and at least 10 reviews approved prior to the commencement of the competition period.
Product Reviews Home Builder's category currently has over 1100 builders listed across Australia and over 220 in NSW alone, 23 finalists were nominated for the award, but ultimately there can only be one winner! For the Home Building category, Product Review weighted reviews by users who had actually completed their build higher than those at the beginning stages of construction, they also considered the time a user had lived within their home and sub-ratings for items such as structural integrity and customer service.
You can view their award breakdown here: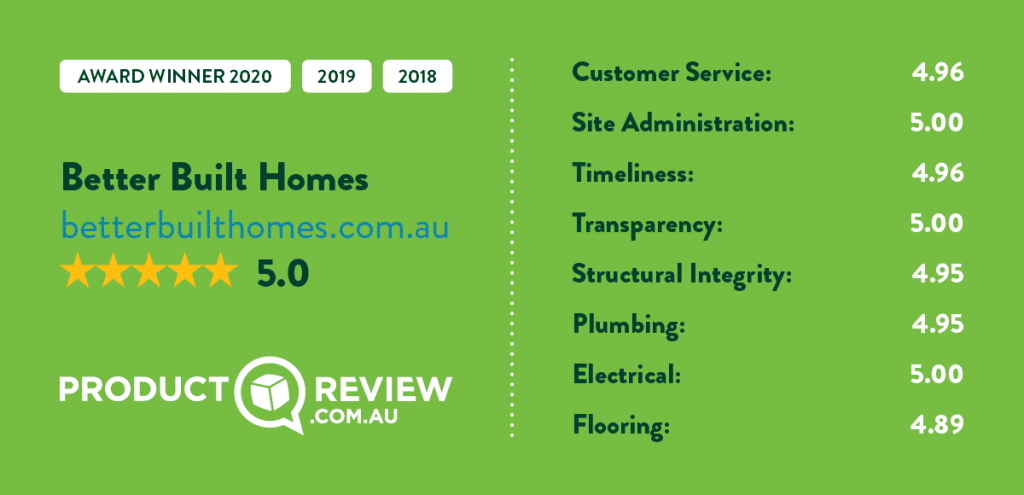 Here is a snippet from some of the recent reviews:
"Let us start off by saying our site was not an easy site to develop on. We were knocked back by many of the volume big-name builders because of our sloping block. Thankfully Better Built took on the project and delivered our dream home."
"After months of visiting display homes on a weekly basis and reading endless customer reviews online on home builders, we decided to engage Better Built homes. Build quality was excellent and was completed in the same quality and standard as the display home. "
"Thank you for such a positive experience in the building of our new home with Better Built. We are very happy with the the quality of the fittings and the workmanship in both the interior and exterior of the home."
Why not check out these reviews for yourself on: www.productreview.com.au and find out why Better Built Homes have been voted Sydney's Best Home Builder.
View our Home Designs & Display Home
For more information, check out the Better Built Homes profile on ProductReview.com.au to read honest, unbiased reviews of the company and learn why Better Built Homes have been voted Sydney's Best Home Builder for the third year running.
To see their workmanship and design excellence firsthand, visit Better Built Homes' Display Home at Oran Park any day of the week for a walkthrough and the opportunity to review our wide range of over 40 house plans and home designs.
For more information