There are two types of people in this world: those who have a beach house and those who want one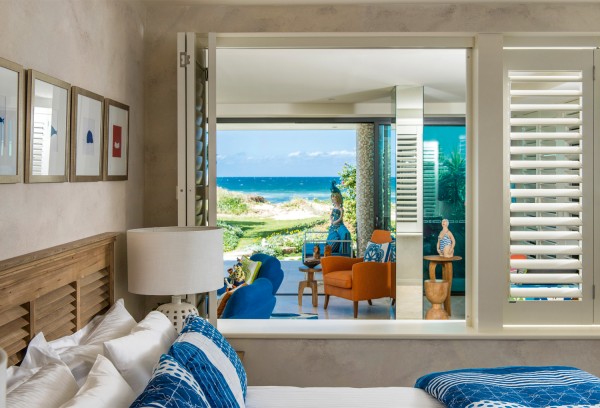 The power of the ocean, the bite of the wind, the colours and seasons — these have always been driving forces for good design in Australia. On the coast, rule books are often tossed aside and a more casual approach to planning and design prevails. Sand pits instead of manicured courtyards, entries via sliding doors into living rooms as opposed to formal vestibules, bunk rooms and outdoor kitchens, weathered timber linings rather than colour-chart painted walls … This informal approach to design inherently helps us to relax.
The Aussie sun-protection mantra, "Slip-Slop-Slap" might just as well be applied to building by the beach. Like slipping on a shirt, a house on the coast needs to protect its skin or building fabric. The thicker and heavier the material used, the longer it will last. Concrete and masonry will provide good insulation and require minimum upkeep. For houses right next to breaking surf, denser concrete above and beyond what's required is often used to add protection to the encased steel, minimising the potential for concrete cancer.
Exposed brickwork needs the appropriate mortar. Discussing mortar content is as interesting as the chemical makeup of sunscreen but if you're within 1km of the coast, an M (mortar rating) of four is required. A roaring trade at the moment is in the maintenance of ageing coastal buildings. The design life of lime mortars, which will be hammered by salt, won't last much longer than 50 years and this goes hand in hand with failing brick ties. Re-pointing the outside of the mortar will only go so far and so replacing brick ties may be required. All this is a specialist job and can run into the thousands. This must be addressed or your home insurance may be voided.
Slop on the appropriate roof protection — new lightweight stainless-steel roofing specifically designed for Australian coastal conditions sits comfortably with the Aussie vernacular and can also be used as wall cladding. If you have a flat concrete roof, the flashings and membranes must be carried out by experienced tradesmen with a boat builder's attitude to waterproofing. Roof tiles provide excellent insulation and won't corrode or require painting and, although they have not featured heavily in the palette of modern designers over recent years, they have been used for centuries in hot Asian climates.
Now to slap on some sunscreen! Like the face of a Queensland lifeguard, the old weatherboard weekender requires a good moisturiser. In this case, paint or sealant. Next to the coast, you need to use the best quality available. Acrylic paints are fine but must be applied after careful preparation. Surfaces with even just a film of sea spray will not allow any type of paint or sealant to stick.
One of the biggest considerations for coastal homes is what type of window is suitable. Timber, aluminium, PVC/acrylic windows … there are arguments for each but timber will require the most TLC. Aluminium will also need upkeep, while the latest technologies in plastics are providing longevity in highly corrosive locations. Double glazing will always provide better thermal insulation and reduce noise on busy beach fronts. Glazing film applied to existing windows can provide an immediate reduction in glare as well as privacy.
And one mustn't forget the outside! A beach house's outdoor space and garden is as important as its interior. The footprint of the house should be kept as compact as possible to reduce heating and cooling costs and allow room for planting. The building shape should consider providing protection from winter winds and have windows placed to pick up prevailing summer breezes. Good Australian beach house design pays special attention to seasonal sun angles, analysed for the specific latitude of the location. Roof overhangs, awnings and other shade devices drive the look of northern facades as does the use of deciduous trees.
Limiting unprotected glass on the eastern and western facades is a must. This, along with the use of evergreen trees, will help protect interiors from our blistering Aussie sun.
Ultimately, a house on the coast will require more upkeep than normal but, like the Ancient Mariner, you have to embrace the challenges of coastal living. Expect the leaky and rattling window; be prepared to trim the house by adjusting louvres and shade cloths as the conditions change; accept sandy feet and relish an outdoor shower. Whether it be a shack or coastal castle, living by the beach is a unique privilege. It's here that good design allows us to appreciate the brutal and beautiful ever-changing moods of living on the edge by the sea.
Expert Tips
All surfaces must be washed and treated for mildew before applying coats. It's worth sealing the end grains of wood trims with an epoxy to prevent water being soaked up, and always sand down and wash surfaces between coats.
When choosing windows, especially in elevated high-wind locations, you need to consider the windows' wind load capabilities. Ask for the correct documentation that specifies these. You wouldn't want an insurance assessor rejecting a claim for storm damage because you had the wrong type of windows for your location.
Salt build-up on glass cannot be avoided. So expansive glazing, which is the temptation with water views, will require constant cleaning. Self-cleaning glass won't stop salt build-up either. Think about selective framing of the view instead of panoramic glazed vistas. Different framings provide different experiences of the same view and provide relief and interest to the facade. Reducing the amount of glass will also dramatically improve the thermal performance of the house.
A lot of contemporary beach architecture uses metal trims in its detailing, especially on balustrades. While aluminium is light, it has limited corrosion resistance. Marine-grade 316 stainless steel is the preferred option and will provide better resistance as well as a more refined finish.
Written by Peter Colquhoun