Dense rainforest surroundings and spectacular views put this home at Springbrook on Queensland's Gold Coast in a class of its own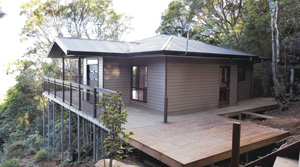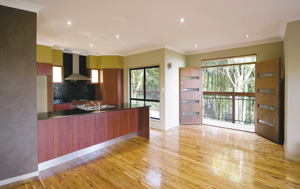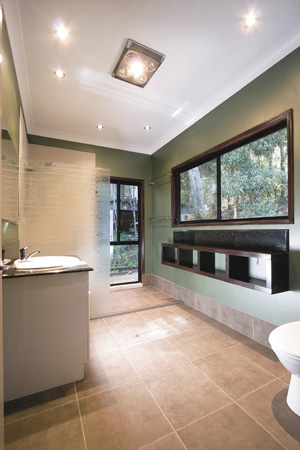 Modelled on a Valley Kit Homes design, The Beechmont, this home perches like a tree house on a slim block in the middle of wildly natural terrain.
The one-bedroom house was provided in kit form and the owners chose to perform most of the work themselves. While they contracted trades work such as plumbing, the savings were significant. All materials were supplied by Valley Kit Homes to lock-up stage. A gable roof portico shelters the front verandah. Wide steps at the side lead up to the timber double front door, inset with slender, slumped glass panels. This glass has also been used effectively in a shell pattern on the shower screen and in a black, sparkled splashback in the kitchen.
Starlight black quartz coats the island bench, shaped angular to allow for breakfast seating. Glass-fronted cabinets are placed either side of the cooktop in this compact kitchen, which features stainless-steel appliances, a java redwood veneer finish and appliance cupboards. The adjoining laundry is accessed through a timber-framed, see-through door.
The owners plan to add two more bedrooms in a second storey. A wood fire sits at the centre of the home to create warmth on cold mountain nights.
Verandahs wrap around to take advantage of coastal views and can be stepped onto from all rooms except the bathroom. Merbau decking looks more natural with an oil finish. Hardwood timber railings 1200mm-high are topped with black steel. Deck balustrading and the outside stairs add to the appeal of this home.
Wide olive-green tiles blend superbly with the green and gold granite vanity top in the bathroom and kitchen. A bevelled-edge mirror, shelving compartment for towels and chocolate-brown walls add visual appeal in the bathroom.
Valley Kit Homes offers a choice of more than 40 original designs in a range of sizes and floorplans. Newly introduced are three ultra-modern, curved roof designs. Using recognised and guaranteed brands for all materials, easy-to-follow construction manuals, layout plans and expert back-up service, Valley Kit Homes has made building a home easy, enjoyable and economical.
Valley Kit Homes fosters high-quality, low-cost production due to construction taking place in-house rather than outside contractors being appointed. A wide range of external cladding caters to individual tastes.
All frames are delivered pre-assembled, ready to stand and are clearly marked to show their position in the building, ensuring easy construction. Kits are also designed and engineered to provide the structural strength to withstand a minimum of N3 (50 metres/second wind velocity). All components used are Australian-made and covered by Australian warranties.
Beechmont (modified by owner)
Accommodation: Lounge/dining room, kitchen, laundry, porch and wraparound verandah, one bedroom, bathroom.
Construction: Hardies Primeline cladding with a colonial-look black Colorbond roof, cypress pine flooring, steel stumps.
Special features: Verandahs with oiled merbau decking boast fantastic coastal and forest views, home 4.5 metres off the ground at its highest spot, water tank under house.